League Cup: LIVINGSTON 1 DUNFERMLINE 0: 08/08/98
The 1500 or so followers who made the trip to Almondvale left in silence disgusted and humiliated. Bert Paton's praise for the ten men of Livingston is only cover for a poor effort from his team that lacked the effort and fitness portrayed by their Second Division opponents.

With Ian Westwater out for an estimated three months, former Wigan Athletic keeper Lee Butler came into the team and only he was worthy of pass marks. Mark McCulloch returned to defence having served his suspension, Hamish French and Scott Thomson moved forward, and George Shaw and Craig Ireland were relegated to the bench. Andy Smith was deemed fit to start following his injury at Celtic Park last week but looked less than able it fitness and sharpness terms.

First half chances were nearly all Livingston's as they played towards the open Shopping Centre end and the Pars were booed off at half time. The second half failed to awaken Dunfermline until Craig Faulcounbridge came on for Hamish French in the 62min. Almost immediately the young Englishman's first touched raised the hopes. He chested down the ball for Richard Huxford who crashed a shot from 30 yards against the crossbar. The fans were roused into their first and what happened to be their last song of the afternoon.

Eight minutes later Scott McCulloch made room for himself down the left to fire another shot against the crossbar. Andy Tod deflected a header across the Livingston penalty spot and the follow up shot was deflected off the line by Bennett's arm. Penalty awarded, defender red carded and Marc Millar lined up to dispatch the penalty. Big Ian McCauldron the Livvy keeper went left and saved a less than convincing penalty. The rebound was not followed up as it should have been and 10 man Livingston were spared.

Extra time came and the Pars went swiftly behind when David Bingham laid the ball off to Ian Little whose low cross was deflected passed Butler from close in by ex Heart Robbo. George Shaw came on for Linighan who had a very uncomfortable match against John Robertson and Andy Tod was pushed up. Huxford yet again hit the crossbar in the second period of extra time but Livingston hung on for a famous victory.

Next week the Pars' opponents are Dundee who like the Pars have played two and lost two. Dundee were beaten by Alloa at home and like Dunfermline will be fighting for their first victory. Already it looks like results against Dundee are going to settle the relegation issue.

DUNFERMLINE: Butler; Shields, Tod, Linighan (Shaw 105min), McCulloch; Huxford, Ferguson, Millar; French (Faulconbridge 62min), Smith, Thomson (Ireland 110min).

Scorer: Livingston: Robertson 93.
Yellow cards: Ferguson (12min); Huxford (40min); Sweeney (43min); Linighan (55min).
Red card: Bennett (76min).

Referee: K Clark (Paisley).
Attendance: 3,038.

Next match v Dundee Saturday 15th August (home).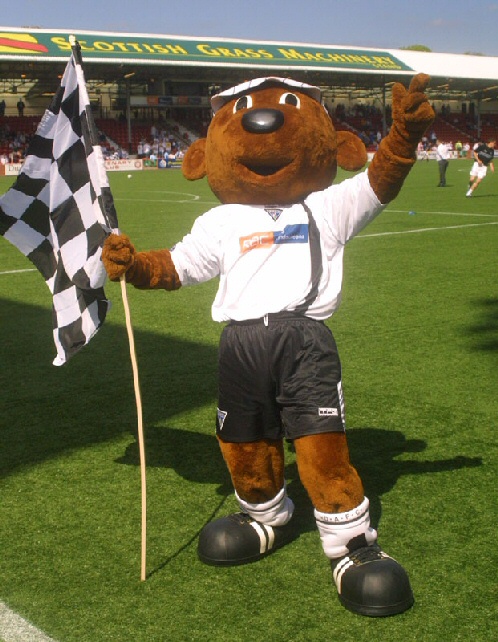 Sammy says thanks very much for visiting our web site where we have lots of news for young Pars fans.