Ladbrokes Championship: Partick Thistle 1 Dunfermline 1: 10/03/20
A Brian Graham goal in the fourth minute of time added on salvaged a point for Partick who felt that was as little as they deserved. The home side dominated the first half, had a penalty saved and then conceded to a great setpiece routine finished by Euan Murray.

The Pars travelled to Glasgow in search of full points to strengthen their play off place challenge. With only Alloa Athletic taking full points at the weekend, Stevie Crawford's team still occupied fifth place with 36 points, Thistle were still on the bottom of the pile 11 points worse off but with a game in hand.

Ian McCall named an unchanged Thistle starting eleven, the same players and subs as featured in the 1-1 draw at Tannadice on Saturday. Both former Pars Ryan Williamson and Joe Cardle were missing through injury.

For the match at the Energy Check Stadium Stevie Crawford brought back 19 year old Gabby McGill. The Yorkshireman made his Championship starting debut in the first meeting in September his inclusion meant Lewis McCann was returned to the bench.

In the week when he was named in the Scotland squad for the UEFA European Under-19 Championship elite round later this month, Ethan Ross was given his fourth Dunfermline start. The Under-19's will take on France, Russia and Georgia in Group 3 between 25th and 31st March.

Dunfermline kicked off attacking the goal at the open end of the ground. The stadium announcer had asked their supporters to welcome the 'Mighty Thistle' and in the opening three minutes they certainly looked that as they put the visitors defence to test. It was just the second minute when Lewis Martin had to scoop away a Shea Gordon cross and next minute Williams had to fist away a Reece Cole shot.

The Pars were penned back in their own half for the first fifteen minutes during which Stuart Bannigan received a Gordon pass to crash a shot over the bar from the edge of the box. Martin was alert to stop Zak Rudden getting in an effort from 18 yards and then Danny Devine headed away another Gordon cross.

Thistle forced the first corner of the evening and when James Penrice sent that in from the right Brian Graham's attempt was touched over his bar by Owain Fôn Williams. The corner from the left by Cole again saw Williams punch clear.

Martin headed a Gordon cross behind to hand Thistle a 18th minute corner. Devine scrambled the low cross behind and the next corner Jon Afolabi headed out but it his efforts to clear further brought Penrice and referee Steven Kirkland awarded a 19th minute penalty kick. Captain Stuart Bannigan approached from an angle on right, sent the shot right and Williams stretched to his left to save.

The Fifers has the opportunity from a free kick when Afolabi was fouled and Dom Thomas tried to pick out Murray at the right side of the six yard box but he could not get enough on his attempt.

In 26 minute a chipped ball over the top reached Rudden and thankfully as Fôn Williams came out to meet him the attempt to lob the keeper cleared the bar. Two minutes another Thistle corner after Murray was forced to turn a Gordon cross behind, was held by Fôn Williams.

Fôn Williams next had to hold a header from Graham after Rudden had made ground down the right and successfully delivered a cross to the far side of the Pars six yards box. Ten minutes from the break the Pars threatened on the right side with Turner cutting in seeking Thomas but only a corner ensued. That turned out to be dangerous since when Ross sent that in Graham's header sent Cole away and only a great last man tackle by Comrie saved the day.

The home side continued to press with Tommy Robson sending a cross through the six yard box in 42 minutes and just before half time Rudden sent the ball over off the crossbar after he had lifted his effort over Martin and Fôn Williams.

It had been all Thistle and their keeper must have been very cold. There had been only one Dunfermline shot, Thistle had managed seven and had seven first half corners. Possession had been 60/40 in the home side's favour.

Half Time: Partick Thistle 0 Dunfermline 0

There was a double substitution for Dunfermline at half time Ethan Ross and Gabby McGill going off and Tom Beadling and Josh Edwards coming on.


Thistle had the Pars under pressure from the restart and Comrie was rather close to turning in a cross from the right just outside the right goalpost. Then the Fifers made two chances Thomas breaking through only for Fox to come out and clear and then on 55 minutes Edwards and Turner combining to tee up Thomas but his good connection was just wide left.

Two more minutes past and the Jags had another near thing. Fôn Williams pulled off a great save and Martin's last ditch boot denied the home side the opener. While at the other end Turner was unlucky not to get enough control in front of goal to execute a shot.

Afolabi broke in 62 minutes, laid the ball off to Turner to his left but the final pass into the box just evaded Thomas.

A Tom O'Ware shot was headed over by Beadling and a reprieve came when Afolabi was sent up the left by Turner but he just could find anyone with a cross except Penrice whose headed just cleared the bar. Thomas's corner from the left was a daisycutter and MURRAY met it brilliantly to melt the ball home. 0-1

The 370 Pars fans at last had something to sing about and how they enjoyed that. There was still plenty of defending to do as Thistle brought on Dario Zanatta for James Penrice and then Lewis Mansell for Zak Rudden.

Thistle were penalised for pushing at an 83rd minute corner before Thomas took the heat off winning one at the other end. The home defence cleared and the frustration grew in the home support as Thistle lost their impetus and with the clock running down the visitors defence stuck to their task.

In 90 minutes Afolabi went down in the box as Mansell tracked him but no penalty. It was a nervy period of added time, the Pars took their time when possible but in the fourth minute added Brian GRAHAM rose to head in the late late equaliser with Fôn Williams complaining bitterly that he had been fouled and that the goalscorer had been offside when the cross came in that led to the equaliser. 1-1.

It was another case where decisions, and this time lack of them, went against Dunfermline. It has been one sided for the first 45 minutes and the Fifers were fortunate to go in all square at half time considering the amount of pressure from Thistle and the penalty saved by Fôn Williams. To go ahead and then hold out would have been a bit smash and grab but would we have complained.

Thistle put in a huge performance and probably deserved something from it but definitely not in the manner they did. So Pars still 5th and face Dundee at the Kilmac on Saturday in what will be a six pointer.

PARTICK THISTLE: Scott Fox: Lewis Mayo, Tom O'Ware, Darren Brownlie, James Penrice (Dario Zanatta 73): Reece Cole, Stuart Bannigan, Tommy Robson, Shea Gordon, Zak Rudden, Brian Graham.
SUBS NOT USED: Jamie Barjonas, Lewis Mansell, Darian MacKinnon, Steven Saunders, Lee O'Connor, Jamie Sneddon (GK)
SCORERS: Graham (90+4)

DUNFERMLINE: Owain Fôn Williams: Aaron Comrie, Lewis Martin, Danny Devine, Euan Murray: Dom Thomas, Paul Paton (c), Kyle Turner (Joe Thomson 72), Ethan Ross (Josh Edwards HT): Gabby McGill (Tom Beadling HT), Jonathan Afolabi
SUBS NOT USED: Matthew Todd, Lewis McCann, Miller Fenton, Cammy Gill (GK)
SCORERS: Murray (72)
YELLOW CARD: Beadling (61), Devine (69)

REFEREE: Steven Kirkland
WEATHER: Clear 6°C
ATTENDANCE 2078

NEXT MATCH: Ladbrokes Championship (away) v Dundee Saturday 14th March 2020, kick off 3.00pm at the Kilmac Stadium at Dens Park.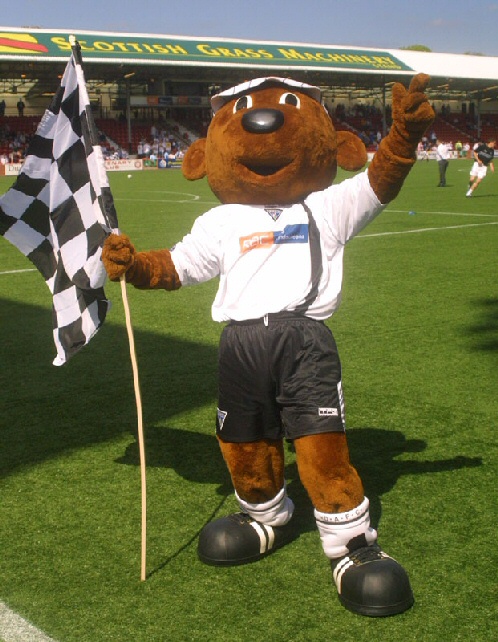 Sammy says thanks very much for visiting our web site where we have lots of news for young Pars fans.