SPFL League One: BRECHIN CITY 1 DUNFERMLINE 2: 20/02/16
Dunfermline returned to Glebe Park Brechin, the ground where they started their league campaign this season with a resounding 6-1 win. Allan Johnston went with the same again starting eleven for the third game in a row as his table toppers took on the bottom club.

Opposing manager Darren Dods was excluded from fielding his midfielder Lewis Spence as a condition of his loan from Dunfermline. Jamie Montgomery, Paul McLean, Craig Molloy came into the Brechin team with Dods and David Weatherston dropping out.

The visitors kicked off against an Angus club kicked in search of their first win since the Saturday before Christmas. Just on the minute mark Faissal El Bakhtaoui burst through to get in a shot on target from an angle on the right but keeper Graeme Smith stopped the shot. then in fourth minute Josh Falkingham sent a wonderful pass into the left side of the Brechin box and when Smith came out to turn the ball behind there were appeals for a penalty as Michael Moffat was brought down by the keeper but only a corner was given. Unfortunately Falkingham's shot from the corner was not as good and the ball went wildly wide and left.

The next attack was to provide the sixth minute opener. El Bakhtaoui was fed the ball out on the left wing and he cut into the Brechin box to square for Michael Paton in front of goal, he prodded the ball right for FALKINGHAM to sidefooted the ball into the net. 0-1

Joe Cardle very quickly had the next chance but his shot from the edge of the box screamed over the top. Brechin's effort to get into the game looked impressive with good close play between James Dale and Craig Molloy but his ball wide right only found Montgomery in an offside position.

In 16 minutes a fine move with Moffat slipping the ball to Geggan who then played it wide for Craig Reid ended up with Lukas Culjak heading the cross down to Cardle but remarkably Smith kept out the Pars man's strike.

Brechin were to equalise in 17 minutes after pressure on Ben Richards-Everton had made the Pars centre half concede a corner. When that was sent over by Willie Dyer from the left, former Pars striker Robert THOMSON rose above everybody else to head home. 1-1

El Bakhtaoui then hit the top of the crossbar with a right footed cross before another Brechin corner gave them an opportunity to repeat their earlier success. This time it was McLean who got his head on it but he powered it wide left.

In 27 minutes Dunfermline forced two successive corners and Paton took both. The second slightly lower was met by Geggan at the near post but his header was deflected behind but no corner. Pressure was maintained with Cardle chipping the ball across the face of the Brechin goal only for Culjak heads away. Two minutes later a similar Cardle cross landed on the crossbar.

Murdoch had to pull off as save on the half hour after Thomson was able to power a shot on target from the left side of the penalty box. Then in 36 minutes another goal kick was given after Reid's shot was turned over the bar by the keeper. It came from yet another fast flowing Pars move, Paton providing the final lay off to his overlapping right back.

Play was bogged down in the area between the right corner flag and the right side of the box. Dunfermline exchanged several good passes before a tackle on El Bakhtaoui earned the visitors a 41st minute free kick on the right edge of the box. Paton sent that into the six yard box where RICHARDS-EVERTON shot the ball into the net. 1-2

The home side were upset by the big man's challenge on the ball and Graeme Smith and Jonathan Tiffoney were both shown yellow cards for dissent. When play resumed Moffat ripped through the right side of the home defence and his inviting ball into the area in front of goal was accepted but the fantastic opportunity that fell to El Bakhtaoui was blasted over the crossbar.

The Pars had managed 12 first half shots to Brechin's 4 and possession showed 59% to the Fifers. At the break the advantage should have been greater.

Half time: Brechin City 1 Dunfermline 2

Falkingham has his head in his hands after sending a great 47th minute chance wide left. Moffat had forced his way through the middle and a tackle took the ball left for El Bakhtaoui who duly picked out Josh.

Four minutes later another nippy run from Moffat earned a corner on the right. Paton's first to the near post was turned over the stand and the second low to Geggan was successfully defended. A right footed shot from El Bakhtaoui was then fizzed from the edge of the box just outside the left post.

Andy Jackson penetrated the Pars defence in 56 minutes but when he put in the shot from the edge of the box, Murdoch dived to his right to hold. Back at the other end Paton missed what is universally described as an absolute sitter. Moffat found himself in possession in the centre of the Brechin box but the ball went back to El Bakhtaoui and his fierce shot was parried to his left by Smith. Paton had only to tap the ball in but instead from no more than six yards out, managed to side foot the ball over the bar.

Falkingham got another half chance but it was Brechin who threatened again with Murdoch racing out to the right to smother a loose ball ahead of Jackson. David Weatherston was injured in a challenge with his former QOS team mate Reid and required the physios attention. A few minutes later Scott Shepherd replaced the sub.

Cardle laid off a chance to Moffat but the final ball was not good, El Bakhtaoui was caught offside and another Paton free kick was easily cleared. As Dunfermline pushed up there was always a threat from Brechin on the counter and on one occasion Talbot put in a great headed clearance with what seemed like six Brechin players charging forward.

In 77 minutes David Hopkirk replaced Joe Cardle in the Fifers first change of the game. Three minutes later a Paton corner was flicked on by Moffat but a defender headed away. Talbot was shown a yellow card for no more than a shoulder charge on Shepherd that looked worse because the sub clattered into an advertising board.

Ryan Wallace had replaced Paton and his 85th minute chip into the box from a free kick was ably defended. Jackson was then kept out by Murdoch when from close range the striker had a great chance for a late equaliser.

Dale became the sixth Brechin player to see yellow in 87 minutes, yet it had not been a dirty or over physical match. An 89th minute free kick put the pressure back on the home side, Richards-Everton staying up and winning another. El Bakhtaoui was offside in an 93rd minute chance after Wallace had flashed the ball across goal.

There was to be no further scoring and Brechin's first home defeat in six meant the three points were heading back down the A90 to Dunfermline. It was three points that the Pars had made incredibly difficult for themselves but that is now eleven away games in the league now undefeated for Allan Johnston's team.
BRECHIN CITY: Graeme Smith; Gary Fusco, Paul McLean, Lukas Culjak, Willie Dyer; Jonathan Tiffoney (David Weatherston 57 (Scott Shepherd 71)), Craig Molloy (Euan Smith 85), James Dale, Jamie Montgomery; Andy Jackson, Robert Thomson.
SUBS NOT USED: Craig Johnston, Darren Dods, Darren McCormack, Patrick O'Neil (GK).
SCORERS: Thomson (17)
YELLOW CARD: Montgomery (24), Smith (41), Tiffoney (42), Fusco (63), McLean (81), Dale (87)

DUNFERMLINE: Sean Murdoch; Craig Reid, Brad McKay, Ben Richards-Everton, Jason Talbot; Michael Paton (Ryan Wallace 81), Andy Geggan (c), Josh Falkingham, Joe Cardle (David Hopkirk 77); Michael Moffat, Faissal El Bakhtaoui.
SUBS NOT USED: Rhys McCabe, Shaun Byrne, Shaun Rooney, Paul Joseph Crossan, David Hutton (GK).
SCORERS: Falkingham (6), Richards-Everton (41)
YELLOW CARD: Richards-Everton (61), Talbot (83)

REFEREE: Mike Runcone
WEATHER: Bright 5ºC
ATTENDANCE 1053

NEXT MATCH: Ladbrokes League One (home) v Stranraer, Saturday 27th September 2016, kick off 3.00pm at East End Park.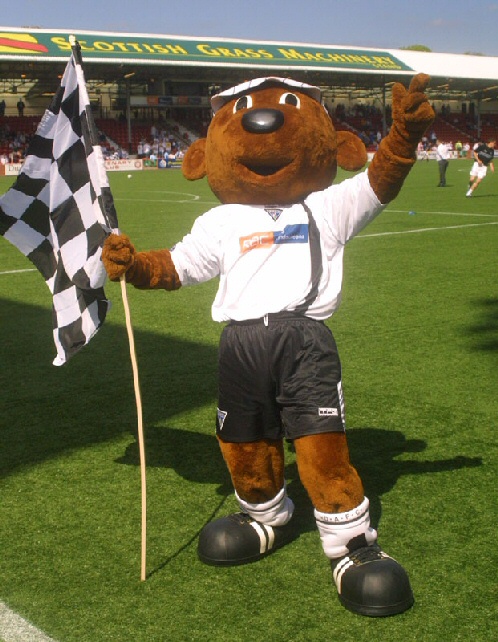 Sammy says thanks very much for visiting our web site where we have lots of news for young Pars fans.