SPFL League One: PETERHEAD 1 DUNFERMLINE 1: 08/11/14
Dunfermline Athletic draw first ever league game at the Balmoor Stadium. Pars team unchanged. Faissal El Bakhtaoui (19) 0-1; Jamie Stevenson (88) 1-1


Twenty five years ago this week when Dunfermline topped the SPL for the first time ever Peterhead were playing in the Highland League. There had been one previous Pars excursion to the Balmoor Stadium in the League Cup that Dunfermline had successfully negotiated.

The Fifers were unchanged from the eleven that started against East Stirlingshire while Peterhead made three changes from the team that lost at home to Stranraer the previous Saturday - Reece Donaldson was suspended because of his red card and Ross Smith and Mickey Riley were also out. Into the home team came Jordan Brown, Cammy Kerr and David Cox.

There was a minutes Remembrance silence before Peterhead kicked off attacking the power station end and that consisted of a punt at goal meaning Ryan Scully got the earliest possible touch in catching the ball. Dunfermline were kitted out in their away strip so it was red v blue and the Pars quickly got into their passing game. Faissal El Bakhtaoui was pinned down by Scott Ross in the left corner leading to referee Calum Murray reading the two of them a lecture in just eight minutes.

Two Pars corners in tenth minute ended up with Stuart Urquhart's header failing to find the target. Next minute Andy Geggan cracked a shot from 25 yards that keeper Graeme Smith held. Then Alex Whittle sent a cross over from deep down the left but there were no takers. The Fifers were taking a hold of the game and there were barely fifteen minutes on the clock.

Millen sent over another corner from the left in 17 minutes but that travelled to the far side where El Bakhtaoui returned but the Blue Toon defence did its job. Ross Forbes sent in a good ball from the left byeline but again the ball was cleared. That was only as far as Lewis Spence and his shot went wide left from 22 yards out.

The opening goal was well warranted when it duly came in 19 minutes. Shaun Byrne cut in from the right, turned and fed Spence who in turn played in Millen on the right wing. His simple cross was well met by Faissal EL BAKHTAOUI to glance a header home from just six yards out. 0-1

The French striker was celebrating his 22nd birthday and that goal was just what he wanted. There might have been a second for him four minutes later when he was on the end of a Whittle cross but he looped that just over the crossbar.

Peterhead's first real threat came from a 29th minute corner with Rory McAllister's header being headed clear by Whittle. It was then back to the other end and two more Pars corners one from either side that finished with Geggan heading a chance over the bar.

Urquhart then charged down McAllister's cross and Cox was given the chance to deliver another corner from the left that Scully held. A 37th minute chance came the way of Michael Moffat after Geggan slipped the ball right for the striker but he drove that one into the arms of Smith.

Two minutes later El Bakhtaoui turned and shot on target from 20 yards but Smith pushed that round his right hand post for yet another Pars corner. This time it was the rush from midway into the half but again no success.

Millen came back up left for a 42nd minute corner and although Gregor Buchanan got a header in Ryan Strachan cleared. When play switched to the other end it was Strachan who tried a shot but it was not good enough to beat Scully.

Dunfermline had 61% possession in the first half, seven corners to the home side's four but only one ahead.

Peterhead 0 Dunfermline 1

Dunfermline got the second half going and it was Forbes who created the first chance racing into the box on the left side to release a shot that unfortunately Smith blocked. Three minutes later Smith was very lucky to deflect away a Moffat shot. Moff made a fantastic run taking on and beating central defender Scott Ross with pace before firing in a powerful effort. Next it was Buchanan who was out of luck heading over from a free kick on the left that had earned defender Cammy Kerr the game's first yellow card.

Forbes drove a fierce effort over the bar after the Pars had played the ball around the Peterhead half and then in 58 minutes almost got caught on the break when Mark Millar raced on to a ball played to the top of the box but Scully was really well out to take the ball at the opponent's feet.

Scully fisted away a 62nd minute corner that dipped under his crossbar and sub Bryan Gilfillan might have done better than send the ball over the bar when given a second bite at it. Urquhart was yellow carded for impeding McAllister three minutes later and Peterhead were awarded a free kick 25 yards out. Gilfillan blasted that at the Pars wall with Buchanan taking the brunt of the attempt and needing treatment thereafter from physio Kenny Murray.

Millen sent over a 72nd minute corner after Forbes' shot was blocked but that didn't change anything and eventually Peterhead cleared. Geggan and Kerr clashed in a challenge and within minutes both were replaced. Andy Rodgers came on for the home side and Gozie Ugwu for Dunfermline.

With five minutes remaining a double substitution led to Dunfermline stringing six men along their defences. Ryan Williamson and Lewis Martin were introduced and El Bakhtaoui and Forbes withdrawn. Within three minutes however Peterhead breached the Pars defences from a free kick in from the right. All the Pars players were in their own box as the ball came in but it was Gilfillan who headed it back and Jamie STEVENSON rushed in to head past Scully. 1-1

The game opened up more and Peterhead pushed for the equaliser. When Buchanan fouled McAllister 26 yards out the striker hit the 80th minute setpiece low on target but Scully dropped to one knee to take. A Peterhead corner two minutes later found the head of Gilfillan but he aimed wide left.

There was a final push from Dunfermline with Millen crossing the ball in from the left and Urqhuart seeing his effort in the fourth minute of added time cleared on the line.

It was a massively disappointing end to yet another match Dunfermline might have had won by half time. The manager was seething with the way his team defended free kicks towards the end. He felt that Peterhead had already served their warning and yet they allowed them to pump another free kick deep into the Pars box and that was to cost the two points that would have taken JJ's team back to the top of the league.

PETERHEAD: Graeme Smith; Cammy Kerr (Andy Rodgers 74), Steven Noble, Jordan Brown (Bryan Gilfillan 57), Scott Ross, Ryan Strachan, Mark Millar, Jamie Redman, Rory McAllister, Jamie Stevenson, David Cox
SUBS NOT USED: Dean Richardson, Paul Jarvie (GK)
SCORERS: Stevenson (88)
YELLOW CARD: Kerr (50)

DUNFERMLINE: Ryan Scully. Ross Millen, Gregor Buchanan, Stuart Urquhart, Andy Whittle; Shaun Byrne, Lewis Spence, Andy Geggan (c) (Chigozie Ugwu 75), Ross Forbes (Ryan Williamson 85); Faissal El Bakhtaoui (Lewis Martin 85), Michael Moffat
SUBS NOT USED: Andy Stirling, Ryan Thomson, Allan Smith, Ryan Goodfellow (GK)
SCORERS: El Bakhtaoui (19)
YELLOW CARD: Urquhart (65)

REFEREE: Calum Murray
WEATHER: Dry 8C
ATTENDANCE 740

NEXT MATCH: SPFL League One (away) v Stenhousemuir
Saturday 15th November 2014, kick off 3.00pm Ochilview Park.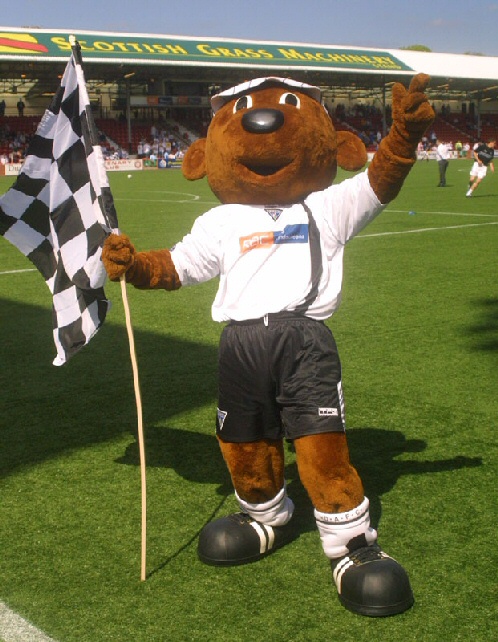 Sammy says thanks very much for visiting our web site where we have lots of news for young Pars fans.