SPFL Play Off Semi DUNFERMLINE 3 STRANRAER 0 aet: Date 11/05/14
MATCH PICTURES
Stranraer brought¬ a one goal advantage to East End Park for the¬ second leg of the Championship semi final.¬ Jim Jefferies had the luxury of being able to freshen his team up but Steven Aitken stuck by the same starting eleven as he fielded on Wednesday night.
Out of the team that started for the Pars on Wednesday night went Ross Millen, Callum Morris, Jonathan Page (suspended), Shaun Byrne and Lewis Spence, Those replacing them were Ryan Williamson, Lewis Martin, Kerr Young, Alex Whittle and Stephen Husband.
Stranraer kicked off attacking the goal at the McCathie Stand end but it was their keeper who was in action first. After just 45 seconds Ryan Thomson ran on to a knock down by Faissal El Bakhtaoui but Mark Docherty eased him out and David Mitchell collected.
Then still within two minutes the ball was fed wide right by Thomson and when Whittle returned the ball there were loud appeals for a penalty as the ball came out off the hand of a Stranraer player.
El Bakhtaoui forced the first corner of the afternoon and when Danny Grainger sent that curling in from the right, Mitchell held albeit after a couple of his defenders had tried to clear. On ten minutes Martin slipped the ball in to Falkingham and he took off on a pentetrating run than end with a powerful shot that Mitchell turned over his crossbar.¬ This time Grainger's delivery was met by Geggan but his glancing header from close in slipped narrowly wide of the left upright.
The home support raised their volume and encouraged their team to find that all important first goal. El Bakhtaoui and then Williamson tried going around the left side of the visitors defence but could only earn a free kick that Grainger pumped through the box. Everything was towards the red kitted Mitchell in the Stranraer goal but with eleven men behind the ball at times it was difficult for Dunfermline to find openings.
In 19 minutes a poor clearance out of defence by striker Jamie Longworth went straight to Geggan and he released a rocket of a right footed shot from 35 yards that rattled back off the crossbar. Next minute the pressure of the occasion boiled over with Bell and Falkingham clashing in front of the dugouts. No cards shown and treatment required for the writhing Falklingham.
A long throw from Grainger escaped through the Stranraer box but Williamson earned a 25th minute corner that Mitchell did well to fist away.¬ At the other end Stranraer had their first real chance when a cut back from the right byeline was met by Scott Robertson at the near post but he shot wide right.
In 29th minute El Bakhtaoui sprung above Bell to take the ball off him but then went for the next loose ball and injured himself and Scott Rumsby who he clattered into. As Faiss limped off supported by physio Kenny Murray it looked like the Frenchman's afternoon might be over but he¬ made a remarkable recovery and was soon back on.
Husband won the ball and then played it short to Thomson who teed up Geggan for another long range effort that was off target. Then a Whittle cross was dropped by Mitchell but Williamson was just not near enough to capitalise.¬ A Grainger corner was sent to the edge of the box where Husband had arrived from deep but he skied his shot.
Two more Dunfermline corners in 40th minute almost broke the deadlock. The second, an inswinger from Grainger on the left was sweetly met by Geggan but Mitchell kicked the ball off his line with a pure reflex save.
In the last minute of the half Whittle switched the ball to Wiiliamson on the right side of the box, he could have shot but instead chose to try and find Whittle in front of goal but Stranraer intercepted and the chance was gone. In the second minute of added time Thomson cut the ball back from the left byeline and Falkingham was presented with a great chance but he hit that into the ground and wide left.¬
It had been a first half where Dunfermline totally dominated; 66% possession, nine shots on target to Stranraer's one and eight corners to Stranraer's none.¬ Total committment from every one of the Fifers, just lacking that all important goal.
Half time: Dunfermline 0 Stranraer 0
The home side recommenced battle from where they had left off with Mitchell chesting away a Whittle drive and then pressing with a corner from the left. Husband¬ was tenacious in dispossessing Gallagher but as he raced on goal Bell tracked him back and the ball ran away from him.
El Bakhtaoui rode a high challenge from David McGregor and the main stand rose to its feet as he cut in but the defence curtailed him to winning a corner. That caused further problems with Young getting a touch before El Bakhtaoui shot from close in but Mitchell clung on to the ball on the line with his second attempt.
Just as you thought that if¬ this had been a boxing match the referee would have been considering¬ stopping it, Stranraer exploited an opportunity created by Dunfermline's attacking and Scully had to pull off a great stop from Longworth. But that was temporary and with the next sweep forward the goal that had been expected for what seemed a decade eventually came. El Bakhtaoui had his effort blocked but the ball landed nicely for captain Andy GEGGAN to send East End Park mad just prior to the hour mark.¬ ¬ 1-0 and¬ 2-2 on aggregate.
Dunfermline continued to go forward with a Grainger corner and a Ross Forbes free kick giving the opposition plenty to think about. As the match entered its final quarter the visitors began to counter and Martin had a great tackle on Longworth, Scully held from Winter but in 73 minutes after El Bakhtaoui had his shot stopped somehow Forbes failed to take the opportunity and a corner resulted.
Allan Smith came on for Ryan Thomson in 76 minutes as Jim Jefferies tried a different tact and fresh legs. Forbes shot at a Dunfermline corner was blocked and Stranraer countered but the defence did its job. Then a Bell shot from 30 yards was deflected behind for an 80th minute corner but Geggan hoofed that away.
Adam Forde replaced Longworth in 83 minutes before Winter had a good opportunity that hit the upper side of the net.¬ With under five minutes remaining Grainger sent in another corner from the right and the crowd roared on their side but the ball to the near post for Smith was defended and still the match remained on a knife edge. The dying minutes of the regulation 90 were nervy and the final whistle was welcome since the full time Pars would fancy their chances in extra time.
Full time: Dunfermline 1 Stranraer 0
Extra time of 15 minutes each way then got underway to establish which of these sides would travel to Central Park on Wednesday night for the first leg of the Championship final. Dunfermline attacked the goal at the Cowdenbeath end and El Bakhtaoui fired a good chance wide from 25 yards in 95th minute.¬ Two minutes later however the stadium exploded! At last a Grainger cross opened up the chance and GEGGAN arrived at the right moment to head past Mitchell. 2-0 and¬ 3-2 on aggregate.
Forbes gave Mitchell a cross to cut out at his near post but then the keeper was caught out when El BAKHTAOUI ran on to a Grainger lob through the middle. The keeper came out to the edge of his area but the French Moroccan just poked it past him to find the net¬ to the keeper's left. 3-0
Stranraer looked a fallen side as the second 15 of extra time started. Forbes delivered a cross from a corner on the right and the ball was headed off the line. Cramp took its toll and as Andy Geggan was subbed by Shaun Byrne, both Young and Grainger did some stretching.
In 25th minute of extra time left back Mark Docherty got a chance to claw a goal back but shot across goal and out on the right. Scully then held from Stephen Stirling and the celebrations were about to begin. Cowdenbeath successfully negotiated their way past Ayr United in the other Championship semi final so on Wednesday night its a 7.45pm kick off for the final first leg and can you come back next week? The home leg will be played at East End Park on Sunday 18th May, kick off 4.00pm
DUNFERMLINE: Ryan Scully; Lewis Martin, Kerr Young, Danny Grainger;¬ Ryan Williamson, Josh Falkingham, Andy Geggan (c)(Shaun Byrne 112), Alex Whittle; Stephen Husband (Ross Forbes 55); Faissal El Bakhtaoui, Ryan Thomson (Allan Smith 76).
SUBS NOT USED: Ryan Goodfellow (GK), Callum Morris, Ross Millen, Lewis Spence.
SCORERS: Geggan (59, 97)), El Bakhtaoui (102)
YELLOW CARD: El Bakhtaoui (59)
STRANRAER: David Mitchell, Scott Robertson (Stephen Stirling 74), David McGregor, Scott Rumsby, Mark Docherty, Grant Gallagher, Steven Bell (c), Sean Winter, Andrew Stirling; Jamie Longworth (Adam Forde 83), Martin Grehan (David McKenna HT).
SUBS NOT USED:¬ Lloyd Kinnaird, Chris Fahey (GK).
YELLOW CARD: Gallagher (38), Winter (56)
REFEREE: Crawford Allan
WEATHER: 13C Sunny intervals, then rain
ATTENDANCE: 4525
50/50 HALF TIME DRAW: Ticket no.97599 won £1000
MATCH PICTURES
NEXT MATCHES:
SPFL Championship final first leg (away) v Cowdenbeath
Wednesday 14th May kick off 7.45pm
SPFL Championship final¬ second leg (home) v Cowdenbeath
Sunday 18th May kick off 4.05pm
¬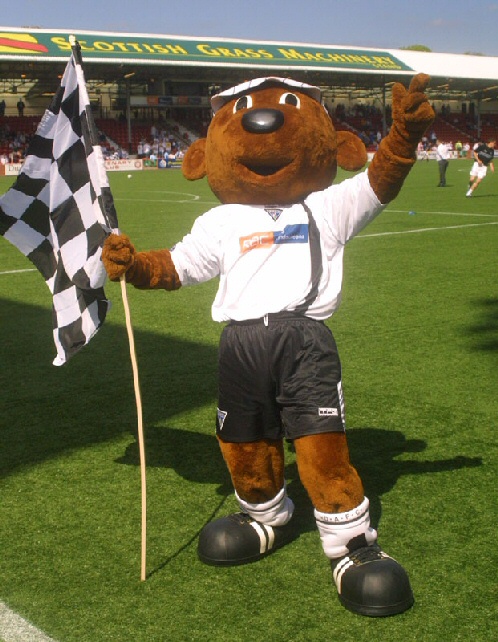 Sammy says thanks very much for visiting our web site where we have lots of news for young Pars fans.