SPFL League One: AYR UNITED 1 DUNFERMLINE 1: Date 19/04/14
MATCH PICTURES
VIDEO HIGHLIGHTS
With second place guaranteed it was a much changed Dunfermline side that faced Ayr on Easter Saturday.┬ Jim Jefferies made six changes in his line up for the trip to Somerset Park. That meant starting debuts for 20 year old keeper Ryan Goodfellow and 18 year old midfielder Lewis Spence and the return of Kerr Young, Ross Millen, Ross Forbes and Shaun Byrne.┬
For the home side Mark Roberts dropped Kevin Kyle, Michael McGowan┬ and Adam Hunter, preferring to start with Kyle McAusland, Alan Forrest┬ and Michael Donald.

Lewis Spence made his starting debut v Ayr United
Ayr United kicked off in the fine Easter sunshine and pressed the Pars goal from the start causing Goodfellow to be called into action within 40 seconds. Then he punched away an awkward cross from the left and watched as a Scott McLaughlin free kick from the right swung past his right hand post in fifth minute..
Alex Whittle was the first to try a shot for the visitors but it was directed straight at the Ayr United keeper David Hutton. Ross Forbes popped a shot from 30 yards in 13th minute but that too went straight to the all yellow kitted keeper. When Faissal El Bakhtaoui was blocked by Martyn Campbell on the quarter hour, referee Stephen Finnie showed the Ayr centre back the game's first yellow card and from the resultant free kick, Forbes sent the ball dipping in but over the crossbar from 30 yards.
In search of a play off spot Ayr tried hard and gave the Pars defence plenty to do. There were good blocks by Spence and Grainger before Brian Gilmour despatched a low drive wide left. A Young challenge on Craig Malcolm earned Ayr a free kick that was taken quickly allowing Michael Donald to receive the ball wide left and fire over a dangerous ball that Martin cleared.
From a 29th minute corner Byrne drove low on target but Hutton dived to his right to hold the 20 yard effort. This took the heat off the Pars defence but Ayr prevented their opponents getting their passing game going. El Bakhtaoui did not help by being caught offside and when Thomson did beat the offside trap his shot was wide of target.
A Forbes shot in 34 minutes was perilously close to beating Hutton when a deflection wrong footed him. El Bakhtaoui then earned the wrath of his gaffer after he failed to deliver a cross after a neat counter attack set up by Spence┬ followed by a┬ Forbes' flick on.
Lithgow headed a dangerous Forbes free kick behind for another Dunfermline corner five minutes from the break. The Ayr defence was put under pressure with Millen's inswinger from the left and after a goalmouth scramble Ayr denied Dunfermline a clear shot at goal. Thomson had the last chance of the half and complained profusely about the offside decision which was unfortunately correct.
After the opening five minutes Goodfellow did not have a massive amount to do but really the same could be said about Hutton in the Ayr goal.
Half time: Ayr United 0 Dunfermline 0
The Pars attacked right from the kick off in the second half with El Bakhtaoui earning a corner off Campbell within 45 seconds. Millen's cross did not create a problem for Ayr but in 49th minute Byrne should have done much better after Forbes had set him up on the edge of the box.
The opening goal was only a minute away and it came when the home defence could not clear Forbes corner in from the right. The ball was┬ headed on by┬ El Bakhtaoui┬ and┬ kept out by Hutton diving down to his right on the┬ goalline but the ball┬ went out at┬ just the right height for THOMSON to head┬ in at┬ the far post. 0-1
From the restart El Bakhtaoui broke down the left causing Hutton to come way out of his box but Byrne won the ball and┬ took it left around the keeper. His cross picked out Forbes but his well struck shot was cleared off the line by Lithgow. Next Spence laid the ball off to Young in the left side of the penalty box, he got a good connection but the ball was touched over by Hutton and Grainger then had a good chance from the corner but smashed his attempt over the crossbar.
The Pars lead was to last just five minutes. There was an element of bad luck involved in conceding the goal, captain for the day, Danny Grainger attempted a clearance but played the ball against Whittle who had gone for the same ball.┬ That┬ allowed Michael Moffat to get his head to the ball on at the right post. The ball came back off the bar and Alan FORREST was first to react, sticking the ball away from close in to make it 1-1.
Goodfellow then made a good save stretching out to his right to prevent Forrest putting Ayr ahead. The keeper was called into action again in 58 minutes coming out sharply to deny Forrest on the edge of the box but his throw out put Whittle under pressure and sustained a knee injury. Treatment from physio Kenny Murray could not fix the problem so Allan Smith came on in Whittle's place.
Andy Geggan had replaced Lewis Spence on 73 minutes and he came very close to latching on to a Forbes free kick from the left touchline. Dunfermline weathered Ayr's efforts to find a winner and the Fifers had more chances of their own. A good lay off by El Bakhtaoui was sent into Allan Smith's path in 83rd minute but he failed to get in a shot and his subsequent pass was intercepted.
Moffat broke through on the top of the box in 87 minutes but again Goodfellow was able to take grasp the shot. Donald tried to get around the defence on the left but was kept at bay and then Geggan's header clear skied up for Goodfellow to hold. In added time Hutton held from El Bakhtaoui but there was to be no more goals.
It was a good performance and fair result for the Pars. Their opponents were hungry for points to boost their play offs challenge, so to hold them to a draw with a team of young players was a good outcome.
AYR UNITED: David Hutton; Kyle McAusland, Alan Lithgow, Martyn Campbell, Gordon Pope; Brian Gilmour, Alan Forrest, Scott McLaughlin, Michael Moffat, Craig Malcolm, Michael Donald
SUBS NOT USED: Shaun Newman (GK), Kevin Kyle, Mark Shankland, Robbie Crawford, Adam Hunter, Anthony Marenghi, Jackson Longridge
YELLOW CARD: Campbell (15), Gilmour (67)
DUNFERMLINE: Ryan Goodfellow; Lewis Martin, Kerr Young, Danny Grainger (c); Ross Millen, Shaun Byrne, Lewis Spence (Andy Geggan 78), Alex Whittle (Allan Smith 61); Ross Forbes; Faissal El Bakhtaoui, Ryan Thomson.
SUBS NOT USED: Ryan Scully (GK), Jonathan Page, Declan O'Kane, Ryan Williamson, Finn Graham
YELLOW CARD: Spence (44), Forbes (70), El Bakhtaoui (73), Young (78)
REFEREE: Stephen Finnie
WEATHER: Sunny intervals 16┬║C
ATTENDANCE: 1272
MATCH PICTURES
BEHIND THE SCENES VIDEO
NEXT MATCH: SPFL League One (away) v Arbroath
Saturday 26th April 2014, kick off 3.00pm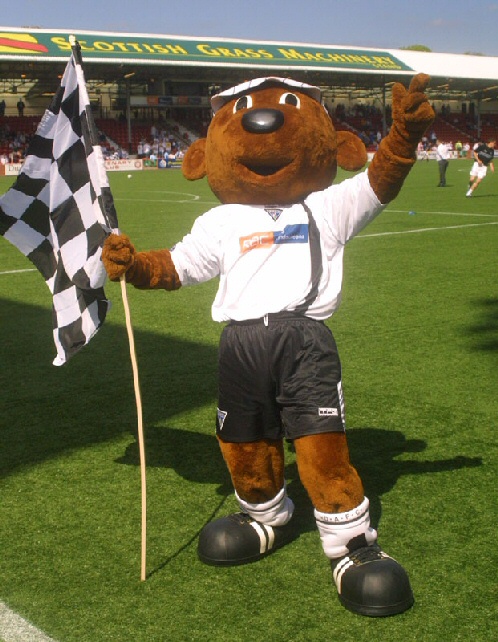 Sammy says thanks very much for visiting our web site where we have lots of news for young Pars fans.