SFL Div One: DUNFERMLINE 1 AIRDRIE UNITED 2: Date: 04/05/13 : :
MATCH PICTURES
The 36th league match of the season brought already relegated Airdrie United to East End Park where the home fans were hoping to see the Pars finish with the win that would guarantee eighth place in the First Division. A Pars win would despatch Cowdenbeath to the play offs. The Blue Brazil were at Hamilton hoping that a win there for them might coincide with the second consecutive win at Dunfermline for Airdrie. That scenario would see the Pars in the play offs.
Jim Jefferies was able to field a stronger team than the one that drew at Firhill the previous week. Andy Geggan and Ryan Wallace replaced John Potter and Shaun Byrne. For Airdrie United Marc Warren made way for Gregor Buchanan.
The very pleasant morning sunshine had vanished at three o'clock and Sammy the Tammy led out the ten ballboys all carrying checkered flags. A bitterly cold easterly wind greeted the teams on to the park and it was the visitors, all in royal blue, who kicked off attacking the goal at the McCathie Stand end.
The game was stopped within 45 seconds as Pars 19 year old striker, Allan Smith went down with an injury that caused him to be stretchered off. Chris Kane became the first sub of the afternoon after a four minute stoppage.
A good cross in from the right by Airdrie's Liam Coogans picked out Liam Watt on the left side of the box and Callum Morris was forced into making a net bound interception on ten minutes. At the other end Wallace was played through creating an air of expectation from the home support but his shot at goal was weak and Kenny Arthur in goal held with ease.
Michal Hrivnak made the first serious save of the afternoon in 18 minutes after Jamie Bain got in a good shot at an angle from the right. Then the Pars came close with Josh Falkingham hitting his shot on to the left goalpost. Within a minute Ryan Thomson crashed the ball off the underside of the crossbar.
In 25 minutes Alex Whittle put Wallace through the Airdrie defence but he checked before cutting back for Thomson but his efforts just 12 yards out could only win a corner. Dunfermline turned up the pressure on their opponents but the long range attempts were not going to trouble Arthur.
Hetherington directed a good Husband cross on to his own crossbar as the Pars got closer but still the deadlock. Wallace scuffed a shot that Arthur picked up. Geggan then had a shot from 20 yards blocked. In 38 minutes Thomson found Wallace on the right, he cut inside and laid the ball off for Thomson who crashed it wide left from eight yards. What a miss!
Wallace then had another shot, more power in it this time but Arthur turned it behind for corner that saw Morris head over the bar. The chances had nearly all been in front of the less than 100 Airdrie fans in the East Stand. In the second minute of added time Wallace had another break through on goal but again Arthur came out on top much to the frustration of the home fans.
Half Time: Dunfermline 0 Airdrie United 0
The second half started incredibly badly for Dunfermline with Liam COOGANS sticking the ball in the Pars net within 53 seconds of the restart. Quite a few in hospitality had not even returned to their seats but coupled with news of an equaliser for Cowdenbeath at Hamilton that pumped a big injection of urgency into the game.
Wallace and Lamie collected yellow cards but in 56 minutes as the contest got heated. Wallace should have scored when through on the keeper he put the ball wide left. Then in 59 minutes Ryan THOMSON burst through the centre latching on to the through ball and netting to make it 1-1.
Airdrie gaffer Jimmy Boyle made a double substitution on 61 minutes withdrawing Jamie Barclay and Jordan Moore and sending on Ryan Donnelly and Willie McLaren. Within a minute McLAREN launched a shot from 30 yards out and Airdrie were back ahead.
Dunfermline pushed up but they continued to find it hard to get in shots on target. News of another Cowdenbeath goal at Hamilton sent a stunning shivver through the already freezing Pars support. Craig Dargo was introduced in place of Ross Millen as the match entered its final quarter of an hour.
In 78 minutes Wallace did well on the left byeline but Thomson, in a good position in front of goal, hooked a left footed effort wide right. Wallace chose to shoot when another option might have had better effect and then Geggan shot into Arthur's arms.
Into the last seven minutes and apart from a short chant of Come on ye Pars, the crowd went eerily quiet as the ball was pumped through the Pars box from one side to the other. Another goal for Cowdenbeath meant that Dunfermline had it all to do.
Whittle's shot was blocked out for a corner on the left and when that came over Young's header sneaked outside the far post. There was a posse of Pars players on the edge of the box trying to snatch an important goal to set up a big finish. Dargo came close to connecting and then Wallace did but sent the ball over the bar. Nothing changed and after three added minutes, Craig Thomson blew the final whistle. Dunfermline's defeat and Cowdenbeath's win ensured they stay up.
Dunfermline paid dearly for their failure to take the many chances that came their way and ended up dumped into the play offs. So it is off to Station Park, Forfar on Wednesday night and a reunion with Dick Campbell.
DUNFERMLINE: Michal Hrivnak; Ross Millen (Craig Dargo 74), Kerr Young, Callum Morris, Alex Whittle; Josh Falkingham (c), Andy Geggan, Stephen Husband, Ryan Thomson; Allan Smith (Chris Kane 5 (Shaun Byrne 68)), Ryan Wallace
SUBS NOT USED: John Potter, Ryan Goodfellow (GK).
YELLOW CARD: Wallace (53)
SCORER: Thomson (59)
AIRDRIE UNITED: Kenny Arthur; Ricki Lamie (c), Chris O'Neil, Grant Drummond, Jamie Bain (Jack Haggerty 80), Gregor Buchanan, Liam Watt, Steven Hetherington, Jamie Barclay (Ryan Donnelly 61), Jordan Moore (Willie McLaren 61), Liam Coogans
SUBS NOT USED: Ryan McSherry, Andrew Duncan (GK).
YELLOW CARD: Moore (44), Lamie (53), Arthur (57)
SCORER: Coogans (46), McLaren (62)
REFEREE: Craig Thomson
WEATHER: Overcast, cold wind 11C
ATTENDANCE: 4624
MATCH PICTURES
BUCKET COLLECTION: Raised £6018, thank you.
NEXT MATCH: (away) First Division play off, first leg v Forfar Athletic
Wednesday 8th May 2013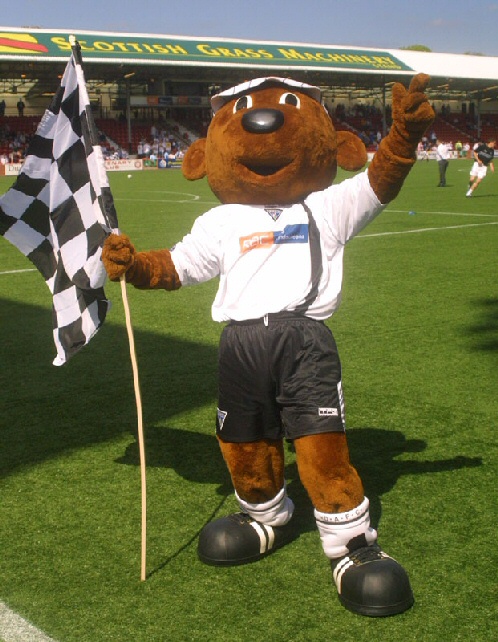 Sammy says thanks very much for visiting our web site where we have lots of news for young Pars fans.