SFL Div One: MORTON 0 DUNFERMLINE 1: Date: 13/04/13 :
MATCH PICTURES
The fourth last game of the season took Jim Jefferies' Babes to the Tail of the Bank.┬ From the side that lost to Hamilton the previous Saturday, the Pars were without the injured Andy Geggan and Callum Morris (hamstring) and their selection problems were compounded by the suspension of Stephen Husband. That meant that John Potter, child of the seventies,┬ came into a side whose dates of birth were┬ separated by┬ a decade.┬ Defender Grant Munro made his first top team start and Chris Kane returned to midfield.
For Morton Martin Hardie and Michael Tidser were missing from the side defeated at Firhill in midweek. Former Pars defender Kevin Rutkiewicz dropped to the bench.
So with just four over age players (Hrivnak, Falkingham, Thomson and Potter) it was virtually an Under 20s team that Dunfermline started off with. Colin McMenamin got the match underway with the home side attacking the goal at the east end and it was Morton who took up the initiative in the opening minutes.
Grant Munro had a good early deployment looking impressive as he mopped up a Morton foray. Dunfermline won a sixth minute corner from a Ross Millen free kick but when Millen delivered it in from the right Kane just couldn't get enough on it and Morton cleared.
The Pars were to take the lead in ten minutes after Alex Whittle's interception just inside the opposition half set up Allan Smith. The young striker took on the 'Ton defence and as he made ground into the penalty box slipped the ball right for Ryan THOMSON to score the opening goal on his 22nd birthday. Pars 1-0 up.
Morton had the ball in the net eight minutes later when a long throw in from Scott Taggart was met in the box for a Morton strike but the ball beat Michal Hrivnak off David O'Brien in an offside position. The keeper then had to palm a Kyle Wilkie header over his crossbar and he then held the corner when it was played in from the right.
The first substitution of the match was then required after Fouad Bachirou was dazed in a clash with one of his own players as they challenged Chris Kane. That heralded the introduction of former Pars winger David Graham. On the half hour Smith forced a corner on the right and Potter was not far away from getting his head to Millen's delivery.┬
Despite still in with┬ some hope of promotion, Morton looked decidedly nervous and let Dunfermline do more attacking than their supporters and manager were happy with. News of Airdrie United going ahead┬ against Partick Thistle seemed to transmit on to the park and the effort was upped as┬ the interval┬ approached.
A Mark McLaughlin free kick slipped through to Graham but Whittle dealt well and then Potter was called upon to put in a crucial header. Dunfermline then looked comfortable with territorial advantage before the half time whistle. Kerr Young had a half chance from a Millen corner but to go in one up with such a young team was a great achievement. Whatsmore for those Pars fans┬ fortunate to witness the Babes play there was optimism for the second 45.
Half time: Morton 0 Dunfermline 1
Morton started the second half strongly with the Pars forced back. It was 53rd minute before Dunfermline had a concerted spell in the Morton half. Smith and Thomson worked hard at relieving the pressure on their defence and even Munro found himself forward to neatly sidestep Tony Wallace.
Graham then got caught by Byrne but was able to continue after treatment and when Jordan Halsman pumped a free kick in from the left Munro headed behind for a corner that caused further problems. Chris Kane did well to force Peter MacDonald's effort wide at the right post.
Allan Moore threw on Aidan Fulton and Archie Campbell as the home side went to three at the back and went for it. Graham had a looping cross that landed on the roof of the Pars net. Then a free kick that had earned Kane a yellow card was floated into the Pars box and McLaughlin's┬ knock down just evaded MacDonald.┬
As the game entered┬ its final quarter Whittle went down in the box but there was no real appeals for a penalty but minutes later Smith robbed Taggart out on the left and homed in on goal. The youngster chose to shoot from an acute angle and hit the sidenetting. A cut back for Thomson might have been a much better option.
Wilkie sent a dangerous inswinging free kick through the Pars box in 72 minutes but Morton were now going forward in waves and you had to fear for the visitors.┬ The Pars fans were applauding all the defensive efforts. Hrivnak tipped a header over the bar and then Fulton sent an attempt over the bar.
There was a breather on 80 minutes when Whittle went down with a back strain. There was a left back on the bench fortunately so Ross Drummond entered the fray. Defending continued to be the task as Morton pushed for an equaliser. They survived a Taggart speciality long throw thanks to Munro and then an off target McMenamin shot.
Hrivnak kept out a cross in 88 minutes that was net bound off Potter and then McLaughlin headed narrowly wide. The Pars keeper then held a low drive and dealt with a 93rd minute corner.┬ There was still time for Morton to pass over their best chance of the day with MacDonald remarkably sending his effort over the bar from six yards.
What a performance from the young boys and a great win at Cappielow. Only downside, Cowdenbeath managed a 1-0 win at Starks Park.
MORTON: Derek Gaston; Scott Taggart, Jordan Halsman (Archie Campbell 62), Craig Reid, Mark McLaughlin, Kyle Wilkie, David O'Brien (Aidan Fulton 60), Tony Wallace, Fouad Bachirou (David Graham 29), Peter MacDonald, Colin McMenamin.
SUBS NOT USED:┬ Kevin Rutkiewicz, David Hutton (GK).
YELLOW CARD: Wilie (68)
DUNFERMLINE: Michal Hrivnak, Ross Millen, Kerr Young, John Potter, Grant Munro, Alex Whittle (Ross Drummond 81); Chris Kane, Shaun Byrne, Josh Falkingham (c), Allan Smith (Lewis Martin 91), Ryan Thomson.
SUBS NOT USED:┬ Fayssal El Bakhtaoui, Blair Henderson, Ryan Goodfellow (GK).
SCORER: Thomson (10)
YELLOW CARD: Kane (65)
REFEREE: Euan Norris
WEATHER: Fine 11C
ATTENDANCE: 1634
MATCH PICTURES
NEXT MATCH: (home) Scotish First Division v Cowdenbeath
Saturday 20th April 2013, kick off 3.00pm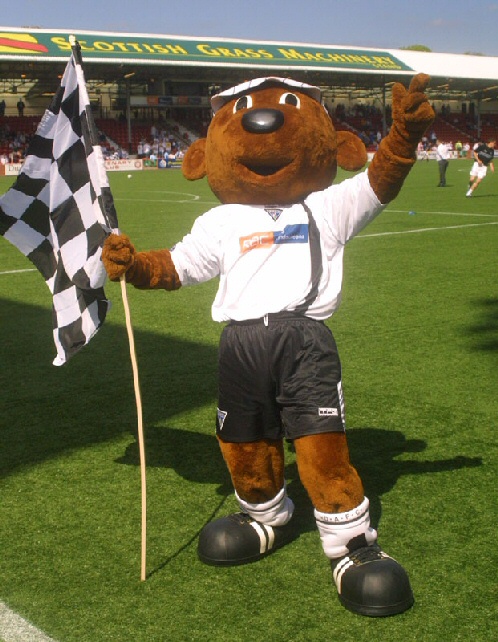 Sammy says thanks very much for visiting our web site where we have lots of news for young Pars fans.