SPFL League One: FORFAR ATHLETIC 4 DUNFERMLINE 0: Date 05/10/13
MATCH PICTURES
Dunfermline's first fixture in October took them to the land of Loons, guide dogs and bridies. A beautifull sunny day welcolmed the Pars to Station Park in┬ the county town of Angus for the first time since┬ January 1989┬ for a league fixture.
Not surprisingly Jim Jefferies fielded the same starting eleven that played in the 5-1 win over Ayr United the previous Saturday.┬ Forfar Athletic gaffer, Dick Campbell was forced to make a change as a result of Gavin Swankie's suspension┬ for his last minute┬ red at Arbroath last week. Gavin Malin, Gary Fusco, Stuart Malcolm and Paul McManus came in as Marvin Andrews and┬ Omar Kader┬ found themselves on the bench. Neil McCabe dropped out altogether.
Forfar┬ kicked off┬ and got off to a great start scoring after just 95 seconds. Chris Templeman fed the ball to Paul McMANUS who slotted home from ten yards out. 0-1
The pace was quick and the Pars produced some slick passes.┬ Their first chance came after Shaun Byrne was cut down by Malin and Stephen Husband had a chance for one of his special free kicks from 26 yards out but unfortunately his drive flew past the right goalpost.┬ A Ross Millen free kick from deep down the right was pumped into a crowded Forfar box but Templeman was up to deny Andy Geggan.
In 14th minute Geggan's back pass nearly handed the hosts a second but when McManus was through on Ryan Scully, the keeper managed to touch the ball wide right.┬ Defending┬ corners again proved the Pars downfall for when the delivery was made MALCOLM was able to run in and head the ball home. 2-0┬
Dunfermline's response was a wild shot from skipper Josh Falkingham, a Geggan header over the crossbar, Geggan header into the sidenetting on the left and another wild long range attempt this time from Ross Millen.┬ A wonderful opportunity fell to the Pars on 22 minutes. A cross from the right was headed on for Geggan but he blasted the ball into the sidenetting.
At the midway point in the half Husband was given another pop from a free kick 30 yards out. It was not stopped by the defenders but Darren Hill dropped to his knees to save on the line. Chances kept coming and yet another escaped Geggan on 26 minutes.┬ Three minutes after that Ryan Wallace chipped the ball to the far post where Hill challenged Byrne's header. The ball went wide and the dazed Pars midfielder needed the attention of physio Kenny Murray before he could continue.
Forfar's chances continued to be supplied by their opponents a poor clearance letting Dale Hilson in and then a header out of the box falling to Gary Fusco and he returned it for McManus and he was narrowly wide left when he squeezerd in a shot.┬ Wallace headed a Millen cross over the Forfar bar in between.
Falkingham's run and then cross earned a 40th minute corner and from that Callum Morris' header was cleared off the line at the right post and then Robert Thomson stabbed the loose ball wide of that same post. In time added on at the end of the first half a Falkingham cross was headed away by Malcolm from under his post and Alex Whittle smashed a good effort only inches over the┬ crossbar.┬
The continuing failure to find the net must have troubled Jim Jefferies at the break since their attacking play had been very good.
Half Time: Forfar Athletic 2 Dunfermline 0
The interval did not take the momentum out of Dunfermline's bombardment of the Loons goal and on 47 minutes their keeper was fortunate just to take enough sting out of Byrne's close in effort to be able to turn and stop the ball finding the net at the right post.
It was all Dunfermline with Scully the sole figure in his half┬ for spells. A Millen cross slipped through the Forfar box but Geggan was prevented from getting in a shot at the far post. Another Millen cross kept up the pressure before McManus almost scored on the break. Morris got back after Johnston and Husband had lost possession. Thomson headed wide when another cross came over.
Morris sent Whittle up the left and as he approached the penalty box he was taken down by Baxter to earn the Forfar full back a yellow card and the Pars a free kick. Millen lifted that into the crowded box but it was proving impossible to penetrate the home guard. Ryan Thomson replaced Robert Thomson on 63 minutes as Jim Jefferies tried something different.
It was Forfar who were to score the next goal however. Substitute Omar Kader had just come on for McManus when he broke up the right wing. He found Hilson who decided to shoot from 35 yards out. His high effort┬ beat Scully but the ball rebounded off the crossbar for MALIN to crash into the Dunfermline goal. 3-0
Forfar inflicted more pain in 81 minutes when Scully could not hold Templeman's shot and HILSON slid in a fourth goal. After that the former Pars striker nearly scored a fifth.┬ He twisted and turned his way around Johnston to get in a shot that just went outside Scully's right hand post.
No goals were to come Dunfermline's way. They rarely troubled the opposing goalkeeper and although sub Allan Smith got a rare shot on target near the end that went straight to Hill.
An incredibly disappointing result against the team that started the day at the foot of the table.┬ The Pars have now failed to win in their last five visits to Station Park.
FORFAR ATHLETIC: Darren Hill, Mark Baxter, Stuart Malcolm, Daren Dods, Iain Campbell,┬ Gary Fusco, Gavin Malin (Ross Campbell 75), James Dale (Liam Keillor 85), Dale Hilson; Paul McManus (Omar Kader 72), Chris Templeman.
SUBS NOT USED: Rab Douglas (GK), Craig Smith, Marvin Andrews,
SCORERS: McManus (2), Malcolm (14), Malin (74), Hilson (81)
YELLOW CARD: Fusco (58), Baxter (62), Hilson (66)
DUNFERMLINE: Ryan Scully; Ross Millen, Luke Johnston, Callum Morris, Alex Whittle; Josh Falkingham (c), Shaun Byrne (Jordan Moore 80), Stephen Husband (Allan Smith 74), Andy Geggan; Ryan Wallace, Robert Thomson (Ryan Thomson 63).
SUBS NOT USED:┬ Fayssal El Bakhtaoui, Ryan Ferguson, Kerr Young, Ryan Goodfellow (GK)

REFEREE: Alan Muir
WEATHER: Sunny 16C
ATTENDANCE: 968
MATCH PICTURES
NEXT MATCH (home) SPFL League One v East Fife
Saturday 19th October 2013, kick off 3.00pm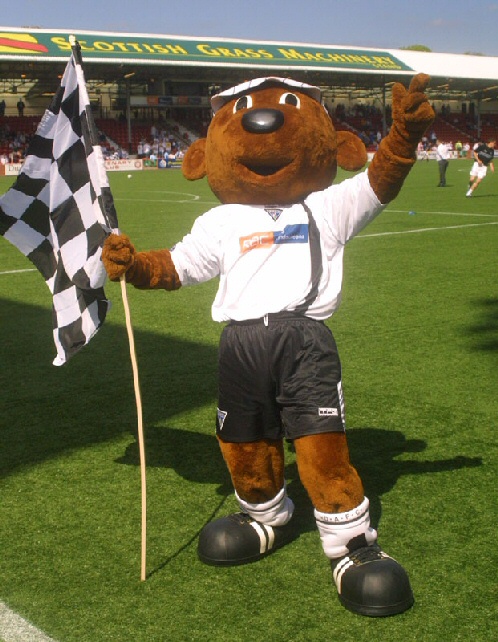 Sammy says thanks very much for visiting our web site where we have lots of news for young Pars fans.