SPFL League One: RANGERS 3 DUNFERMLINE 1: Date 06/11/13
MATCH PICTURES
The Pars relegation to League One brought this fixture round a year earlier than many would have hoped. Rangers are on the up and with ten wins out of ten. 42 league goals and just five conceded. It was against this backdrop that Jim Jefferies took his boys to Ibrox with a "nothing to lose" attitude.
Jim Jefferies┬ relegated Stephen Husband┬ to the bench and Ryan Thomson missed out with a back strain. That meant into the side came Robert Thomson and Jordan Moore.
For Rangers Lewis MacLeod, Kyle Hutton and Nicky Clark dropped out so┬ David Templeton, Andy Little and Ian Black returned to the starting eleven.
It was the first Dunfermline match at Ibrox since 3rd December 2012 and over 400 Pars fans travelled west hoping to see someone quosh Leishman's greatest tale. The Pars kicked off attacking the goal at the┬ Copeland Road Stand end┬ and Gers keeper Cammy Bell was taking a goal kick within 17 seconds.
Rangers were handed an early free kick after Josh Falkingham had taken down Arnold Peralta 29 yards out but that was successfully defended but┬ Lee McCulloch┬ was in the wars on 5 minutes when Jordan Moore's elbow caused him damage. The Pars man was yellow carded but the Rangers player had to leave the field for stitches┬ to his brow.
Playing against ten men for 14 minutes Dunfermline looked calm and composed until McCulloch appeared on the touchline to return with a bandage wrapped around his head. Just then Andrew Little got in a header from six yards that Scully did tremendously well to keep out. The Rangers man had clashed with Alex Whittle in his attempt to score and ended up requiring a lot of serious looking medical assistance.┬
With a fractured cheek bone suspected, Liittle was stretchered off after a six minute delay┬ but strangely Rangers were allowed to bring on sub Nicky Clark before play resumed. Jim Jefferies was objecting profusely. The corner thankfully was well defended but then Morris had to intercept the next good delivery to the near post.
The match was in its 33 minute when Kerr Young was yellow carded on the edge of the centre circle allowing Rangers to pump another free kick in the direction of Bilel Mohsni at the far post but again the defence held firm.
Richard Foster sustained an injury meaning he was Rangers second substitute within 37 minutes. Clark came perilously close at the far post but Rangers continued to attack the Fifers but defended well while Jefferies waved his men up the park.
The┬ forward movement that┬ the boss was wanting came through Ryan Wallace who took on Faure before squaring for Andy Geggan but he unfortunately sliced his snatched shot from 20 yards. The home fans were growing increasingly impatient and howled for decisions at every opportunity.
They almost got the goal that they craved in the fourth minute of added time but Clark's header dropped just outside the left goalpost. Rangers were to go in at the break level with Dunfermline, the sixth game running that they did not hold a half time lead. It was also the fourth match in a row that they failed to score in the first 45.
Half time: Rangers 0 Dunfermline 0
There┬ were no changes at the start of the second half but there were two yellow cards and a ticking off for Ryan Wallace. Black was then fortunate not to see a second yellow when he clipped┬ Byrne on 53 minutes.┬
Five minutes later captain McCulloch followed him into Stevie O'Reilly's book but the home defence did well to clear Millen's free kick. Rangers then forced a free kick and a corner as a result of it but the Pars defence coped well.
Millen got yellow carded at a Pars free kick and when he delivered that from the left touchline Falkingham grabbed a shooting chance but that was blocked and a corner followed from the right.
Allan Smith was the first Pars sub in 64 minutes, replacing Ryan Wallace but it was Rangers who again threatened when a cross from the left might have met with Daly failing to convert.┬ Scully did really well to thwart both Clark and Peralta but from yet another corner from the left everything changed.
Moore was deemed to have pushed McCulloch in the box and was shown another yellow card. Penalty Rangers and McCULLOCH sent Scully the wrong way to net bottom right. 1-0
Seven minutes later Rangers were to score again. This time it was a simple long diagonal ball from just in front of Ally McCoist in the dug out that Jon DALY rose to head home. 2-0┬
The ten man Fifers certainly did not give up and Smith tormented the Rangers defence taking advantage on the right and when his shot was blocked FALKINGHAM was on hand to slot home from 15 yards. Ten minutes remained and it was 2-1.
Remarkably the ten men managed to continue to create a threat as Morris came close to controlling from another visitors' corner.┬ Husband's knock down almost let FALKINGHAM in for the equaliser but the defence held out.┬
In 92nd minute Rangers Bilel MOHSNI headed home at the far post when Black sent over a corner from the right to make it 3-1. A cruel end since the Pars deserved the narrower margin. Nevertheless it had been a good performance from Jim Jefferies' side with Scully, Morris and Falkingham real stars.
Post match Rangers Nicky Law admitted that this had been one of their most physical matches of the season and felt that the Pars youthfulness and full time training gave them a real test. He felt Dunfermline would be justified to take a lot of credit out of the match.
Listen to Manager Jim Jefferies Post Rangers match comments
Listen to Callum Morris' post Ibrox comment
Listen to Rangers manager`s reaction
RANGERS: Cammy Bell; Richard Foster (Sebstaine Faure 37), Lee McCulloch, Bilel Mohsni, Lee Wallace; Andy Little (Nicky Clark 31), Nicky Law, Ian Black, Arnold Peralta (Kyle Hutton 68),┬ David Templeton,┬ Jon Daly,
SUBS NOT USED: Robbie Crawford,┬ Lewis MacLeod, Fraser Aird, Steve Simonsen (GK).
YELLOW CARD: Black (44),┬ Peralta (51), McCulloch (58)
SCORERS: McCulloch (70 pen.), Daly (77), Mohsni (92)
DUNFERMLINE: Ryan Scully, Ross Millen, Alex Whittle, Kerr Young, Callum Morris, Andy Geggan, Shaun Byrne,┬ Ryan Wallace (Allan Smith 64), Josh Falkingham, Robert Thomson (Stephen Husband 71), Jordan Moore
SUBS NOT USED: Lewis Martin, Ryan Ferguson, Craig Dargo, Luke Johnston, Ryan Goodfellow.
YELLOW CARD: Moore (5), Young (33), Byrne (52), Millen (63), Whittle (82)
RED CARD: Moore (69)
SCORER: Falkingham (80)
REFEREE: Stevie O'Reilly
WEATHER:┬ Rain 9C
ATTENDANCE: 40382
MATCH PICTURES
NEXT MATCH: (home) SPFL League One v Stenhousemuir
Saturday 9th November 2013, kick off 3.00pm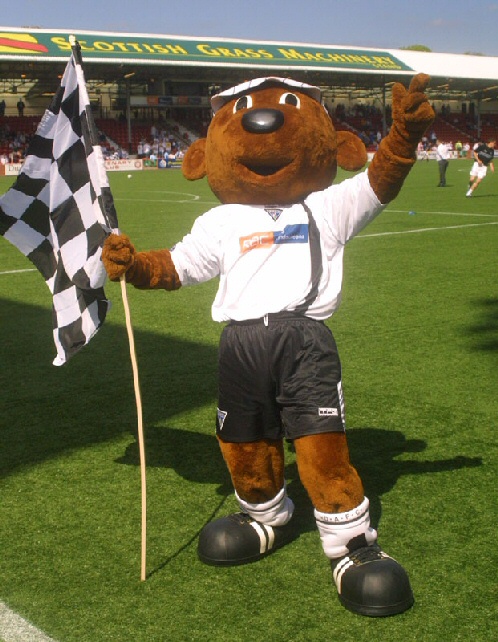 Sammy says thanks very much for visiting our web site where we have lots of news for young Pars fans.