SFL: Div One Play Off 1st Leg; FORFAR 3 DUNFERMLINE 1:08/05/13 :
MATCH PICTURES
Dunfermline returned to Station Park for their second match there this season. Back in July last year the home side knocked the Pars out of the Alba Challenge Cup but this time the prize was a little more important. As a consequence of failing to defeat already Second Division bound Airdrie United, the Pars now have to avoid joining them by beating Forfar Athletic and then if successful, the winner of Alloa Athletic v Brechin City.
Dunfermline made three changes from the team that lost to Airdrie United. Injury ruled out Callum Morris (hamstring) and Ryan Wallace (dislocated shoulder) while Ross Millen dropped to the bench. That meant starts for John Potter, Shaun Byrne and Chris Kane. Dick Campbell made two changes to the side that were successful against Ayr United, Michael Dunlop and Gavin Swankie taking the places of Danny Denholm and Jordan Brown.
It was a very wet night in Angus when the teams came out to the theme tune of Local Hero. Former Par Chris Templeman got the game underway and the home side forced a corner within 13 seconds. There was some not too convincing defending before Michal Hrivnak eventually got his clutches on the ball. The Pars went up the park and Allan Smith made Darren Hill save but the shot from 20 yards was not nearly powerful enough.
The Pars forced a corner in six minutes but failed to trouble the Second Division side who broke through Swankie to Hilson and Hrivnak was at full stretch to turn Willie Robertson's shot around his left hand post. Hill was able to gather a Thomson effort in 17 minutes after a good Alex Whittle's cross had found Smith in the centre of the penalty box. Could have done better.
Then two minutes later a Geggan cross was whipped away from Thomson as he looked certain to score. Falkinghan sent over the corner from the left but Geggan sliced his 25 yard attempt well wide right. Iain Campbell flighted a free kick from half way for Templeman to nod down in the box and Hrivnak had to pull off another fine save to deny Swankie from close in. Hrivnak then had to hold a low drive from the edge of the box from Robertson.
Hill had to make a reactive save in 25 minutes when a Whittle shot was deflected goalwards by Michael Bolochoweckyj. At the other end Swankie swung the ball worryingly across the Pars box but there were no takers. Hrivnak then did well to parry away a Dale Hilson effort from wide right.
The Pars goal was living a charmed life as first Swankie and then Templeman had shots on goal. Forfar then struck with two goals in three minutes. Firstly Hilson did all the work and when his shot was cleared off the line by Potter, ROBERTSON controlled the clearance to stuff the ball into the Pars goal. 1-0.
Then three minutes later Byrne thwarted Ross Campbell with a crucial last man tackle but from the resulting corner TEMPLEMAN headed in the Forfar second. 2-0.
Still chances came Forfar's way and this time it was Iain Campbell whose shot escaped narrowly over the crossbar. It looked like half time could not come quickly enough, and it didn't. Swankie caused mayhem on the left, beating his man and then cutting past another before finding TEMPLEMAN beyond the far post whose header found the net to further compound the Pars problems.
A disastrous first 45 minutes for Jim Jefferies' team whose defence looked paper thin and whose attacking ideas just seemed to be totally ineffective.
Half time: Forfar Athletic 3 Dunfermline 0
The Pars were out early for the second half and when play restarted forced two early corners after Smith's shot from a Byrne assist was deflected behind after just 80 seconds. Hrivnak was in action to close out a Swankie effort at his near post.
Two Geggan crosses went straight to Hill but at the other end Hrivnak found himself at full stretch again to stop a powerful connection by Robertson on a Templeman knock down. Then Robertson was on the end of a Swankie cross and somehow Hrivnak kept out what would have been a fourth Forfar goal.
A Whittle cross won a 61st minute corner but Husband's delivery was bread and butter to the Loons defence. Craig Dargo was the first sub of the night when he replaced Chris Kane two minutes later.
Hrivnak saved again in 65 minutes after Swankie laid the ball off for Templeman on the 18 yard line. Then an Iain Campbell free kick was not cleared and Templeman was very unlucky not to complete his hattrick when his impressive overhead kick slipped over the crossbar. Campbell next rocketed a shot that Hrivnak stopped and took at the second take.
With Potter down injured in the Forfar half the blues broke and Geggan's tackle on Kader as he burst into the box was fortunate not to have Crawford Allan pointing to the spot. The Pars survived but Potter didn't. He hobbled off to be replaced by Ross Millen with ten minutes remaining.
When Michael Bolochoweckyj was shown yellow for his tackle six minutes from full time, HUSBAND drilled a low free kick from 30 yards through the Forfar wall and into the net. 3-1.
Byrne had a good attempt and Whittle then shot but wide. There were to be no more goals so the Pars will start Saturday's second leg with a two goal deficit.
FORFAR ATHLETIC: Darren Hill, Michael Dunlop, Mark McCulloch, Michael Bolochoweckyj, Iain Campbell; Dale Hilson (Charlie King 87), Willie Robertson, Gavin Malin (Jordan Brown ), Ross Campbell (Omar Kader 72), Gavin Swankie, Chris Templeman,
SUBS NOT USED: Barry Sellars, Ross Salmon (GK).
YELLOW CARD: I Campbell (15), R Campbell (27), Robertson (58), McCulloch (68), Bolochoweckyj
SCORER: Robertson (34), Templeman (37)
DUNFERMLINE: Michal Hrivnak; Andy Geggan, Kerr Young, John Potter (Ross Millen 80), Alex Whittle; Josh Falkingham (c), Stephen Husband, Shaun Byrne, Chris Kane (Craig Dargo 63), Allan Smith, Ryan Thomson;
SUBS NOT USED: Lewis Martin, Fayssal El Bakhtaoui, Ryan Goodfellow (GK).
YELLOW CARD: Falkingham (27), Thomson (81)
SCORER: Husband (84)

REFEREE: Crawford Allan
WEATHER: Rain 10C
ATTENDANCE: 1562
MATCH PICTURES
NEXT MATCH: (home) Scottish First Division Play Offs Semi Final
Second Leg v Forfar Athletic
Saturday 11th May 2013, kick off 3.00pm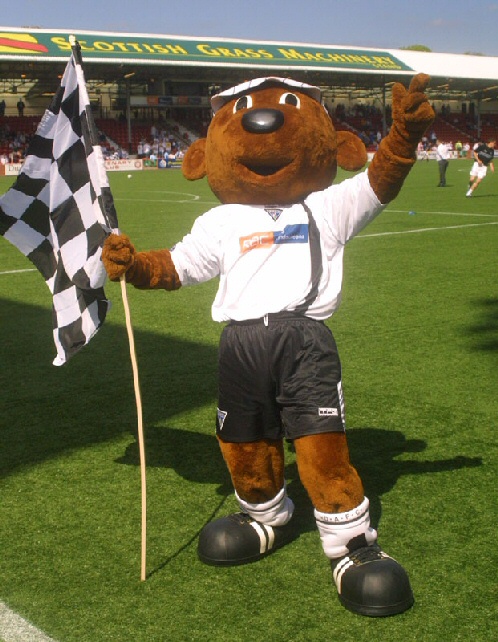 Sammy says thanks very much for visiting our web site where we have lots of news for young Pars fans.