SFL Div One: LIVINGSTON 2 DUNFERMLINE 2: Date: 30/03/13
MATCH PICTURES
Dunfermline travelled to Livingston on Saturday at the end of the most tumultuous week in their 128 year history. Interim Administration was announced on Wednesday, player redundancies on Thursday and then the removal of Assistant Manager on Friday.¬
When the dust settled for the first game in administration there were five survivors from the team that played Falkirk on Wednesday night - Kerr Young, Chris Kane, Stephen Husband, Ryan Wallace and¬ Josh Falkingham. Shaun Byrne was also in the squad but he was on the bench that included another¬ two players who had¬ yet to make their first team debuts.¬
Paul Watson, Callum Booth¬ and Marc McNulty dropped out of the Livingston team for whom Stefan Scougall, Jesus Garcia Tena¬ and Jason Talbot returned.
Josh Falkingham led out Dunfermline and it was the visitors who kicked off through Dargo and Wallace attacking the goal at the shopping centre end. Slovakian keeper Michal Hrivnak was the first keeper in action holding a cross from the left in the fourth minute. Next full back Jason Talbot flashed another cross through the Pars six yard box without anybody connecting.
Livvy kept up the one way traffic with Kevin McCann on ten minutes sending a powerful drive from distance into Hrivnak's arms. Iain Russell tumbled in the box as Young dispossessed him but the referee saw no impediment. Antony Andreu might have done better two minutes later but he failed to get any purchase on Russell's cut back.
In 14 minutes Whittle put Young under serious pressure at his near post and he did well to scramble the ball away for a corner on the right. Kyle Jacobs met the cross but headed over the crossbar and then fortune continued to bless the Pars when McCann's diagonal ball was missed by Russell as the ball travelled through and out beyond the far post.
Wallace won the Pars first corner in 17 minutes but Andrew McNeil fisted away the delivery from Wallace. Another followed and again Wallace pumped the ball into the six yard box where McNeil held taking out Craig Barr in the process. Dunfermline's perseverance paid off in 22 minutes when they took the lead against the run of play.¬ A dangerous Millen ball from the right¬ was headed in by Ryan THOMSON and the Pars were¬ 1-0 up.
The Fifers were lifted by the goal and Thomson sent in a fine ball from the left byeline but the home defences held. Then in 29 minutes Thomson caused the danger again chipping the ball over the Livingston defence by Wallace in a good position sliced his attempt wide right.
Kerr Young collected a yellow card in 33 minutes for an uncompromising tackle on the edge of the centre circle. Hrivnak pulled off a good save at his right hand post after Russell popped a shot from 25 yards. The Pars defence was made to feel very uncomfortable as Livingston pressed. Scougall, Talbot and Jacobs all tried deliveries from the left that took some desperate defending to keep them out.
Stefan Scougall produced a fine shot from the edge of the box in 42 minutes but yet again Hrivnak held well. Wallace was injured as he stopped Talbot's cross. After a lengthy stoppage¬ the young striker¬ required to be stretchered off.¬ ¬ Allan Smith came on to see the half out but the Pars had to consider their luck for once was in¬ when the half time whistle sounded.
Half Time: Livingston 0 Dunfermline 1
When Livvy kicked the second half off thery had replaced Kyle Jacobs with Marc McNulty and the sub produced a fine shot 90 seconds into his game, fortunately Hrivnak pulled off a magificent save down low at the left goalpost. Two Dunfermline corners then switched the focus to the other end where Thomson and then Dargo were unlucky to be kept out.
Seven minutes into second half there were more injury woes for the Pars. Antony Andreu's cross caused Potter to rise with McNulty to prevent the goal but when he landed Potts was injured and he was to limp off. Shaun Byrne was the sub and Chris Kane went to centre half.
Alas the makeshift centre half was immediately caught out when he failed to take Garcia's diagonal ball into the box.¬ ANDREU¬ made no mistake and so in 55 minutes it was all square.¬ ¬ Kerr Young was then re-united for his long time U19 central defensive partner Grant Munro. Craig Dargo was withdrawn and Kane returned to midfield.
Allan Smith flashed the ball across the Livvy goal as Dunfermline looked to respond but a long ball caused mayhem and Livvy sub Marc McNULTY nipped in to smash the ball past the helpless Hrivnak. 2-1 in 69 minutes.
Thomson tested McNeil but won only a corner but then in 76 minutes a Millen shot hit the crossbar. McNeil then kept out a low driven ball from Husband's free kick and then more bad luck as no one could convert after Millen's shot had rattled down off the crossbar.
The young Dunfermline side with Falkingham at the age off 22¬ now their oldest player on the park,¬ were certainly putting in a spirited effort to salvage a point. Young found himself in the edge of the area to twice pump the ball back into the danger area.
The game was in the first minute of added time when Mullen brought down Byrne on the left sifde of the penalty box and referee Paul Robertson pointed to the spot. Stephen HUSBAND stepped up and calmly slotted the ball home. 2-2.¬ The point was no more than the performance deserved.
LIVINGSTON: Andy McNeil; Kevin McCann, Craig Barr, Jason Talbot, Anthony Andreu, Burton O'Brien, Kyle Jacobs (Marc McNulty HT), Liam Fox (Coll Donaldson 86), Stefan Scougall (Danny Mullen 67), Iain Russell.
SUBS NOT USED: Callum Booth, Darren Jamieson (GK).
SCORERS:¬ Andreu¬ (55), McNulty (69)
YELLOW CARD: Garcia (48), Scougall (61), Mullen (91), Donaldson (92)
DUNFERMLINE: Michal Hrivnak; Ross Millen, Kerr Young, John Potter (Shaun Byrne 53), Alex Whittle; Josh Falkingham (c), Chris Kane, Stephen Husband, Ryan Thomson; Craig Dargo (Grant Munro 58), Ryan Wallace (Allan Smith 45+1).
SUBS NOT USED: Ross Drummond,¬ ¬ Ryan Goodfellow¬ (GK).
SCORERS: Thomson (22), Husband (92)
YELLOW CARD: Young (33), Thomson (62), Husband (89)

SCORER: Thomson (22)
REFEREE: Paul Robertson.
WEATHER: Fine 4C
ATTENDANCE: 1465
MATCH PICTURES
NEXT MATCH: (home) IRN BRU First Division v Hamilton Accies
Saturday 6th April 2013, kick off 3.00pm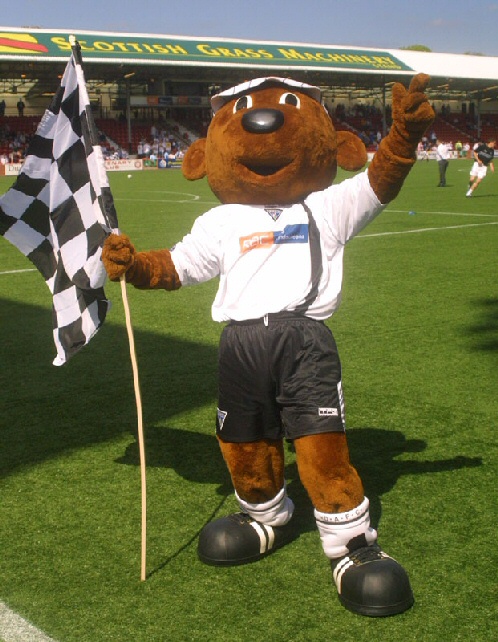 Sammy says thanks very much for visiting our web site where we have lots of news for young Pars fans.