SFL Div One: DUMBARTON 0 DUNFERMLINE 2
Date: 15/09/12
MATCH PICTURES
After the two week break from league football because of the World Cup Qualifiers it was back to normal with the trip to Dumbarton's Bet Butler Stadium. Alex Whittle and Andy Kirk came into the side that was successful over Raith Rovers in the last match. For Dumbarton Martin McNiff started in place of Andy Graham, their only change.
In their red and yellow away strip, Dunfermline kicked off attacking the goal at the river end. There was a lot of Pars possession in the opening minutes and the early pressure was all on Dumbarton's keeper Stephen Grindlay. James Creaney deflected a dangerous Josh Falkingham cross behind for a corner on the right and from that Andy Geggan, playing against his former employers, headed narrowly off target.
In 14th minute Alex Whittle was sent away down the left and under pressure from two defenders, he did really well to centre to Wallace and Stephen Husband drove over from 25 yards. Two minutes later the Sons forced their first corner but when that came over from the left Geggan headed away. Dunfermline went up the park and won a corner of their own.
Dumbarton found it difficult as McMillan and Wallace delivered good crosses and Husband tried a low drive Alan Lithgow was yellow carded after he protested about Falkingham's tackle. The Pars player then also saw yellow presumably for something he did with his mouth.
Lithgow was up for the ensuing free kick brushing off Callum Morris as he played the ball back across goal and Paul Gallacher had to be alert at his near post as the ball threatened to sneak past him off Andy Dowie. Dumbarton then had a couple of chances, Morris cleared over his crossbar after a powerful long range effort was parried by Gallacher. Then the home support were up on their feet when the corner from the right nearly squeezed in at the far post.
On the half hour Falkingham broke from half way, he fed Husband to his left before picking out Whittle on the wing.. The former Liverpool youth's cross deflected over the bar by Ryan Wallace. Wallace was next through on the keeper but McNiff covered back to clear as Grindlay came out to meet them.
Ten minutes from the break Whittle required treatment after a tough tackle that earned Fleming a caution. Husband floated the free kick to Dowie on the far side of the penalty box. The ball was cleared but soon Whittle and Mark Gilhaney tussled on the left earning the Pars another free kick as both sets of fans grew increasingly intollerant of the match officials.
Then four minutes from half time the travelling support got something to make them feel much better. Falkingham had quite a part to play in the goal. The wee man cleared out of defence from a Dumbarton free kick, Wallace held the ball on the left, returning it to Jordan who played it up the left for Whittle to feed on to the mercurial Falkingham. He popped up on the far left in front of the Pars fans to send an inviting ball into the six yard box that Andy KIRK only needed to stab home for the opener. In 44 minutes Grindlay pulled off a fine save to deny Wallace's shot from close in. Husband then centred a Whittle cut back but the defence cleared.
It had been a comfortable first 45 from Dunfermline, the only disappointment being their inability to cash in on their considerable possession and territorial advantage until close to half time.
Half Time: Dumbarton 0 Dunfermline 1
Dunfermline were to extend their lead just seven minutes into the second half. Wallace took the ball deep down the left and released a square ball that Falkingham on the edge of the Dumbarton box, chose not to crash first time. The crowds groans were quickly cheers as the ball was played right to the unmarked Stephen HUSBAND. His initial shot was kept out by Grindlay's outstretched right leg but the Pars midfielder followed up to stick the ball past the Dumbarton keeper at his near post. 2-0 to the Pars.
On the hour Geggan conceded a free kick 25 yards out but Falkingham broke away as the wall did its job. Then another home free kick was defended before Creaney's off the ball challenge on Falkingham stopped play. Physio Kenny Murray's job was done by Wallace and so play resumed.
There was a good attempt by the Dumbarton no.9 Jim Lister who avoided several defenders in reaching a spot 20 yards out from where he could launch a shot. Fortunately for the Pars that was headed over the crossbar. As the match entered its final quarter Craig Dargo replaced Alex Whittle. Husband made all the play as he carved out a chance for Kirk but he was offside.
Dargo was eased off the ball by Nicky Devlin to deny the Pars a third. Then Wallace was through and allowed Grindlay to turn his shot around his right hand post. Next in 73 minutes Grindlay made a good save from Wallace again. Gallacher was having a quiet second half but he was kept involved taking an easy catch on a high ball in from the right and then on 77 minutes had to turn a shot over his bar.
Shaun Byrne and Ivan D'Angelo were introduced for Husband and Wallace in 82 minutes. Geggan made Grindlay pull off another fine save from a 20 yard shot. Sub Mark Lamont sent an attempt into the sidenetting but after that the Fifers saw the game out to safely to take the three points.
DUMBARTON: Stephen Grindlay; Alan Lithgow, Martin McNiff, James Creaney (Phil Johnston 87), Nicky Devlin, Garry Fleming, Scott Agnew (Mark Lamont 68), Jim Lister, Bryan Prunty, Mark Gilhaney (Ross Forsyth 87), Steven McDougall.
SUBS NOT USED: Jamie Lyden, Jamie Ewings (GK).
YELLOW CARD: Lithgow (22), Fleming (35)
DUNFERMLINE: Paul Gallacher; Jordan McMillan (c), Andy Dowie, Callum Morris, Stephen Jordan; Josh Falkingham, Stephen Husband (Shaun Byrne 82), Andy Geggan, Alex Whittle (Craig Dargo 68); Ryan Wallace (Ivan D'Angelo 82), Andy Kirk.
SUBS NOT USED: John Potter, Michal Hvirnak (GK)
SCORERS: Kirk (41), Husband (52)
YELLOW CARD: Morris (21), Falkingham (22)
REFEREE: Bobby Madden
WEATHER: Dry 16C
ATTENDANCE: 1021
MATCH PICTURES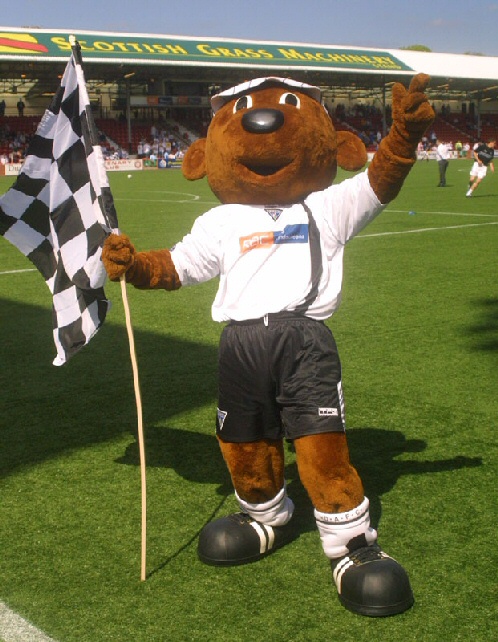 Sammy says thanks very much for visiting our web site where we have lots of news for young Pars fans.