Pre Season Friendly: DUNFERMLINE 0 HEARTS 2
Date 23/07/12.
VIDEO HIGHLIGHTS
MATCH PICTURES

Hearts provided the opposition for the Pars second pre season friendly in what Hearts supporters termed a showdown with Jim Jefferies. The Pars line up looked a little more familiar this time with seven players starting who had featured for them ¬ in the SPL last season. There were two trialists - Graeme Smith in goal and former Jambo Stephen Husband in midfield -¬ and new signings Andy Geggan and Josh Falkingham.



Hearts gave a start at left back to former Dunfermline youth player, Kevin McHattie and it was the Edinburgh side that enjoyed most of the early possession. They forced a couple of corners but then it looked like Dunfermline might hit on the break with Andy Barrowman through on goal but Jamie MacDonald came out to the edge of the box to stop him, incurring injury in the process. The bright tangerine kitted out keeper was able to continue after receiving treatment.



In 14th minute Ryan McGowan broke from midway after intercepting a Dunfermline pass and then fed David Templeton a ball to chase down the left but the Pars defence put in a good tackle as the speedy Hearts player tried to enter the box.



At the other end Calum Paterson rather crudely halted the progress of Cardle and a free kick resulted that was fired into the centre of the Hearts box. Barrowman flicked the ball on for Ryan Thomson but the Pars no.10 failed to get a shot in to test the keeper.



The friendly got heated in 20th minute when Falkingham was a bit late in his tackle on David Templeton, he then reacted to the challenge of Ryan McGowan and was shown a yellow card. Within two minutes John Potter found his way into the book of referee David Somers for his challenge on Jason Holt.¬ The Jambos continued to retain much of the possession and Graeme Smith had several corners to deal with.



A short pass in defence from Dowie to Potter was pounced upon by Holt and he fed Driver a chance to shoot but straight at the Dunfermline keeper. The Pars luck ran out in 34 minutes however when a corner in from the left from Templeton was cleared at the far post only as far as Andy WEBSTER and he drilled a shot into the Pars net from 14 yards out. 0-1.



Five minutes later Holt drove an effort into the McCathie Stand after playing a one - two off Driver from a corner on the right. Dunfermline had their moments though they were sparse.¬ Both Burns and Falkingham got over useful crosses from the right¬ that the defence had to clear.



Templeton drove a free kick off the Dunfermline wall and Paterson drove the rebound wildly wide. Potter made a telling tackle after Holt made a break down the right channel but it had not been easy for the Pars in the first half. There had been something for the home fans to clutch on to - the endeavour of Falkingham and the presence of trialist Husband.



Half Time: Dunfermline 0 Hearts 1
Unusually for a pre season friendly, there were no substitutions made at the start of the second half.¬ McMillan was allowed to go on a run deep into the penalty box and only a desperate block prevented him getting in a shot from close in. At the other end a good chance fell to Driver on 50 minutes but Smith came out and made a good block.



A rare Pars corner was won in the next minute but a Cardle delivery was neatly cleared from the centre of the defence. The home side seemed to react to whatever was said to them at half time with Cardle looking much busier and then creating problems for the Hearts defence when Husband picked out Burns on the far right.



After McGowan was stopped as he threatened to penetrate the Pars defence, Robinson struck a Hearts free kick over the bar from 24 yards.¬ The sun had come out and Smith might have found that difficult to look into as Hearts came even closer -¬ Driver skimming a shot over the bar.
Then there was the bizarre sight of six substitutions introduced by Jim Jefferies just before the hour.¬ Off went Husband, Cardle, Falkingham, Barrowman, Thomson and Burns, on came Ryan Wallace, Paul Willis, Alex Whittle, trialist (30 year old Stephen Jordan ex Rochdale), Chris Kane and Kevin Kyle.



Hearts came close again in 65 minutes when Templeton was allowed to work a passage in to shoot narrowly over the top.¬ Then a Pars free kick forced another corner and this time MacDonald was bravely out to clutch Willis cross.¬ John Sutton passed over a good chance, heading a good delivery from the left, well outside the left post.



McMillan made an amazing block on Templetons shot and a second goal threatened. Templeton broke in from the right and¬ Jordan eased him off the ball to earn the Jambos a soft penalty kick. John SUTTON stepped up and sent it to the keepers right. 0-2.



With nine minutes remaining Hearts made four substitutions and for the Pars Liam Buchanan replaced Andy Geggan. It was Buchanans cross just moments later that Whittle met at the far post but headed straight at MacDonald. Then Wallace played through Whittle but he was completely blocked out by Webster and unfortunately the free kick failed to create any threat in the Hearts box.



Ryan Wallace got in a snap shot in 89 minutes but MacDonald held well and so fans will have to wait until another game before they see a Dunfermline scorer this season.¬ It ended with a 2-0 defeat but another game under the belt for Jefferies troops and a clearer view in the Managers mind no doubt about what his trialists might bring to his team.



DUNFERMLINE: Trialist;¬ Andy Geggan (Liam Buchanan,81), Andy Dowie, John Potter (c), Jordan McMillan,¬ Paul Burns (Paul Willis 60), Ryan Thomson (Alex Whittle 60), Trialist (Trialist 60); Josh Falkingham (Chris Kane 60), Joe Cardle (Ryan Wallace 60), Andy Barrowman (Kevin Kyle 60).
SUBS NOT USED: Trialist (GK), Shaun Byrne, Andy Kirk, Kerr Young.
YELLOW CARD: Falkingham (20), Potter (22).



HEARTS: Jamie MacDonald; Calum Paterson (Dylan McGowan 74), Marius Zaliukas (c), Andy Webster, Kevin McHattie; Ryan McGowan,¬ Scott Robinson (Jamie Walker 81), David Templeton (Denis Prychynenko 81), Andy Driver (Dale Carrick.81),¬ Jason Holt (Mehdi Taouil 73), John Sutton (David Smith 81).
SCORER: Webster (34), Sutton (78)
YELLOW CARD: Paterson (70)

REFEREE: David Somers
WEATHER: Bright 17C
ATTENDANCE: 1700 (est)
50/50 HALF TIME DRAW: Winning number 50980 won £101.
MATCH PICTURES
VIDEO HIGHLIGHTS



NEXT MATCH: Pre Season Friendly (away) v Berwick Rangers
Tuesday 24th July 2012, kick off 7.30pm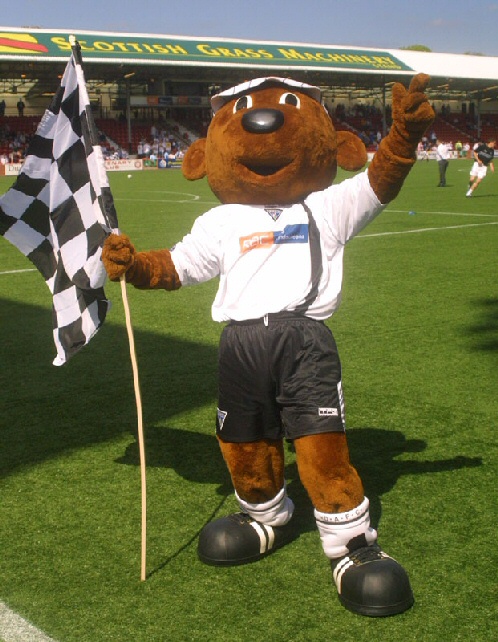 Sammy says thanks very much for visiting our web site where we have lots of news for young Pars fans.