SPL v Inverness Caley Thistle
INVERNESS CALEY THISTLE 0 DUNFERMLINE 0: Date: 02/05/12
Attendance: 3036, Kick Off: 7.45pm.
Referee: Stevie O`Reilly

Bright sunshine and clear blue skies welcomed the Pars to the Highlands. For this vitally important match Manager Jim Jefferies brought back Austin McCann and Jordan McMillan meaning Paddy Boyle and Martin Hardie dropped to the bench. Terry Butcher dropped Owain Tudor-Jones to the bench while Jonny Hayes was suspended for his red card at Kilmarnock on Saturday. Kenny Gillet and Nick Ross started for Caley.
Caley Thistle had more of the early play and in third minute a Doran run up the right sent an inviting ball towards Billy McKay in front of goal but the striker failed to get a touch. At the other end David Graham put in the first Pars shot on target but Ryan Esson dropped on one knee to hold.
In seventh minute Chris Smith made a spectacular save when Aaron Doran`s corner was headed low on target by Steve Williams. McKay then had a low shot that Smith held easily as the home side hit on the counterattack. Play flowed from end to end without either keeper getting anything to tax them.
The home fans were shouting and whistling in 19 minutes when Doran chased a Williams pass down the right. The far side linesman was right in front of Doran as he tumbled in a challenge from McCann and no decision by either him or referee Stevie O`Reilly.
There was not a lot to encourage the vocal Pars posse behind Smith`s goal and Christian their drummer did his best to rally a reaction. The two inflatable bananas and numerous flags were ceaselessly swirled but all they could watch was Keddie and Dowie mop up a dangerous long ball and Smith hold a less than convincing shot from distance.
Doran chipped the ball in from the right but that landed on the roof of the net. At the other end McMillan touched the ball into a space on the right where Hutton smashed it through the penalty box without a touch from either side. On 34 minutes Dowie pumped a free kick from the centre circle in his own half. Richie Foran failed to make a good clearance with his header and Joe Cardle latched on to the loose ball to drive in from the left and his lay off teed up Hutton but his shot was held by Esson.
Three minutes later Mark Kerr was tackled by Ross to earn a free kick 30 yards out in line with the left post but Hutton`s attempt was driven into the Caley Thistle wall. That broke for McMillan and his return was turned over the crossbar by Gillet. Unfortunately Cardle`s corner in from the left changed nothing and the home side cleared.
The visitors began to look far more purposeful and play was kept in the Caley half much to the frustration of the home fans. It had not been that exciting a first half but towards the break Dunfermline had looked a good bit better. With news of Hibs two goal lead at Aberdeen no doubt being related to the players, surely the second half will be addressed by a much greater push.
Half time: Inverness Caley Thistle 0 Dunfermline 0
By the time Inverness got the second half underway, the sun had gone down and the floodlights wrre suddenly noticeable. It looked brighter for Dunfermline in just the second minute when Hutton`s break almost reached Kirk but the ball broke wide towards McMillan but Gillet ushered the ball out.
Caley were shot shy in 49 minutes when it looked like a shot would have been lethal. Doran took the ball away from goal and then when Shinnie did get in a shot he mishit it from ten yards out, making it easy for Smith to hold. Shinnie next provided a dangerous cross in from the left and the central defence had to be sharp to deny McKay.
Three minutes later there were great expectations from the Pars support as Cardle lobbed in a free kick but the save was bread and butter for Esson. In 55 minutes Hutton pushed up and fed McMillan on the overlap but the final ball was simply blocked. Then a minute later Greg Tansey`s push on Hutton allowed Cardle to pump another high ball into the Caley box but after a scramble the defence came out on top.
Inverness then made a rapid break to the other end and a great chance was passed over by Shinnie who shot narrowly wide of the right post with the main stand all rising to welcome an opener. On the hour a Doran free kick from the left touchline brought all the big men up but after some tennis Andy Dowie got it away. Caley kept up the pressure and yet again thankfully looked shot shy as they tried to create the perfect opportunity.
In 64 minutes a late decision for offside didn`t matter since Shinnie blasted the shot high over the bar. Martin Hardie was the first tactical change of the evening for either side as Gary Mason as withdrawn as the match entered its final quarter. HIs first contribution was am up and under from an Austin McCann throw in but Esson held without any trouble.
On 70 minutes Tansey pinged the ball across the six yard box and it looked as though it would be 1-0 but Doran directed the ball wide left when it could have been easier to net. Phew!
Kerr made a great pass in front of the dugout to send Graham away down the left but his progress was ended by Foran who earned a booking for the rather cynical tackle. Cardle sent the 74th minute free kick in for Keddie to meet at the near post but his glancing header ended up on the wrong side of the roof of the net. Graham was dispossessed as he tried to twist and turn his way in from the right and Caley burst forward again looking threatening but the Pars survived.
Then on 80 minutes a ball from Graham on the right caused problems for the central defence under pressure from Kirk. They sent the ball to the edge of the box where Hardie got a great connection only to see Esson save; a great chance but Hardie not the hero this time. Three minutes later Foran conceded another free kick 30 yards out and Hardie was given a chance to shoot on goal but his shot was cleared both the wall and the bar.
In 88 minutes Gregory Tade replaced Billy McKay but after three added minutes the game fizzled out for yet another draw between these teams. The draw assured the Highlanders SPL status for next season but the one point leaves the Pars five points behind Hibs who won 2-1 at Pittodrie.
INVERNESS CALEY THISTLE: Ryan Esson; Josh Meekings, Steve Williams, Ross Tokely, Graeme Shinnie (Andrew Shinnie 71); Greg Tansey, Kenny Gillet, Nick Ross (Shane Sutherland 71), Richie Foran, Aaron Doran, Billy McKay (Gregory Tade 88).
SUBS NOT USED: Thomas Piermayr, Roman Golobart, Owain Tudur-Jones, Jonathan Tuffey (GK)
YELLOW CARD: Foran (74)
DUNFERMLINE: Chris Smith; Jordan McMillan, Andy Dowie, Alex Keddie, Austin McCann (c); David Graham (Andy Barrowman 84), Gary Mason (Martin Hardie 67), Mark Kerr, Kyle Hutton, Joe Cardle; Andy Kirk (Liam Buchanan 84).
SUBS NOT USED: Paul Willis, Paddy Boyle, Ryan Thomson, Bernardo Fernandez (GK)
YELLOW CARD: McMillan (64), Keddie (73)
WEATHER: Sunny 11C
MATCH PICTURES
NEXT MATCH (away) SPL v Hibernian
Monday 7th May, kick off 7.45pm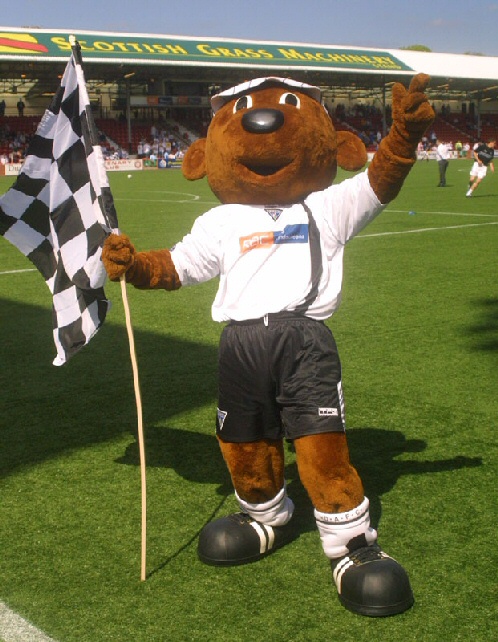 Sammy says thanks very much for visiting our web site where we have lots of news for young Pars fans.