Sammy`s Surprising Day
Sammy`s Story from his Easter Party
Sammy woke up really early this morning and he felt as if he had been up for ages.
He had been finding it very difficult to sleep, and as a result, he was now feeling rather bad tempered!


Sammy just could not concentrate on doing anything. He picked up the papers to read all about the Pars game. Did you go to Tannadice, Sammy? Maybe that's why you are feeling so miserable?


Sammy shook his head. He didn`t feel like going to any games right now. He looked very sad.


Sammy started to tidy up. He started to put all his toys away, but then he just couldn`t be bothered and threw them all down on the floor again.


What`s wrong with you, Sammy?


Do you feel ill? Have you had that awful tummy bug that`s going around?


Sammy just sat down and gave a great, big sigh.


Please tell us what the matter is, Sammy! Is it something to do with this letter? Let's read it out.


It says ----


DEAR SAMMY,

THE BOARD OF DAFC HAVE RECEIVED A VERY SUBSTANTIAL OFFER FROM ANOTHER SPL CLUB FOR THE SERVICES OF SCOTLANDS NUMBER ONE MASCOT.


WE FEEL THAT WE MUST ACCEPT THIS FANTASTIC OFFER AND YOU WILL BE TRANSFERRED AS SOON AS WE RECEIVE THE FEE.


Signed.....

JIM LEISHMAN


Oh! No wonder you are sad, Sammy!


Which club are you going to?


St Mirren.........NO! I am not a panda! said Sammy


Aberdeen........NO! I am not a bull! said Sammy


Hearts............NO! I am not a tiger! said Sammy



Celtic..............NO! I am not a hound! said Sammy



Kilmarnock.....NO! I am not a squirrel! said Sammy



Wait a minute, Sammy, you ARE a bear! Can you be going to Ibrox to join Broxi Bear? NO, they can`t afford you!


Sammy is so angry! How could they even think of getting rid of him!


Oh! Now wait a minute, Sammy. Here`s another letter for you!


What does it say? Let's have a look. It says…..



APRIL FOOL!!!!!


Signed

JIM LEISHMAN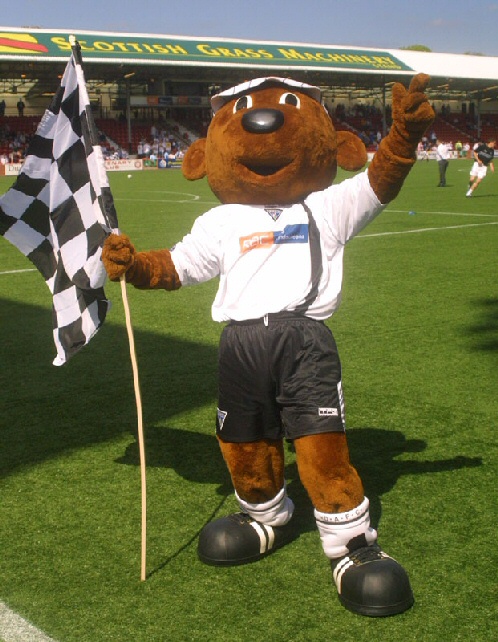 Sammy says thanks very much for visiting our web site where we have lots of news for young Pars fans.