SPL v Hibernian
DUNFERMLINE 2 HIBERNIAN 2 Date: 17/09/11

Attendance: 4116, Kick Off: 12.30pm.

Referee: Calum Murray
MATCH PICTURES
Jim McIntyre was forced to make one change for this home match against Hibs - Ryan Thomson came in for his first SPL start taking the place of the injured newboy, Craig Easton. Hibs made two changes from the previous match, Callum Booth and Leigh Griffiths starting in place of Ian Murray and Junior Agogo,
The visitors began the game on full steam and pressed the Pars back immediately. Ivan Sproule`s third minute run was ended by Jason Thomson but the ball broke to give Hibs an early corner from the right. There was hesitancy in the Pars defence as the ball was centred a O`Connor header came back off Griffiths before Sproule smashed the rebound over the crossbar.
Two minutes Garry O`Connor broke and sent Griffiths away down the left forcing Andy Dowie to step in and concede another. It was 12th minute before the Pars made any inroads into the Hibs box. David Graham fed Jason Thomson the ball on the right and his forceful delivery was well defended.
At the other end Isiah Osbourne switched play right for Richard Towell to quickly cross but the Pars defence did its job this time. Then Sproule provided Griffiths with another chance and Alex Keddie deflected the on loan Wolves player`s shot behind for a corner.
Andy Kirk created a 16th minute chance, taking the ball to the byeline to cut back for Ryan Thomson but Towell got in front of him to save the Hibees. Things began to look up for the Pars with Jason Thomson getting close enough to shoot into the sidenetting. Joe Cardle then forced a corner but O`Connor headed Cardle`s cross away.
Cardle kept up the assault sending over another cross that Ryan Thomson challenged for, winning another corner. In 27 minutes Jason Thomson`s ball in from the right was headed down by Dowie for Ryan Thomson to turn back into the path of David Graham but his well connected shot was touched behind for a Pars corner on the left. That didn`t create an immediate danger but the Hibs defence did not clear the ball and Ryan Thomson was able to slip a great opportunity to Keddie but he missed from 15 yards out.
In 31 minutes Paul Burns and Austin McCann exchanged passes for Ozzie to swep over a ball to the back post but Kirk just couldn`t get enough control on the ball to produce a shot. Six minutes later Hibs countered and when Mason and Keddie went for the same high ball it allowed the ball to travel past Dowie and all the way to SPROULE on the left side of the box. He slotted the ball home at an angle to beat Gallacher. 0-1
Five minutes later Towell slipped the ball back to Martin Scott and he came uncomfortably close with his effort deflected into the sidenetting off Keddie. Right on half time Hibs had another chance Griffiths robbing Jason Thomson midway inside the Hibs half to break, feed O`Connor to set up Scott with another shot that again ended up in the sidenetting.
Half Time: Dunfermline 0 Hibernian 1
First shot at goal in the second half was also from Scott but the effort from 25 yards out slipped over the crossbar. The Pars then made Hibs keeper Graham Stack pull off his first meaningful save of the afternoon. Graham and Cardle switched the ball for McCann to get up and shoot to the near post.
There was a big fright for Dunfermline in 49 minutes when Griffiths found O`Connor. The Hibs centre was free to shoot but Gallacher managed to touch what was a decent shot round his left hand post. The corner was met by a O`Hanlon header that Kirk on the right post headed on to his bar and Gallacher scrambled the ball away from O`Connor.
Hibs luck changed in 51 minutes when O`CONNOR turned Keddie and rocketed in a shot from 25 yards that came off Dowie to give Paul Gallacher no chance. Within a minute Ryan THOMSON marked his first SPL start with a really well taken goal. The 20 year old scored his second goal in two games by controlling a Graham pass and then taking it on to his left foot to drill the ball beyond Stack and into the bottom right from the edge of the box. 1-2.
The match had really ignited and Hibs created mayhem in the home defence that culminated with Osbourne smashing a shot at Gallacher at the near post. The Pars went for the equaliser and there were appeals that they should have been given the chance from the penalty spot after Cardle was downed by Towell.
Andy Barrowman was the first sub of the day when he came on for Kirk but the game continued at great pace. McCann crossed and then Graham from the other side; Ryan Thomson and then Barrowman failed to get the touches required. Hibs substitutions after the hour meant that the two Hibs goalscorers were withdrawn and Junior Agogo and Akpo Sodje.
In 62 minutes the Pars were looking for a free kick when the referee played on letting Cardle gain ground and send in a really dangerous ball. Stack parried Joe`s cross and Jason Thomson at the far side of the box crashed the ball into the goalmouth where Paul HANLON cut out his own keeper when kneeing the ball into his own net. 2-2
Burns sent over an inviting ball but just too far ahead of Barrowman. The fans were on the edges of their seats as they sensed another Pars goal was a possibility. Next Graham`s cross was headed away by O`Hanlon, Jason Thomson`s cross was headed narrowly wide by Barrowman and in 82 minutes Cardle broke through to seriously test Stack again. Appeals for a penalty were disregarded when Barrowman went down in a challenge with O`Hanlon.
It was all Dunfermline and on 90 minutes McCann`s cross was turned behind as Graham tried to head home from in front of goal. With the game entering its 94th minute Cardle played a neat backheeler to McCann and his Martin Scott,cross was just missed by Barrowman so the first league match between the clubs for four and a half years ended all square. Dunfermline`s third home draw of the season.
In the second half Hibs lost the speedy attacking style that had caused the Pars defence so much trouble in the first half. Their substitutions seemed to boost Dunfermline and the Fifers showed great charachter to claw the game back from two goals down to compete for what would have been a deserved winner. Just a pity you don`t get points for excitement!
DUNFERMLINE: Paul Gallacher, Jason Thomson, Andy Dowie, Alex Keddie, Austin McCann (c); David Graham, Paul Burns, Ryan Thomson, Gary Mason, Joe Cardle; Andy Kirk. (Andy Barrowman 58)
SUBS NOT USED: Chris Smith (GK), John Potter, Shaun Byrne, Paul Willis, Paddy Boyle, Liam Buchanan.
SCORERS: Ryan Thomson (52), Paul Hanlon (62 og)

HIBERNIAN: Graham Stack; Richie Towell, Sean O`Hanlon, Paul Hanlon, Callum Booth, Ivan Sproule (David Wotherspoon 81), Isaiah Osbourne, Victor Palsson, Martin Scott; Garry O`Connor (Akpo Sodje 61), Leigh Griffiths (Junior Agogo 61).
SUBS NOT USED: Daniel Galbraith, David Stephens, Lewis Stevenson, Mark Brown (GK).
SCORERS: Sproule (37) O`Connor (51)
YELLOW CARD: O`Connor (51), Hanlon (66), O`Hanlon (73)

WEATHER: Damp 15C
MATCH PICTURES
NEXT MATCH: (home) SPL v Rangers
Saturday 24th September 2011, kick off 12.45pm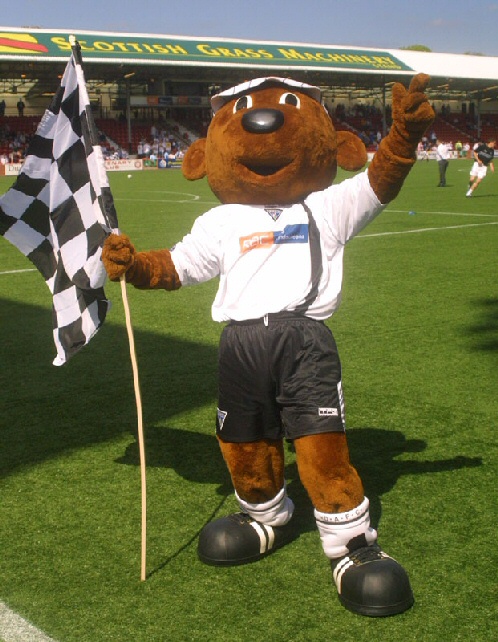 Sammy says thanks very much for visiting our web site where we have lots of news for young Pars fans.