SPL v St Mirren
DUNFERMLINE 0 ST MIRREN 0 25/07/11

Attendance: 5035, Kick Off: 7.45pm.

Referee: Stevie O`Reilly
MATCH PICTURES
The long awaited return to the SPL came to an end on a fine July evening in front of a home crowd. There were four changes from the team that faced Falkirk on the final day of last season.┬ Martin Hardie started and in came new boys Paul Gallacher, Jason Thomson and John Potter.
The visitors were a much changed side from the team that played St Johnstone in their final game of the 2010-11 season, only Craig Samson, Lee Mair and Steven Thomson being in the starting eleven.
Ahead of kick off Chairman John Yorkston was presented with the First Division flag that Sammy the Tammy and four ball boys quickly sped off with. The teams both in their away strips were welcomed out with much volume and posed for photographs before the┬ Dunfermline were forced to┬ change ends and the yellow and blue Pars got the match underway attacking the goal in front of the McCathie Stand.
The first opportunity came after just two minutes when from a Gallacher free kick┬ Martin Hardie┬ flicked the ball on for David Graham to run on to on the right but he crashed his effort over the top. Five minutes later Saints were denied by Gallacher.┬ Nigel Hasselbank made space on the right and slipped┬ Paul McGowan┬ a neat pass but the Pars keeper managed to turn the shot behind.
In 13 minutes Gary Teale made a swift break out of defence, the ball was switched wide right for van Zanten and his pass then let Thomson (8) in for a shot from 25 yards that was not on target. Two minutes later Jereon Tessalaar`s corner from the right managed to sneak right through the Pars box without anyone getting a touch but the Paisley side were beginning to look the more comfortable.
Teale tried a shot from distance in 17 minutes but was far too high to cause danger. At the other end Samson easily held a Cardle punt towards goal and it was quickly back at the other end where Potter conceded a corner and again the delivery, this time from Teale, slipped across the face of goal without a touch.
Saints piled on the pressure with van Zanten getting forward to play a 1-2 off McGowan and thunder a shot at Potter. Next it was Hasselbank on the end of a Thomson cross and his effort skimmed the sidenetting as it went wide left. In 28 minutes Jason Thomson lost possession to Hasselbank on half way but fortunately the Pars central defenders squeezed him into shooting early and Gallacher gathered without much trouble.
In 37 minutes a Cardle free kick was headed behind and Cardle then sent over a corner from the right that Keddie looked like reaching but the red shirts reacted quicker. Two minutes later Jim Goodwin pulled down Kirk and the Pars were handed the opportunity for Hardie to line up for a Raith repeat free kick. It was 26 yards out just to the right of goal and the shot cleared the wall only for Samson to pull off a great save as the ball was about to enter his goal just under the bar.
Mason was booked five minutes from the break and from the resultant free kick St Mirren were awarded a penalty. Potter was yellow carded for having his arms around no.9 Steven Thompson. Thompson then took the spot kick┬ sending the ball right, Gallacher went the same way and pulled off an immensely popular save.
It had been quite a baptism into the SPL again for the Pars. St Mirren enjoyed far too much possession and territorial advantage for the home side`s comfort. The Fifers defence, especially Gallacher in┬ stopping the penalty and the central pairing had done a sterling job to keep out the visitors.
Half Time Dunfermline 0 St Mirren 0
The Paisley side forced an early corner┬ when Teale thrashed the ball off┬ Cardle and in 52 minutes Teale turned a good chance outside the right goalpost.┬ McCann was yellow carded for hauling down Hasselbank on the touchline and made up for it by heading the delivery clear.
Dunfermline were kept under pressure with a cross headed out only as far as Thomson on the edge on the box and Gallacher diving to his left, held the low drive well. Andy Barrowman replaced Steven McDougall after just ten minutes but Dunfermline remained under the cosh even allowing Hasselbank to break from their own throw in.
Desperation in defence was reflected with two balls being walloped over the North West stand. St Mirren were probably just as concerned by their inability to create cast iron chances and even their corner kicks were looking like damp squids. In 65 minutes Paul Burns replaced David Graham to give the new signing his SPL debut.
St Mirren were awarded a free kick by the referee in 66 minutes right over on the left corner flag, despite the linesman who was right on the spot┬ signalling for a goal kick. Potter was adjudged to have stopped Hasselbank illegally. When the cross came over Thompson connected well but directed his effort wide right. At the other end Hardie met a Thomson pass but headed over the bar and then in the next minute, the on-loan Jambo┬ sent another ball to the far post but Barrowman was penalised for climbing as he headed into Samson`s arms.
Ryan Thomson was Jim McIntyre`s final substitution, Kirk being withdrawn and Hardie pushed forward. Thomson was warned for his first tackle and then won a free kick in his next exchange.┬ 27 yards out Hardie sent in another special effort bulging the sidenetting and disappointing the Main Stand supporters who were rising to celebrate somewhat prematurely.
Hasselbank was yellow carded for a sore challenge on Keddie and then raced away after the stoppage to test Gallacher with a drive to his near post. A further yellow card was shown to Mair as the visitors appear to be getting less comfortable.
With two minutes remaining it looked like Dunfermline might just spring the Paisley defence. Barrowman fed┬ Ryan Thomson and his quick response pass set up┬ Burns┬ for a return pass that just failed to create the chance needed.
The First Division Champions had to weather a fierce and lengthy St Mirren storm but Dunfermline showed their resolve to come back and really compete. Gallacher against his former paymasters was the hero but it was a sturdy all round showing from Macca`s men.
DUNFERMLINE: Paul Gallacher, Jason Thomson, John┬ Potter, Alex Keddie, Austin McCann (c); David┬ Graham (Paul Burns 65), Gary Mason, Martin Hardie, Joe Cardle; Steven McDougall (Andy Barrowman 56), Andy Kirk (Ryan Thomson 73).
SUBS NOT USED: Chris Smith (GK),┬ Andy Dowie, Paul Willis, Kerr Young.
YELLOW CARD: Mason (40), Potter (41), McCann (53).
ST MIRREN: Craig Samson; David van Zanten, Darren McGregor, Lee Mair, Jim Goodwin, Steven Thomson, Steven Thompson,┬ Paul McGowan, Nigel Hasselbank, Gary Teale, Jereon Tessalaar.
SUBS NOT USED: Adam McHugh (GK), Marc McAusland, Kenny McLean, Paul McQuade, Jon McShane, Graham Carey, Jamie McKerron
YELLOW CARD: Hasselbank (83), Mair (84)
WEATHER: 15C Dry
MATCH PICTURES
NEXT MATCH: (away) Scottish Communities Cup v Annan Athletic
Saturday 30th July at Galabank, kick off 3.00pm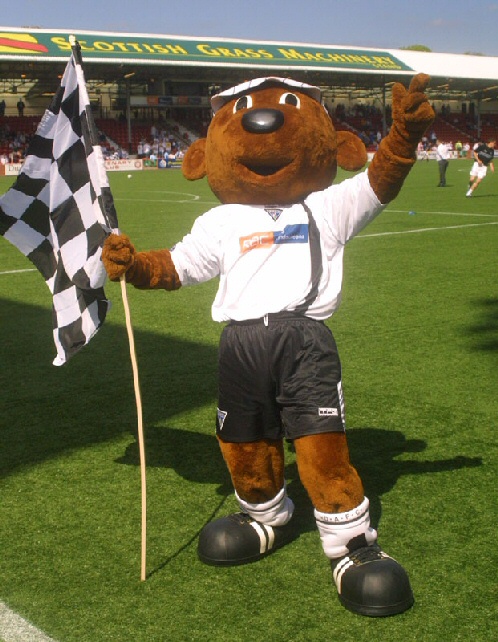 Sammy says thanks very much for visiting our web site where we have lots of news for young Pars fans.