SFL v Queen of the South
DUNFERMLINE 6 QUEEN OF THE SOUTH 1 Date: 16/04/11

Fixture: Irn Bru SFL Division

Attendance: 3255, Kick Off: 3:00pm.

Referee: Alan Muir
MATCH PICTURES
East End Park was bathed in spring sunshine for another of those `must win` matches.Evidence that we have reached the `business` end of the season could be felt in the fans` anticipation prior to kick off with the North West Stand group displaying a `Believe` banner.
Injuries to both Calum Woods and Andy Dowie gave Jim McIntyre a headache for the right back slot but fortunately Neil McGregor had returned to training during the week and was able to fill the space.Gary Mason returned from suspension with Alex Burke dropping to the bench, while David Graham returned to a starting jersey. Andy Kirk also returned from injury with Jake Hyde dropping out completely. For Queen of the South, Daniel Carmichael and Steven Degnan dropped to the bench to accommodate the return of Craig Reid and Colin McMenamin.
Dunfermline kicked off towards the Cowdenbeath End and in the second minute David Graham won a corner.Cardle`s kick was turned high over by Alex Keddie. Queen`s first decent attempt at goal came in the ninth minute when Smith punched the ball solidly away from a crowded goalmouth only for Holmes to try to lob him from 30 yards out. Fortunately for the Pars the effort floated harmlessly wide.
After ten minutes, Dunfermline seem to up the tempo with both Cardle and Graham causing problems for the Queens defence.A Martin Hardie ball almost finds Kirk, then a Cardle cross is headed on for David Graham to shoot but his effort goes wide.In 14 minutes it looked like the breakthrough had come. Andy Kirk charged down David Lilley`s defensive clearance and looked to be homing in on goal till a stumble allowed the Queens defence to recover.
This was a remarkably open game and Queens weren`t short of ambition either but Dunfermline`s defence was in control and when they weren`t there wasn`t a shortage of bodies willing to put themselves in the firing line.But Dunfermline continued to dominate and Graham and Hardie both had efforts saved as the Pars turned up the pressure.
In 26 minutes, Martin Hardie was chopped down 25 yards out, earning David Lilley the first booking of the match.Hardie took the free kick himself and hit an accurate effort which Roddy McKenzie held comfortably. Then four minutes later a spectacular overhead kick from Hardie in midfield sent Joe Cardle scurrying down the left. He cut back to lay a great ball off to the centre but there were no takers.
The goal that Dunfermline`s superior play deserved finally came in 32nd minute, and a great goal it was too.Neil McGregor started the move from his own half with a good ball to Kirk down the right channel.Kirk`s lay off freed David Graham to send in a perfect cross which HARDIE attacked with a bulleted diving header giving McKenzie no chance. Just one minute later and the Pars might have gone two up. Another Kirk flick allowed Graham to send in another low tantalising ball from the right wing but this time it was just behind the advancing forwards.
As half-time approached Dunfermline seemed in cruise control but that all changed in the final minute of the half. The Pars lost possession in the middle of the park and a high ball forward looked like it might put McGuffie through from just outside the box. Kevin Rutkiewicz hauled down McGuffie and the referee had no hesitation in showing the Pars number five a red card.It had been a good half for Dunfermline but with real setback at the finish.
Half Time: Dunfermline 1 Queen of the South 0
Jim McIntyre chose to sacrifice Liam Buchanan in order to maintain his defensive balance and Chris Higgins replaced him for the second period. Any thoughts that Dunfermline might go defensive were however quickly dispelled as the Pars took the game to Queens.In 48 minutes, Stephen McKenna was booked after he had crudely upended David Graham.
Dunfermline got the all-important second thanks to Joe Cardle`s never-say-die attitude.Joe chased what looked like a lost ball down the left and prevented it going over the byeline.His cross seemed to slip through McKenzie`s hands and David GRAHAM was there to pounce for an easy score from six yards out.
Queen of the South came back at Dunfermline after this and enjoyed their best period of possession.In 62 minutes Neil McGregor brought down Alan Johnston at the right edge of the box. Bob HARRIS executed the free kick perfectly, low into Chris Smith`s right hand corner, and it was now game on against the ten men Pars.
Any hope that this might have given to Queens didn`t last for long.Joe Cardle`s crossing had been good all day and when in 65th minute Andy Kirk was fouled 30 yards out left, Joe`s sweet dipping free kick was head flicked into the net by Chris HIGGINS for his first ever goal for Dunfermline.
Astonishingly, ten man Dunfermline scored again just four minutes later, and it was that man Cardle again, breaking down the left and sending in a cross for David GRAHAM to slot home number four.
If there were any doubts remaining about Dunfermline`s ability to hold on, they were expelled when two minutes later Stephen McKenna`s rash challenge on Joe Cardle earned him a second yellow card and his marching orders.Dunfermline were now level numerically but their overall superiority was extended in 76th minute when Martin Hardie`s shot from the right was deflected on to the cross bar. Cardle picked up the resulting loose ball and fired it back in.His effort didn`t succeed but Andy KIRK was on hand to bundle it into the net.
In the 80th minute, Cardle and Kirk went off to a well earned round of applause, to be replaced by McDougall and Clarke. And the new duo were no sooner into the game than they were providing the icing on the cake. Steven McDougall took on the Queens defence down the left before releasing a perfect ball for Pat CLARKE to smack home number six.
The remaining minutes of the match went in very subdued fashion given what had gone before and Dunfermline had achieved their best win of the season. The worrying loss of Kevin Rutkiewicz for the Raith Rovers game was more than compensated for by a great attacking display by the Pars and a number of players looking really up for the run in. And finally it was great to see a central defender score - the first time since Greg Shields scored against Livingston on 30th December 2008!
The Pars goal difference is increased to +29, 12 better than second placed Raith who remain just one point behind after winning 2-1 away to Stirling. All nicely set up for Saturday`s visit by the Kirkcaldy men!
DUNFERMLINE: Chris Smith; Neil McGregor, Kevin Rutkiewicz, Alex Keddie, Austin McCann (c); David Graham, Gary Mason, Martin Hardie (Pat Clarke 80), Joe Cardle (Steven McDougall 80), Liam Buchanan (Chris Higgins HT), Andy Kirk,
SUBS NOT USED: Alex Burke, Greg Paterson (GK).
YELLOW CARD: McGregor (61)
RED CARD: Rutkiewcz (45 + 1)
SCORERS: Hardie (32), Graham (51, 69), Higgins (65), Kirk (76), Clarke (82)

QUEEN OF THE SOUTH: Roddy McKenzie; Craig Reid, Derek Lilley, Bob Harris, Ryan McGuffie; Paul Burns, Stephen McKenna, Allan Johnston, Willie McLaren, ; Derek Holmes, Colin McMenamin.
SUBS NOT USED: Rocco Quinn, Ian McShane, Steven Degnan, Danny Carmichael, David Hutton (GK)
YELLOW CARD: Lilley (26), McKenna (49), McLaren (78),
RED CARD: McKenna (75)
SCORER: Harris (62)
NEXT MATCH (home) SFL First Division v Raith Rovers
Saturday 24th April 2011, kick off 3.00pm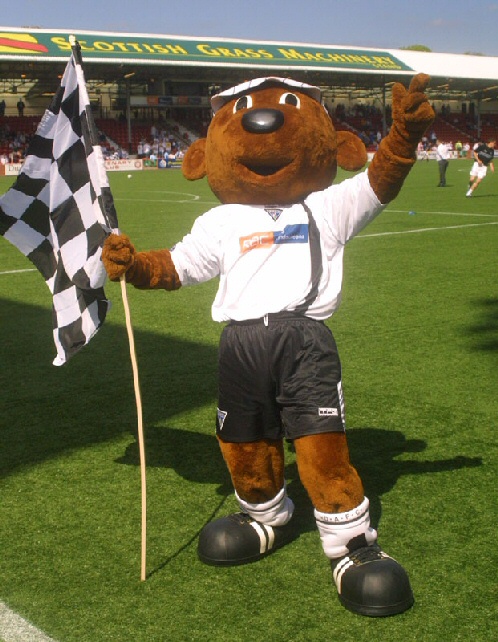 Sammy says thanks very much for visiting our web site where we have lots of news for young Pars fans.