SFL v Dundee
DUNDEE 1 DUNFERMLINE 1 Date: 22/03/11

Fixture: Irn Bru SFL Division

Attendance: 4507, Kick Off: 7:45pm.

Referee: Mike Tumilty
MATCH PICTURES
Another Tuesday night, another tough fixture. It was a perfect night for football in the City of Discovery where Dundee were playing for pride and Dunfermline for points. Jim McIntyre was without the suspended Gary Mason and Joe Cardle dropped to the bench. Calum Woods returned and Alex Burke started for the Pars. On the bench for the first time was Under 19 captain and midfielder Aaron Scott.
Dundee were unchanged from the eleven that drew with Falkirk on Saturday. Stephen O`Donnell was injured and Trialist, Jake Hyde came in place of him having moved from Swindon Town to Lochee United yesterday. The other Dundee trialist on the bench was Lochee United`s Craig Robertson.
Dunfermline lined up with Andy Dowie in front of a back four and Liam Buchanan on his own upfront. The visitors kicked off attacking the goal in front of the their own support. A Gary Irvine cross on three minutes caused the first danger of the night with the defence clearing only out to the left from where a low cross created further problems but Craig Forsyth`s turn was read by the defence and the ball was forced safely behind for a goal kick.
Nicky Riley looked nippy down the right and his left footed cross gave Harkins and Hyde possession in the box but again the Pars defence did its job. In eight minutes a McCann cross was headed back across goal by Martin Hardie but Craig McKeown put it out for a corner. McDougall`s cross was low but he got a second bite at it and he was unlucky that his return travelled straight through the box. In tenth minute Buchanan chased a weak header back to Rab Douglas but the big man grabbed the ball.
Dunfermline kept play further up the park and McDougall took on the left side of the Dundee defence to lift the ball into the box. David Graham nodded the ball on but there was no one available to accept the chance. Next a McDougall shot was deflected for a corner on the right. That failed to cause much of a problem for the Dees but they were fortunate when Rhys Weston intercepted a 16th minute pass that would have put Buchanan through on Douglas.
Excitement for the Dundee fans two minutes later when a long throw allowed Leighton McIntosh a pop at goal and the Main Stand took a second or two to realise that his shot had gone narrowly wide left. A crude Alex Keddie tackle on Riley handed Matt Lockwood a 22nd minute free kick opportunity from 25 yards. His low left footed drive went through the four man wall but Chris Smith dropped on one knee to hold.
Dunfermline countered with Burke and McCann exchanging passes but Burkie`s subsequent forward ball was too strong for Buchanan. Hardie was booked in 29 minutes after following up on an underhit pass that Irvine intecepted.
Woods headed away a Hyde cross but Dundee kept coming and Forsyth belted a Hyde lay off on target from 20 yards out but Smith held well. Play was quickly switched forward and the opening goal was a screamer from 30 yards by Alex BURKE. Douglas had no chance of stopping the ball as it rocketed into the right side of the net.
Real danger six minutes later when McIntosh evaded the offside flag to run on to a Riley pass but Keddie recovered fantastically well to block and only concede a throw in. At the other end Graham was adjudged offside when he ran on to a Buchanan nod on. Next Buchanan made a fast and impressive run up the right then in to the right byeline but he overrun and the flag went up as he cut the ball back.
Two minutes from the break Dundee put a nice move together. Again Riley started it off, then Harkins to Irvine but his 25 yard shot went straight into Smith`s hands. On 45 Kevin Rutkiewicz free kick from half way was met by the head of Hardie on the left side of the box and Graham was unlucky to turn the chance wide left. The Pars had the advantage at the break, but they have been there before in games at Dens Park.
Half Time: Dundee 0 Dunfermline 1
The second half started nervously for both sides but a useful McDougall cross through the Dundee box and then Graham return settled the Pars. Dundee had a couple of shots from distance with the better from Harkins held easily by Smith. Weston sustained a sore ankle injury in a challange with Buchanan but then collected a yellow as he took revenge minutes later.
Dundee`s best chance of the game ths far came in 55 minutes when Trialist Hyde received a Harkins pass to blast on target but Smith denied Dundee as he tipped the fierce shot over the bar. Two corners, one from each side kept the ball flashing through the six yard box. Play continued towards the Fifers goal and the South stand broke into song. Rutkiewicz and then Burke made important headed clearances before play was stopped for treatment to Weston. He left to be subbed by Robertson while Joe Cardle was introduced for Stephen McDougall.
Following the substitutions Dunfermline strung numerous passing moves together, playing their way out of several tight holes. As the game entered its final quarter Cardle took on Irvine on the left and executed a good low shot that Douglas took at the second attempt. Joe then had another chance in 69 minutes when Buchanan broke through on the right side to cut back for the shot but McKeown dived in to block.
Two minutes later Harkins pumped over a free kick from the left and HYDE ran in to flick the ball past Smith at the near post. Two Cardle corners on the right sent play to the other end. Then Keddie headed a Cardle corner on to the crossbar and Hardie`s overhead attempt was turned behind for another corner. The home fans were relieved to see Douglas grab the ball to safety after Dunfermline had kept play in and around the box.
It was end to end for a spell but Macca`s team looked the hungrier. Buchanan caused McKeown to concede another corner but the defence kept heading these away. With ten minutes remaining Pat Clarke came on for Alex Burke and when Graham crossed Douglas injured himself as he punched clear. He was fit to continue and Irvine then headed away crosses from both Graham and Woods.
Higgins replaced Hardie in 89 and the Pars continued with two central defenders in midfield. Higgins pass to Clarke on the edge of the box was slipped to Cardle and he won another corner off Irvine. That was soaked up by the home defence and hearts were in the mouths as Harkins powered up the park with the ball. Pressure is an understatement to describe the final two minutes of added time and relief when Harkins launched the final effort over the bar from a 25 yard free kick.
It had been a cracking game and both sets of fans applauded their teams off the park.
DUNDEE: Rab Douglas; Kyle Benedictus, Craig McKeown, Matt Lockwood, Gary Irvine, Nick Riley, Rhys Weston (Trialist 62), Trialist, Gary Harkins, Craig Forsyth, Leighton McIntosh.
SUBS: Alan Tulleth, Gary Bartlett, Connor Rennie, John Gibson (GK).
YELLOW CARD: Weston (53)
SCORER: Trialist (71)
DUNFERMLINE: Chris Smith; Calum Woods, Kevin Rutkiewicz, Alex Keddie, Austin McCann (c); Andy Dowie; Steven McDougall (Joe Cardle 62), Alex Burke (Pat Clarke 79), Martin Hardie (Chris Higgins 89), David Graham, Liam Buchanan .
SUBS: Aaron Scott, Greg Paterson (GK).
YELLOW CARD: Hardie (29)
SCORER: Burke (32)
WEATHER: Dry 11C<
MATCH PICTURES
NEXT MATCH (home) SFL First Division v Partick Thistle
Saturday 26th March 2011. kick off 3:00pm
MANAGER`S POST MATCH COMMENTS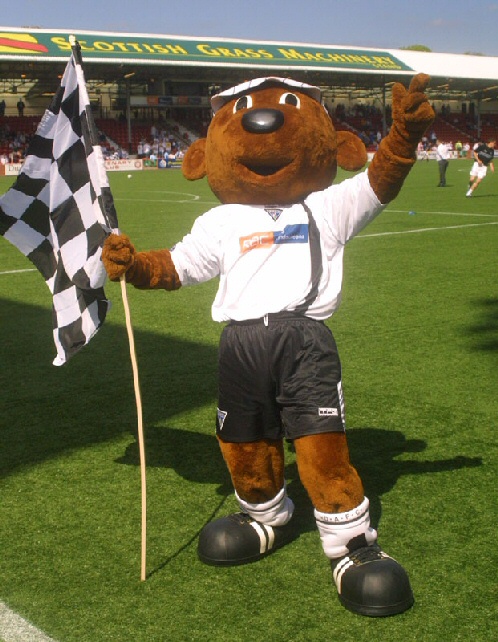 Sammy says thanks very much for visiting our web site where we have lots of news for young Pars fans.