SFL v Dundee
DUNDEE 2 DUNFERMLINE 2 Date: 23/10/10

Fixture: Irn Bru SFL Division

Attendance: 5636, Kick Off: 3.00pm.

Referee: Dougie McDonald
It was going to be a difficult day at Dens Park if the home team were as prepared and up for this game as much as the spinner of the pre match entertainment. His playlist started with "Money Talks", followed up with Chairman of the Board`s "Give me just a little more time" and then continued with Frankie Valli and the Four Seasons "Let`s hang on".
Dundee`s Manager Barry Smith stuck with the same team as he put out at Forthbank the previous Saturday while Jim McIntyre brought back skipper Austin McCann meaning Alex Keddie returned to the bench. Both sides came out carrying red cards - Football against Racism and Dunfermline wore their home shirts with black shorts as they kicked off with their backs to the sun and a good sized travelling support in front of the goal they were to attack.
First chance came after 100 seconds as Pat Clarke headed the ball from inside the centre circle to Joe Cardle who then pumped the ball up the left but Rab Douglas was speedily out of his box to sweep the ball away before Andy Kirk could reach it. In four minutes Griffiths broke clear of Higgins but Dowie stopped his progress and McCann was forced into conceding an early free kick on the right side 20 yards out. Griffiths red boot lobbed that into the box but the Pars defence cleared the danger.
The flag went up on the far side as Kirk threatened on the right but at the other end Stephen O`Donnell had the crowd oo-ing with a 30 yard screamer that just cleared the crossbar. Then in ninth minute Jamie Adams drove a low effort that Chris Smith held.
Clarke appealed as Wullie`s Gibson`s cross was held by Douglas who stepped behind his line in the process. An 11th minute Gibson free kick was delivered low to the feet of Clarke and his shot was turned behind for a corner on the right. Gibson`s cross travelled far left for Cardle and when he returned the ball the speed on it was too great for Clarke, four yards out, to get his head to.
Dundee forced a corner of their own in 15 minutes but Kirk got his head on that early to send Cardle away up the left but his final ball went to a dark blue shirt. Griffiths scurried away back down the right and Higgins put in a tackle right as the striker pulled the trigger and won a goal kick as the ball obviously cannoned off the Dundee player.
Woods lived dangerously in beating Gary Harkins and lifting the ball forward for Bell. Gibson got the cross in and Gary Irvine failed to clear, leaving Clarke with a good opportunity from just eight yards but the defence blocked him. In 21 minutes McCann whipped a ball in from the left but Kirk and Clarke couldn`t get in a shot but another corner was won on the right. Gibson found the head of Woods but his direction was not right and Dundee cleared the ball only as far as Cardle on the left side of the box and Douglas pulled off a fine save diving to his right to deny him.
Next minute you had to think Dunfermline must score but Cardle had his attempt blocked by two defenders diving in ten yards out and then Clarke despatched the break over the crossbar.
Kirk received the ball deep on the right, he cut back to Steven Bell who in turn laid it off to Gibson. His cross hit Matt Lockwood on the hand and a somewhat controversial penalty was given. GIBSON hammered home, giving Douglas absolutely no chance and it was 1-0 to the Fifers.
In 33 minutes Dunfermline were awarded another penalty when yet again Lockwood was adjudged to have handled. This one was much clearer cut Clarke and Kirk challenged for a McCann delivery and maybe should have netted but Dougie McDonald pointed to the spot and Wullie GIBSON stepped up again. This one rattled the crossbar and bounced down and in at the right post. 2-0.
Dundee pushed forward but still didn`t get the decisions their way with the home support complaining bitterly as Dowie had his arm around Higgins in the box and when Bell looked to have conceded a corner. The half time whistle came with a two goal lead for Dunfermline, a lead they warranted but it had taken a soft penalty to get them off the mark. The home fans applaued their team off the park to indicate that this match still had a long way to go.
Half Time: Dundee 0 Dunfermline 2
No changes in either side at the start of the second half but the home side got off to a great start when Leigh GRIFFITHS netted in 48th minute. It was a simple through ball that saw Chris Higgins slip and fail to take, the former Livvy man doesn`t miss when through on the keeper.
There were ironic cries for a penalty as the ball was played on to a Pars hand by Higgins, Harkins powered a shot from the angle wide left and then Smith was out sharpish to deny Griffiths another. Macca`s reaction was to send out his subs to get wamed up.
Cardle won a corner on the left and the pressure was off for a moment but soon Dundee had two of their own with the Fifers defence not looking at its best.. Dowie and then Cardle eventually moved the ball out and Gibson went on a run to feed Cardle a shooting chance that he sent high.
As the match reached midway in the second half Pars made a double substitution - David Graham and Steven McDougall replacing Joe Cardle and Andy Kirk, but it was the Dundee sub Craig Forsyth who almost made an immediate impact. His cross from the left dropped for Adams but he rocketed his shot over the bar from 14 yards.
In 75 minutes Gibson single handedly took on the Dundee defence and it took a good tackle from Forsyth on the edge of his box to halt him. McDougall was then caught offside as Dowie came forward to thread the ball to him. An Irvine cross was punched away by Chris Smith but in doing so floored both Calum Woods and Leigh Griffiths. Both physios came on but there was no serious damage to either player.
There was nine minutes left when Dundee scored their equalising goal. David Graham got dispossessed and Griffiths swung in the ball from the right flank for HIGGINS to rise above the Pars defenders to head over Smith. Dundee then looked the much hungrier team and Higgins turned away an Adams effort and then twice Smith came out to take good balls into his box.
Dowie was yellow carded in 87 minutes when he flattened Griffiths on half way and when Gibson tried to cut into the opposition box, Dundee Man of the Match, Rhys Weston was in well to kill off the danger. Dundee finished pressing for a winner but time ran out on them.
DUNDEE: Rab Douglas; Gary Irvine, Craig McKeown, Rhys Weston, Matt Lockwood; Nicky Riley (Craig Forsyth 69), Stephen O`Donnell, Jamie Adams, Gary Harkins (c); Leigh Griffiths, Sean Higgins.
SUBS NOT USED: Kyle Benedictus, Graham Webster, Leighton McIntosh, Trialist (GK).
YELLOW CARD: Higgins (37)
SCORER: Griffiths (48), Higgins (81)
DUNFERMLINE: Chris Smith; Calum Woods, Andy Dowie, Chris Higgins, Austin McCann (c); Wullie Gibson, Steven Bell, Gary Mason, Joe Cardle (David Graham 68); Andy Kirk (Steven McDougall,68), Pat Clarke.
SUBS NOT USED: Alex Keddie, Neil McGregor, Kyle Allison (GK)
SCORER: Gibson (30 pen., 33 pen)
YELLOW CARD: Clarke (79), Dowie (87), Bell (89).
WEATHER: Sunny cool 9C
NEXT MATCH (home) SFL v Stirling Albion
Saturday 30th October 2010, kick off 3:00pm
Post Match Comments of Jim McIntyre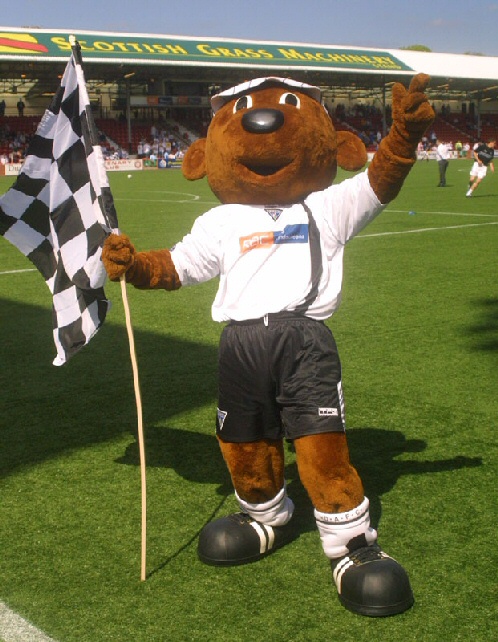 Sammy says thanks very much for visiting our web site where we have lots of news for young Pars fans.