SFL v Queen of the South
QUEEN OF THE SOUTH 2 DUNFERMLINE 0 Date: 02/10/10

Fixture: Irn Bru SFL Division

Attendance: 2139, Kick Off: 3.00pm.

Referee: George Salmond
Presumably the sun shines in Dumfries sometime but for the third visit in the last four to Palmerston Park, Dunfermline were met with driving rain and a soggy park. Jim McIntyre made one change from the side that started at Partick, Wullie Gibson returned in place of young Paul Willis. In addition the black and white strip returned in place of the purple away kit. Queen of the South also made one change with Stephen McKenna starting in place of David Weatherston.
The home side kicked off attacking the goal at the open end of the ground but it was their keeper David Hutton who was first into action holding a Joe Cardle cross after just 28 seconds. The Pars were caught offside a minute later as again Cardle threatened to breach the Queens defence.
In sixth minute Cardle was flattened by Allan Johnston and as the player rolled over Steven Bell connected with Stephen McKenna in an action that eventually earned him a yellow card after the far side linesman advised the referee what had happened behind his back.
The home side`s first real attack in 12th minute saw McLaren send the ball wide right for Paul Burns and Calum Woods was forced to concede a corner. The Pars survived that comfortably and play switched to the other end. Gibson sent a 35 yard free kick through the Queens box and then gave away a free kick midway inside his own half with a clumsy tackle on Ryan Conroy. The free kick was headed back across goal for McLaren atthe far post but he headed over the bar.
Pat Clarke came as close as it gets to opening the scoring with a 19th minute curling effort from 20 yards out that only the right goalpost kept out. Eight minutes later a good ball in from the right from Gibson was cut out but Bell retrieved it and squared for Cardle to head on target but Ryan McGuffie dived in to head behind for a corner.
Cardle created the next chance in 31 minutes crossing for Clarke to run in front of his defender and make the keeper save. Next minute it was Andy Kirk who had Hutton oustretched but the all green keeper got enough of a touch to send the ball behind for a corner. That and another in 33 yielded nothing and frustration showed as Cardle bent a 34th minute shot into Hutton`s hands from 30 yards out.
Clarke sent Cardle down the left and Hutton had to be alert to the deflection off his defender to take the ball at his near post. Dowie`s pass for Gibson on the right was missed by Harris and the Pars winger reached the corner flag to send over a dangerous ball. Cardle had the first pop at this 42nd minute opportunity but when that was blocked Bell smashed the ball disappointingly wide left from 12 yards.
Queen of the South remained a constant threat with a Conroy cross dropping to the inrushing Reid at the far post but Cardle did just enough to keep him away from the chance. At the break both teams would have felt that they might have had something more to show from the first half.
Half Time: Queen of the South 0 Dunfermline 0
Clarke and Kirk got things underway in the second half but in 53 minute Dunfermline gifted their hosts a spectacular own goal. Andy Dowie was put under pressure on the right and sent the ball back to his keeper. Smith saw the ball coming but failed to connect. The ball then continued to trickle agonisingly over the goaline to the great pleasure of the home fans.
The 300 strong travelling support tried to rouse their team but only an attempt from outside the Queens box from Kirk gave Hutton much to do. In 61 minutes the Queens announcer let rip with `Goal` but the McLaren header on a Johnston free kick was disallowed. The Pars broke to try and hit on the break but when that failed the ball was switched forward to McLAREN again 40 yards out from goal. Faced with three defenders the blue boots tried a chip and Smith was too far off his line to prevent the ball sailing over his head and into the net.
Paul Willis replaced Gibson in 66 shortly after the Pars man had been yellow carded and then a double substitution in 71 minutes saw Phinn and McDougall replace Mason and Clarke. Chris Smith continued to get barracked by the home fans every time he touched it though he possibly should have been better protected by the referee when it looked like he had missed again. The big man pounced on top of the ball after stopping a fierce Weatherston shot in 75 minutes but it did not look like Dunfermline were going to come back from two goals down.
Andy Kirk blasted a 77th minute free kick wide and high from 25 yards out. Dowie headed narrowly over his own crossbar to give Queens an 80th minute corner and although that was defended somewhat srcappily play continued in the Pars half. There was quite a let off when Burns cut in from the right and then slid the ball through the penalty box but behind all three attackers.
Queens keeper came out of his box in 85 minutes and almost failed to halt McDougall`s progress, he was lucky to concede only a corner. Bell could not connect with the delivery in from the left and the Doonhamers continued to play the ball deep inside the Dunfermline half with Chris Smith again getting the wary roar from the home stands.
Paul Burns managed to pick up two yellow cards in the space of the last ten minutes so his side were reduced to ten men for the final two minutes plus added time. That did not change things in any way even though Hutton dropped a crossed ball into a ruck of Pars players. The final whistle signalled the second successive win for Queens against Dunfermline at Palmerston. At least second placed Rovers lost 2-0 at home to Stirling Albion and the Pars remain top of the table.
QUEEN OF THE SOUTH: David Hutton; Craig Reid, Ryan McGuffie, David Lilley, Bob Harris, Paul Burns, Allan Johnston (Neil Scally 81), Stephen McKenna (David Weatherston 68), Ryan Conroy, Willie McLaren (Daniel Carmichael 76), Derek Holmes.
SUBS NOT USED: Rocco Quinn, Lee Robinson (GK).
SCORER: Dowie (52 og), McLaren (62)
YELLOW CARD: Burns (81)
RED CARD: Burns (89)
DUNFERMLINE: Chris Smith; Calum Woods, Andy Dowie, Chris Higgins, Austin McCann (c); Wullie Gibson (Paul Willis 66), Steven Bell, Gary Mason (Nick Phinn 71), Joe Cardle; Andy Kirk, Pat Clarke (Steven McDougall, 71).
SUBS NOT USED: Alex Keddie, Kyle Allison (GK)
YELLOW CARD: Bell (7), Gibson (64), Dowie (92)
WEATHER: Rain and Wind 14C
NEXT MATCH: (home) First Division v Ross County
Saturday 16th October 2010, kick off 3:00pm.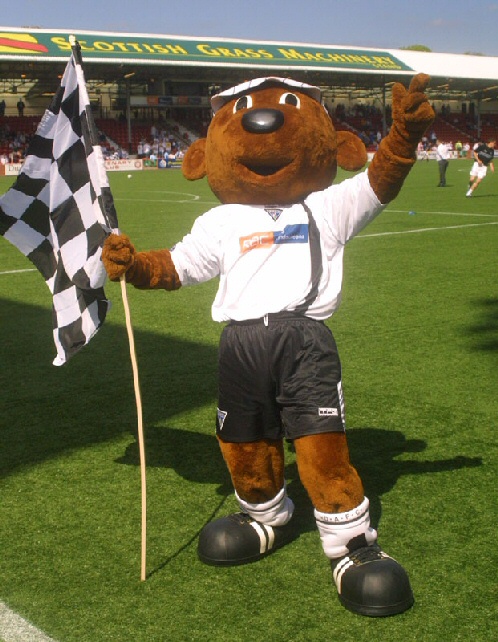 Sammy says thanks very much for visiting our web site where we have lots of news for young Pars fans.