Alba Challenge Cup v Queen of the South
DUNFERMLINE 1 QUEEN OF THE SOUTH 1 - Date 10/08/10

Fixture: ALBA Challenge Cup

Attendance: 1160, Kick Off: 7:45pm.

Referee; John McKendrick
DUNFERMLINE 1 QUEEN OF THE SOUTH 1
Queen of the South won 6-5 on penalties
Queen of the South returned for the third successive season in the Alba Challenge Cup and the Pars would sorely like to progress at their expense. Jim McIntyre made four changes from the side that started at Falkirk in the last game - Alex Keddie, David Graham, Willie Gibson and Steven McDougall coming in to replace Austin McCann, Paul Willis, Joe Cardle and Andy Kirk.
Heavy rain greeted the players as Gary Mason in the absence of his injured captain, led out the Pars and it was the home team that kicked off attacking the goal at the Cowdenbeath end. Dunfermline set the scene with several good passing moves. On five minutes Mason, from right midfield, switched the ball wide left where Graham took on the defence earning himself a shot at goal but his sights were just too high.
The next chance came just four minutes later and after a good passing movement starting with Smith and Keddie found its way to McDougall out on the right. He cut the ball back into the box for Gibson to thrash a shot that ended up rebounding for Phinn on the edge of the box but that too was blocked. Next Pat Clarke charged down keeper Lee Robinson`s clearance and Queens were lucky to esape as the ball travelled wide to the right of their goal.
The visitors first opportunity was from a rather weakly won free kick but Rocco Quinn had plenty of steam behind his low drive from 30 yards that just slipped narrowly outside Chris Smith`s right hand post in 14 minutes. Six minutes later striker Derek Holmes limped off after a robust tackle by Keddie, after treatment both on and off the park the former Hearts man returned.
Having been subdued for the opening quarter of the match the Doonhamers worked themselves on to the ball but still the goalmouth activity was in front of the 24 year old former Rangers keeper Robinson. A Woods cross was headed away and then Graham failed to convert after Gibson swung the ball over from the right.
Chris Higgins needlessly headed behind in 35 minutes to give Queens the first corner of the game but that was easily defended. The half slithered towards the interval with a great lack of anything to excite either set of supporters that is until Bob Harris presented Dunfermline with their first corner in 42 minutes. The left back scooped the ball away from his advancing keeper but Gibson`s ball in from the left was headed clear.
Half Time: Dunfermline 0 Queen of the South 0
Queens tried hard from restart but it was soon back to Dunfermline pressurising the Dumfries men. Two corners in quick succession created a Phinn drive that was deflected behind and then Robinson held the second. A 51st minute free kick was bent around a three man wall by Gibson but dropping on to one knee, Robinson held the shot.
Two minutes later Quinn from just inside his own half in front of the dugout played a through ball that came off the shin of the retreating Higgins into the path of David WEATHERSTON who raced through to bury the ball beyond Smith to his right.
The goal certainly woke the match up and immediately Graham gained ground from the left to shoot from 15 yards but the ball hit the corner of bar and post, A Paul Burns cross then saw Quinn with plenty of time 20 yards out shoot wide left.
Joe Cardle was introduced on the hour as Gibson was substituted. Graham`s switch to the right led to some strong running and several crosses cum shots. Andy Kirk then came on as well to take over upfront in place of Clarke but it was Cardle who took the short free kick in 65 minutes towards Phinn but the defence read that one.
In 71 minute Kirk was delivered a fine cross by Cardle and the striker was unlucky at the far post to send his header wide. The visitors dug in and began to defend deeper. Willis replaced the injured McDougall but there was only 15 minutes to retrieve the situation. It was the oppostion who popped the next shot at goal although it was high from Quinn after Weatherston`s cross had been laid off by Holmes.
With just nine minutes left the cup tie came to life for the Pars as a typical Cardle run assisted by a decoy in Willis, released the ball for KIRK in front of goal to flick the ball past Robinson. As extra time beckoned the urgency all came from Dunfermline and the ball was continually played in and through the Queens box.
Willis had a great drive from 20 yards blocked before in 89 minutes a stinger of a shot from Cardle was sent left by Robinson for corner. That was defended but Cardle had to be stopped again in the first minute of added time with Burns being shown yellow for his tackle.
Full time: Dunfermline 1 Queen of the South 1
Extra time followed with Queen of the South manager Kenny Brannigan still not fielding anyone off his bench. Cardle was eased off the ball in 96 minutes but from 30 yards out Kirk drove the free kick into the defensive wall. Quinn had a great opportunity to score but he got too far in front of Weatherston`s powerful cross from the right.
The match was much more open now. Phinn fired a shot in 99 minutes that spun off a defender for a corner that Robinson fisted clear. Graham two minutes later hooked a shot wide left and Cardle beat off his defender to send over a cross but was unlucky to see it drop behind.
Half Time in extra time: Dunfermline 1 Queen of the South 1
Both teams were running out of steam but Calum Woods pushed up to launch a shot wide in 113 minutes. Possession failed to create any openings to test either goalkeeper and the 30 minutes additional time ran out meaning that a penalty shoot out was required to determine who would complete the tally of just three First Division sides through to the quarter finals.
Penalties, QOS first:-
1. Harris top right (0-1)
2. Kirk right powerfully (1-1)
3. Burns bottom left (1-2)
4. Phinn right low (2-2)
5.Quinn high right (2-3)
6. Woods low right (3-3)
7. McLaren powered right (3-4)
8. Graham right SAVED (3-4)
9. Scally right SAVED (3-4)
10. Mason left (4-4)
11. Reid top left (4-5)
12. Willis low right ((5-5)
13. Reilly low left SAVED on to post (5-5)
14. Higgins low left SAVED (5-5)
15. McGuffie left strongly (5-6)
16. Dowie hit crossbar! (5-6)
DUNFERMLINE: Chris Smith, Calum Woods, Andy Dowie, Alex Keddie, Chris Higgins; Willie Gibson (Joe Cardle 60), Gary Mason (c), Nick Phinn, David Graham; Steven McDougall (Paul Willis 74), Pat Clarke (Andy Kirk 65),
SUBS: Neil McGregor, Kyle Allison (GK)
YELLOW CARD: Gibson (31)
SCORER: Kirk (81)
QUEEN OF THE SOUTH: Lee Robinson; Craig Reid, Bob Harris, Ryan McGuffie, Stephen McKenna, Willie McLaren, Paul Burns, Rocco Quinn, Derek Holmes (Neil Scally 106), David Weatherston (Gavin Reilly 104), Daniel Carmichael
SUBS: David Lilley, Allan Johnston, David Hutton (GK)
YELLOW CARD: Quinn (32), McKenna (66), Burns (90+1), Robinson (120)
SCORER: Weatherston (53)
WEATHER: Heavy Showers 18C
NEXT MATCH: (home) SFL v Morton
Saturday 14th August 2010 Kick Off 3.00pm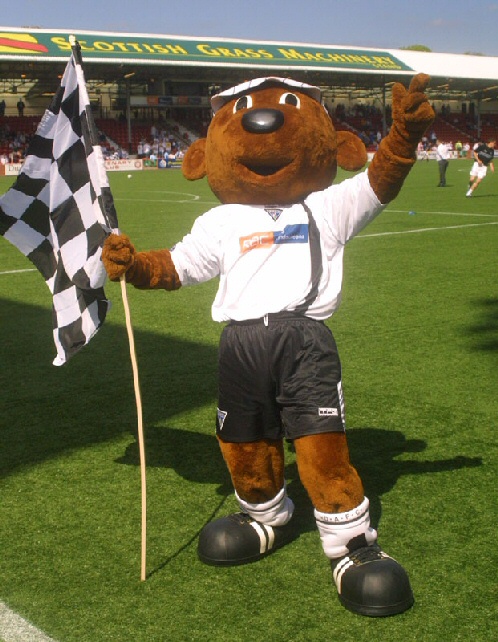 Sammy says thanks very much for visiting our web site where we have lots of news for young Pars fans.