SFL v Inverness Caley Thistle
DUNFERMLINE 0 INVERNESS CALEY THISTLE 1 Date: 08/08/09

Fixture: Irn Bru SFL Division One

Attendance: 2975, Kick Off: 3.00pm.

Referee: Dougie McDonald
Jim McIntyre`s team showed six changes from the team that played the final match of last season. In came Neil McGregor, Chris Higgins and Willie Gibson. Calum Woods was fit to return but Joe Cardle was serving the suspension he brought from Airdrie United. Greg Ross and Andy Dowie were ruled out through injury.
Inverness were still without their strikers Eric Odhiambo and Andy Barrowman. Ross Tokely and Richie Foran were out due to suspension. Ryan Esson replaced Kyle Allison between the sticks and like the Pars, Caley had one outfield change from last Saturday`s Co-operative Insurance Cup starting eleven also at right back, with David Proctor coming in for Tokely.
Dunfermline kicked off attacking the goal at the east end and although Graham Bayne caused Grant Munro trouble early on it was Djebi-Zadi`s long ball out of defence that created the first threat. Adam Rooney ran on to the ball to break into the Pars box and require Neil McGregor to slide in and concede a corner. That was defended as was a third minute free kick floated into the box by Dan Stratford.
A slack Woods pass back in sixth minute brought Greg Fleming into action denying Rooney and Imrie. Then after just two more minutes Lee Cox was given the opportunity to try a shot from 20 yards but that was destined for the McCathie Stand. Dunfermline won their first corner of the game in nine minutes but Glass` low delivery was easily booted clear.
Caley had started strongly prompting the travelling support to sing "Do you wish you were Caley?". In 18th minute a Gibson lay off on the edge of the box silenced that but Alex Burke`s drive was pulled well wide of the right post. Then Woods picked out Bayne on the right who in turn played the ball off Bell into the path of David Graham. His effort maybe should have done better but he allowed it to be blocked.
Andy Kirk had another chance but midway through the half the Highlanders came very close to notching the opener. Robert Eagle laced a ball into the left channel and for the strong running Lional Djebi-Zadi to race on to leaving Gibson in his wake. Caley`s French no.5 released a shot from the edge of the box that went out off the base of the right goalpost.
Caley Thistle enjoyed another two corners ending up with Rooney hitting ridiculously wide. In 29th minute Rooney broke through the centre and Woods did just enough to put him off his shot as he covered across. Terry Butcher`s team kept coming at the Pars and the defence knew that they were in a match.
A wayward clearance fom Djebi-Zadi earned the Pars some reprieve and Gibson`s delivery from the corner on the left looked too low but he found Burke at the far side. The ball was sent right for Chris Higgins to centre and Bayne got his hed on it but was wide at the far post.
McGregor made a great tackle on Danni Sanchez to prevent a strike before a free kick 25 yards out allowed Glass to curl the ball over the Caley Thistle wall but wide of the right post. Imrie then skinned the Pars captain on the right to cut back for Rooney but Fleming was able to drop on the ball to quell the problem.
A 42nd minute Pars corner failed to change anything and an Eagle`s shot at the other end whizzed around the right post to hit the seats in the front row of the McCathie Stand. Right on 45 Gibson was picked out on the right side of the Pars box and his lay off to Bell created the best chance so far but it was deflected wide left off Stratford for a corner. Higgins had the final attempt of the half with a shot the cleared the crossbar.
Half Time: Dunfermline 0 Inverness Caley Thistle 0
The home side started well after the break with a Glass ball setting up Graham to run again at the opposing defence and lay the ball off for Kirk on the top of the D. Unfortunately the Caley Thistle defence closed in meaning Esson was not to be tested.
On 50 minutes there was real danger as despite a tug on his shirt, Sanchez got away from Higgins but McGregor slid in to snuff out the chance. Gibson popped a shot over the bar and Graham took a pass from Glass to beat three men before sending his 25 yard shot low and wide.
In 54 minutes Graham fed Kirk the ball and he launched a 30 yard shot that just dipped over the bar. Gibson did a lot of hard work on the right to evade tackles and fight to get the ball across but Bell couldn`t finish when the shot was defended Glass belted a shot from distace that Esson held.
At the other end Imrie made Fleming hold a powerful 25 yarder and a Djebi-Zadi run ended setting up Rooney but Fleming was quickly off his line to save. In 64 minutes Graham Bayne headed a cross down for Andy Kirk but his good try just rose all the way and cleared the crossbar. The home support were beginning to roar their team on and they kept play down in front of them.
They had reasons to be confident. Gibson teed up Graham and his shot was deflected for a corner and next a fierce Gibson shot was turned over his bar by Esson. Two stoppages for an injury to Dougie Imrie disrupted the Pars flow.
Roy McBain came on for Imrie and the sub`s cross was headed on by Cox causing Fleming to fist the ball over his crossbar. In 80 minutes Graham`s cross went off Bulvitis for a corner on the left but it was a Gibson ball from the right in 83 minutes that saw Kirk hit the upright with a cracking shot on the turn from 12 yards out.
Back in front of Fleming, Rooney got in a cross that had Sanchez twisting and turning 12 yards out but Higgins and McGregor restricted his shot and he was kept out. Steven McDougall replaced Gibson with three minutes remaining and he quickly picked out Graham for another shot on target but his low effort was easily held by Esson diving to his right.
A stoppage for an injury to Steven Bell took the game into added time and although the Pars midfielder had returned to the field of play he was slow to react as David Proctor`s cross from the right came to Lee COX 20 yards out and the Inverness midfielder drilled a low ball into the bottom left.
It was a cruel blow and left Dunfermline no time whatsoever to salvage anything. The home fans possibly saw more shots from their team than they had done in many a match last season but at the end of the first 90 minutes of this First Division season it was a pointless exercise for Jim McIntyre`s team.
DUNFERMLINE: Greg Fleming; Calum Woods, Neil McGregor, Chris Higgins, Stephen Glass (c); David Graham, Steven Bell, Alex Burke, Willie Gibson (Steven McDougall 87); Andy Kirk, Graham Bayne
SUBS: Nick Phinn, Graeme Holmes, Austin McCann, Greg Paterson (GK)
YELLOW CARD: Glass (10), Graham (14)
INVERNESS CALEY THISTLE: Ryan Esson, David Proctor, Nauris Bulvitis, Grant Munro, Lionel Djebi-Zadi, Lee Cox, Robert Eagle (Jonny Hayes 70), Dan Stratford, Adam Rooney, Dani Sanchez (Shane Sutherland 87), Dougie Imrie (Roy McBain 77).
SUBS: Kyle Allison (GK), Graeme Shinnie.
SCORER: Cox (90+2)
WEATHER: Fine 22C
NEXT MATCH: (away) First Division v Morton
Saturday 15th August 2009, kick off 3.00pm<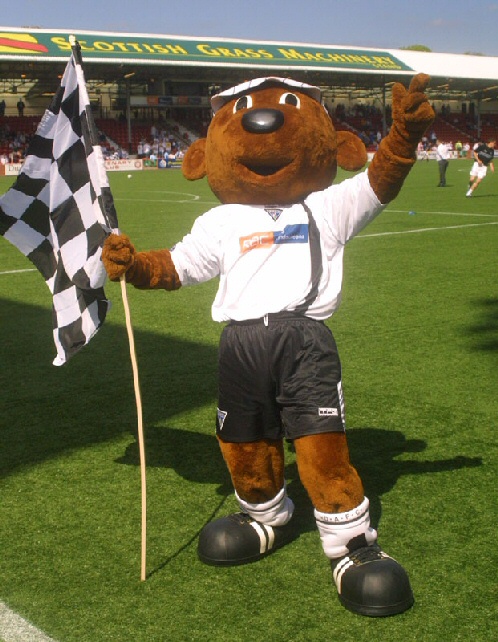 Sammy says thanks very much for visiting our web site where we have lots of news for young Pars fans.