Young Pars News - 8 August 2009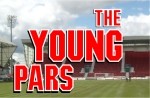 (Entry for Young Pars page of Match Programme v Inverness)
Hi Young Pars

Looking forward to the first league game of what we all hope will be a very successful and exciting season! More results like last weekend would be great!
About the Young
Pars
Many of our young fans will have been on holiday during our last two games so here is a reminder again of what the Young Pars is all
about.� The Young Pars is a supporters club especially for young supporters of the Pars and you can join at any age up to 16. �

Young Pars aged 6 and under join Sammy's
Gang.� Sammy is very popular
with members of his gang and he enjoys meeting them all at his parties
throughout the season.� He likes to
make sure that everyone has a great time and usually brings along one of his
magician friends to entertain them!� Members
of Sammy's Gang get a special birthday card signed by Sammy himself!
We organise Club nights for members aged 7 and over
(where you can meet and talk to your favourite players), exchange visits to
other football clubs and special Christmas and end of season events!�
Members also receive a birthday card personally signed by first team
players!
How to join
You can find out more about the Young Pars and how to
join by visiting our website at www.youngpars.co.uk
Our email address is pars@youngpars.co.uk
or you can contact us by phone on the following numbers - Christine (01383
822012), Jean (01383 731409) or Helen (01383 735358).
Win a year's
membership of the Young Pars/Sammy's Gang!
Whether you are an existing member or joining for the
first time, this is your chance to join the Young Pars for free for this season!�
That's a saving of £10!� If
you have already joined for this season don't worry, you can still enter and
if you win, you will receive a voucher for the DAFC shop for the same value as
the membership.� So here goes!�
Do you know the answer to the following question?
Which player left
the Pars at the end of last season to join former Pars player Ian Ferguson at
North Queensland
Fury Football Club in Townsville in

Australia

?
Send you answer to Helen Beard,

31 Elliot Street
,
Dunfermline

KY11 4TF

or, if you prefer, you can email it to us at the above address.�
Good luck!
Birthday board
Although we are now in August we'd like to wish a
Happy Birthday to all our July birthdays. They are..
Lucy Martin, Lucy
Masterton, Ben Masterton, Jonathan Gillan, Mitchell Brown, Eilidh Gallagher,
Callum Anderson, Jack McCullow, Ellis Robb, Kyle Elliot, Cameron Tunnicliffe,
Ruth Harvey, Mackenzie Roe, Rachel Mackie and David McLeish.
Hope you all enjoyed your birthday!