Young Pars News - 5 May 2009
Hi Young Pars

(Entry for Young Pars page of Match Programme v Morton)

Well, unfortunately, we will not be heading off to Hampden for a final this season. If you were at the semi-final we hope you had a great day anyway!

Young
Pars Penalty Kick competition
Congratulations to Hamish Michie and Adam
Ainslie who made it through to the final of this competition at the St Johnstone
game a couple of weeks ago.� Today
sees the second semi-final taking place at half time to see who will join them
in the final this Saturday.� The semi
finalists today are Daniel McGuinness, Cameron Lambie, Paul Allan, and Callum
Anderson.� Please give a big hand to
all four boys when they take their penalties at half time.
What a great time everyone had at this event!�
It is always one of the most popular events of the season and it's
always great to see the players joining in all the fun with their young fans!
Thanks to all the players who came along. Scott Wilson, Paul Gallacher, Nick
Phinn, Steven Bell, Callum Reidford, Rory Loy and Graeme Holmes each captained a
team of Young Pars, although Graeme wasn't able to play.�
Prizes were awarded at the end of the night for the best Young Par score
and the best player's score.� These
went to Josh Redpath who scored an excellent 135 and Rory Loy who scored ten
more at 145.� Well done to both! Pictures
Young
Pars Player of the Year/Young Player of the Year
These awards were presented at the bowling
night.� Paul Gallacher won Player of
the Year for the second year in a row, while Nick Phinn won Young Player of the
Year.� Both well deserved winners!�
Scott Wilson was also presented with a gift from the Young Pars to thank
him for his support over the years and we wish him all the best in his
adventures down under!
The club is holding its annual Open Day at

East End

Park

on Sunday 17th May.� The Young Pars
will be there so this is your chance to come along and have a chat to us, or to
renew your membership for next season.� If
you can't make it then there are details of how to contact us at the end but
we hope to see as many of you there as possible on the day!
Birthday
board
The following Young Pars celebrate their
birthdays in May.
Joshua Mitchell, Freddie Rowe, George Nelson,
Hannah Barber, James Wilson, Callum Leeson, Mark Allan, Struan Sullivan, Corey
Zaczek and Greg Main.
Everyone at the Young Pars would like to wish
you all a very Happy Birthday!
Contacting
us
Remember you can keep up to date with
everything going on at the Young Pars by visiting our website at www.youngpars.co.uk
where you will also find details on how to become a member.�
Membership starts on 1st June and runs until 31st
May.� You can contact us by email at pars@youngpars.co.uk
or by phoning one of the following numbers - Christine 01383 822012, Jean 01383
731409 or Helen 01383 735358.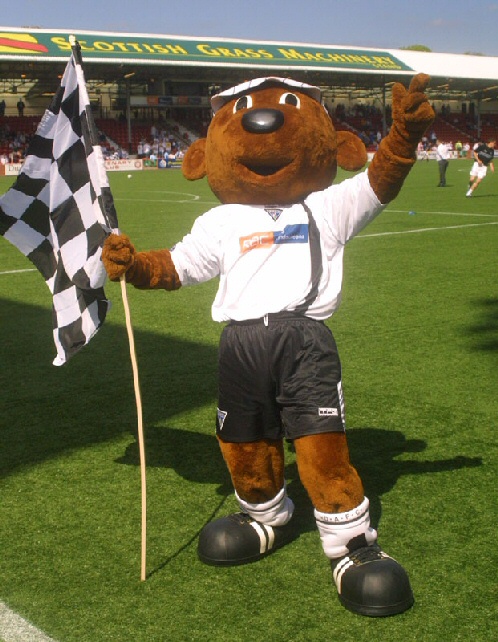 Sammy says thanks very much for visiting our web site where we have lots of news for young Pars fans.