UEFA Cup v BK Hacken
BK HACKEN 1 DUNFERMLINE 0 Date: 30/08/07

Fixture: Second Leg Second Qualifying Round UEFA Cup

Attendance: 2712, Kick off 20.00

Referee: Richard Havrilla (Slovakia)
Skúlasons skott sänkte skottarna

A run in Europe just wasn`t to be as BK Hacken defeated the Pars 2-1 on aggregate. After losing a first half goal, the sending off of Jim Hamilton with over a third of the match to play made it an impossible task for Dunfermline.

A fine evening in Gothenburg welcomed the team and a very vociferous travelling support. Disappointingly the far travelled fans were stuck in the south east corner of this vast stadium and it was difficult to work out where the home support were as quietly populated patches of the ground.

Dunfermline made four changes from the first leg. Paul Gallacher, Owen Morrison, Scott Morrison and Stevie Crawford came in, taking the places of Roddy McKenzie, Stephen Simmons, Scott Thomson and Mark Burchill. The home side too showed four changes from the team that played at East End Park two weeks before. Dioh Williams, José Antônio Periera, Daniel Forsell and goalkeeper Christoffer Källqvist were missing but Teddy Lucic returned.
The teams changed ends before Stevie Crawford and Jim Hamilton took the kick off attacking the goal in front of the Pars supporters.
Kevin Harper floated in an early free kick but nothing to trouble the Swedes who themselves earned some early pressure when Oliveira played the ball off Scott Morrison in the third minute to win the first corner of the match but the Fifers defence cleared the low struck cross.
Stevie Crawford`s shot from 25 yards that was blocked and then a cross from the right that Hysén took from the challenging Hamilton raised the Pars hopes. Certainly in the opening ten minutes there were signs that Dunfermline were certainly going to do a lot of attacking with both Harper and Morrison trying hard to make the breakthrough.
Larsson had the best early chance of the game in 13th minute meeting Oliveira`s cross from the right flag at the six yard box but Bamba was right in to thwart that.
Harper and Glass got half chances without managing to pull the trigger. Next Crawford won first DA corner on the left in 17th minute and although Stephen Glass failed to create danger Dunfermline continued to pressurise what looked like a rather different Hacken side who maybe didn`t quite know whether to sit in at 1-1 on aggregate or go for a goal.
An Ari Freyr Skúlason 28 yard free kick from the right was well defended by Scott Morrison. Jonas Henriksson drifted in at a 24th minute free kick that Skúlason played short but Bamba reacted sharply to be right down on the Swede. Another free kick just two minutes later from a more central position was driven into the wall.
Hacken had begun to threaten and the already quieten Scots support were stunned into silence when in 27th minute Daniel Larsson crossed from the right and at the far side Icelander SKULASON popped up to drive home with a low shot from an angle.
There a moment of optimism four minutes later when Owen Morrison`s ball from the left was headed down by Jim Hamilton but what the fans could not see was that the header was wide and trapped behind the goal. Hysén came out to clutch Scott Morrison`s high ball across but then a touch on by Hamilton found Crawford on the edge of the area but despite his skills in shielding the ball to get in a shot he was wide to the left of target.
Three minutes from the break Bamba cut out another dangerous free kick in from the right and then he was up in his own box to try to get on the end of a Harper free kick for the Pars. It had been a first half that did not lack in effort from Dunfermline but at the break they were just 45 minutes away from exiting the competition.
Half Time: BK Hacken 1 Dunfermline 0

There were no changes in personnel for either side at the break but Scott Morrison pulled up limping after just three minutes when it looked he went over on his ankle.
While down to ten men, Stephen Glass`s free kick in 50th minute created a really close thing for Sol Bamba at the far post but he was just agonisingly short of a connection. Morrison was unable to carry on so a substitution was required. Thomson and McManus warmed up but Stephen Kenny decided to go for the more positive move throwing on another striker although Stephen Glass did drop back to left side of defence.
The eleven men only lasted another five minutes however as Dunfermline were reduced to ten men for the fifth match in six when Hamilton collected a second yellow. Having been showing yellow in 27 minutes for dissent when he asked the referee how long he was going to allow Hacken to celebrate their goal, he earned a second for shooting after a debatable offside decision when the ball came off a defender`s head as it made its way out to him on the left side.

The mood became subdued as the task for ten men looked to be too great even though there were 30 minutes remaining. A Harper free kick sent the ball back into the Hacken penalty box but the defence cleared before Wilson could get in a shot. Mark Burchill was brought on for Owen Morrison as the last quarter commenced but the Pars first had to defend a softly awarded free kick on the edge of their own box that Oliveira kindly sent over the crossbar.

Greg Shields was forced off with an injury in 74 minutes, was yellow carded as he left the field of play and Stephen Simmons was his replacement although he had to wait two full minutes before getting on.
In 81 minutes Crawford darted in from the left and released a shot that appeared to come off the hands of a yellow shirted player but alas no decision despite the big appeals from the Dunfermline players. With everyone forward Dunfermline got caught on the counterattack and as the lone defender Darren Young did really well to fend off the two pronged attack eventually closing down Oliveira and keeping the tie alive with just eight minutes left.
Harper`s delivery from the right touchline in 86 minutes was held by Hysén although for a moment it looked like he had let in go over him. With just three minutes left Bamba stayed up but when he did get a chance in 88 on 18 yards he just couldn`t connect.
Two added minutes saw no change to the predicament and the final whistle after 175 seconds meant Dunfermline were out of the UEFA Cup. Hacken bowed to their fans and then made towards the Pars support, applauding them and getting a rousing reception from the sporting visitors in return.
Like something from Burns Night the stadium floodlights were thrown and the extremely disappointed fans were left to filter out in the very restricted lighting at the rear. The Pars lights were well and truly out and gloom was all that remained!

BK HACKEN: Alexander Hysén. Johan Lind, Mats Hedén, Teddy Lucic, David Marek, Jesper Ljung (Daniel Forsell 32), Daniel Larsson (Peter Olofsson 82). Robert Mambo Mumba, Ari Freyr Skúlason. Paulo Jose Oliveira (Fredrik Holster 92), Jonas Henriksson
SUBS: Christoffer Källqvist (GK), Erik Friberg
SCORER: Skúlason (27)
YELLOW CARD: Marek (54)

DUNFERMLINE: Paul Gallacher. Greg Shields (c)(Stephen Simmons 76), Souleymane Bamba, Scott Wilson, Scott Morrison (Tam McManus 52). Kevin Harper, Darren Young, Stephen Glass, Owen Morrison (Mark Burchill 67). Stevie Crawford, Jim Hamilton
SUBS: Sean Murdoch (GK), Phil McGuire, Bobby Ryan
YELLOW CARD: Hamilton (27), Shields (74), Harper (79)
RED CARD: Hamilton (57)

REFEREE: Richard Havrilla (Slovakia ).
Assistants Referees: Radomir Slukoch Dusan Hrcka ( Slovakia ).
Fourth Official: Richard Trutz ( Slovakia )
ATTENDANCE: 2712
WEATHER: Dry 16ºC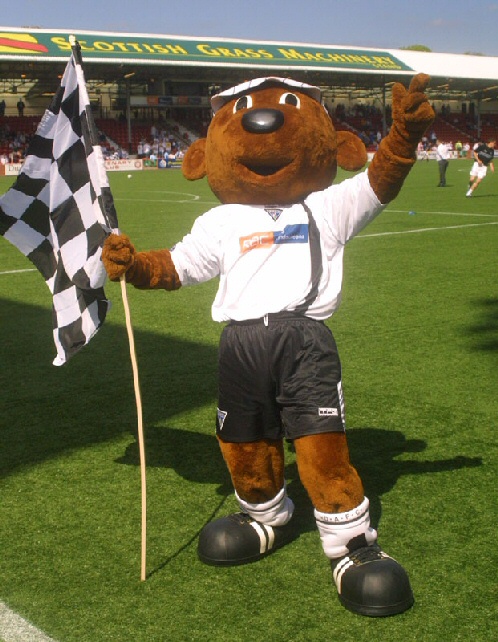 Sammy says thanks very much for visiting our web site where we have lots of news for young Pars fans.