SPL v Hibernian
HIBERNIAN 3 DUNFERMLINE 0 Date:10/12/00
Ten man Pars get capital punishment....









Much was made of Dunfermline`s injury and suspensions but the starting line up showed only two changes from the team that played in the home match against Hibs in September. David Moss and Ian Ferguson were missing from the team that started that day. Youssef Rossi was completing his three match suspension and others unavailable through injury were Chris McGroarty, Eddie May and Jason Dair.





Dunfermline kicked off playing from south to north but within the first 30 seconds had conceded a foul and the resultant free kick had been sent over the crossbar by Zitelli.





The visitors were immediately put under pressure by Hibs and Ulrik Laursen took advantage of the break of the ball off Lee Bullen`s head to squeeze between Thomson and Bullen to put away goal number one.





Hibs took the game to Dunfermline and Michel Doesburg conceded a free kick as he tried to contain Russell Latapy. The free kick in a dangerous position out left hit the Lee Bullen in the Dunfermline wall. Twenty four minutes gone and Mixu Paatelainen had a shot that went straight to Marco Ruitenbeek.





Then Dunfermline`s chances of recovery evaporated as Rob Matthaei stupidly swung a kick at Stuart Lovell in an off the ball incident. Lovell had just challenged him in a tumbling tackle that saw the ball break to Steve Hampshire. Matthaei did not connect with the Australian internationalist but there was no doubt in the minds of the officials. The stand side linesman`s flag went up and Kenny Clark needed no conferring to reach for his red card. Just less than 32 minutes gone and then there were ten.





Hibs should have increased their lead when Zitelli got to the byeline on the Pars left and sent in a cross that Paatelainen sent wide right. Ten minutes before half time there was a suspicion of offside as Zitelli got free down the right to cross again. O`Neill met the ball on the edge of the six yard box and managed to put it wide left when the net seemed easier to hit.





Next O`Neill crossed from the left but Marco punched clear and in the next attack O`Neill touched back to Zitelli who also managed to hit wide. The Pars first half performance produced only one shot at goal from Barry Nicholson that ended up in the stand and Dunfermline`s first corner came after 42 minutes when a pass back was given to Nicholson. Zitelli curled a free kick over the crossbar before the half came to an end.





Down to ten men at half time but there was no way that this was going to be Tannadice revisited. Dunfermline could have dug in and defended but instead Calderwood pushed Skinner into midfield and introduced forwards in an attempt to keep the match alive.





Alex McLeish paid tribute "all credit to Jim Calderwood he remained positive to the very end. I thought that was commendable."





Seven minutes into the second half Latapy continued to impress the watching Trinidad team manager, Ian Porterfield. The Hibs number ten produced magical trickery to cross from the left byeline and Marco tipped the cross and gathered as the ball broke forward.





Stevie Crawford shot wide from 35 yards before the ball was played down the Hibs left wing. Andrius Skerla will now agree that he should have just put the ball in touch but in the 54th minute he tried to clear to Justin Skinner in the middle of the park. Hibs got to the ball first and it was threaded through to Russell Latapy in the penalty box. He beat off the advances of Doesburg and Skerla before rounding Ruitenbeek and hitting the ball across a gaping goalmouth. Mathias Jack should have converted but he missed and David Zitelli was waiting at the far post to tap in.





Lovell had a shot straight at Ruitenbeek and Mark McGarty shot just over from 25 yards out. Junior Mendes was introduced to revive the visitors and he did have one or two of his characteristic jinks but the Hibs defence were now up for everything.





Ruitenbeek had a great save from Zitelli but the offside flag was up anyhow. The third Hibs goal came from a lofty Latapy pass from just one yard inside the Pars half that cleared Skerla and fell for Paatelainen to sweep passed the keeper.





Eleven minutes from time a Dunfermline corner was cleared as far as Mendes who found Crawford. But the Pars striker was offside as the ball cannoned off the crossbar. In the 86th minute Ruitenbeek had a great double save from Lovell and then McManus after sub Lehman had sent over a dangerous pass from the right.





The final whistle was welcome relief. The Pars had tried everything to improve their lot but having to play for an hour with a one man disadvantage is not the way to take anything away from Easter Road this season.




DUNFERMLINE: 3-5-2: Ruitenbeek; Skinner, Skerla, Thomson; Bullen, Nicholson, Doesburg (Mendes 59), Matthaei, McGarty (Graham 67); Hampshire, Crawford.
Subs not used: Thomson (GK), Martin, McDonald.




Yellow Card: Skerla (89)

Red Card: Matthaei (31)




HIBERNIAN: 4-4-2: Colgan; Smith, Sauzee, Fenwick, Laursen; Lovell, Latapy (Andrews 80), Jack, O`Neill; Paatelainen (Lehman 77), Zitelli (McManus 77). Subs not used: Franks, Murray.




No cards

Scorers: Laursen (5), Zitelli (54), Paatelainen (69)




Referee: Kenny Clark

Attendance: 10,078 (786 Pars fans)

Weather: Dry, windy.




League Position: 9th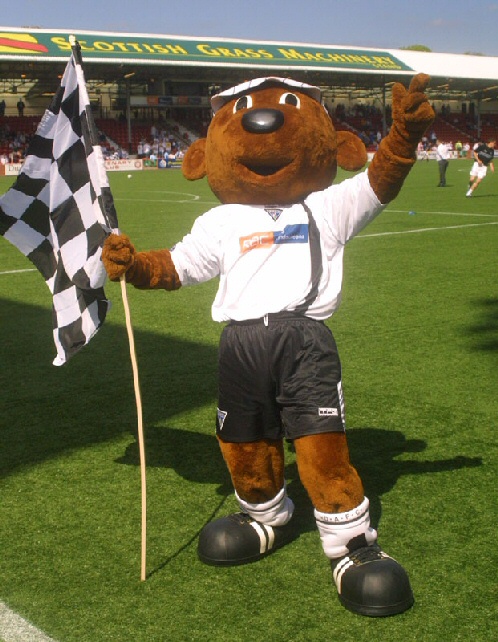 Sammy says thanks very much for visiting our web site where we have lots of news for young Pars fans.