CIS Insurance Cup v St Mirren
ST MIRREN 2 DUNFERMLINE 1 Date: 01/11/00
It was a very disappointed and angry Jimmy Calderwood who left Paisley having seen his side exit from the CIS Insurance Cup.









The Pars manager fumed "We cannot give goals away the way we give goals away and hope to get them at the other side. If you start the game so poorly you can`t turn the game around."



Dunfermline brought in Owen Coyle for his first start of the season and David Graham was left on the subs bench. St Mirren kicked off and for the first fifteen minutes both teams tested the other out with few goal scoring opportunities cropping up. McGowan had a shot over the Pars crossbar and Justin Skinner had a 10th minute long range effort at the keeper. Five minutes later Murray struck the ball over the crossbar from 30 yards out.



Play switched to the other end and Jason Dair`s 25 yards shot took a deflection off the back of a St Mirren player for a corner. Nicholson moved the ball to Scott Thomson in the next attacking movement but the former Don`s pass to Crawford only resulted in the Pars striker falling over.



Steven McGarry almost caught Marco Ruitenbeek out of position when his bending 20th minute shot fell just wide of the keeper`s right hand post. Next a move from Murray to Fenton allowed the former to cross for Yardley. The big ex Cowden man won the ball at his second attempt but as the ball broke for McGarry his shot still went straight at the keeper.



The signs might just have arrived but Yardley knocked down an Ian Nicholson cross to allow McGarry to open the scoring. Within 4 minutes Dunfermline were level. Stevie Crawford sent a great ball out wide for McGroarty who could have tried a shot himself but instead noticed Baz in a great position in front of goal and the youngster melted home a real gem.



St Mirren stand in keeper Scrimegour cut out an Owen Coyle cross with a diving save and Marco pulled off a low diving save to keep out Mark Yardley`s header from a Scott Walker cross. Five minutes from half time Owen Coyle placed a Nicholson cross just wide after good play from Crawford and then a Jason Dair cross was turned over the crossbar by Jamie McGowan when anything might have happened.



Dunfermline were attacking a corner kick when St Mirren swept forward; with the defence pre-occupied by McGarry, Gillies latched on to the big high ball and despite the challenge from David Moss managed to slot the ball under a committed Ruitenbeek.



SECOND HALF



The first half was an entertaining 45 minutes in which Dunfermline should have finished better than did. The second half was relentless pressure from the visitors. They were the better team but lost it.



Stevie Crawford had an early long range shot three minutes into the half and on 50 minutes Ferguson and Skinner played the ball forward eventually to Coyle who brought a brave save out of the Saintees keeper.



Crawford again nodded down a Nicholson cross but Andrius Skerla, from a perfect position to score, managed to thump the ball out well wide of its intended target.



Ian Ferguson had a superb through ball into Barry Nicholson`s path but he shot just over. There were valid claims for a penalty 65 minutes into the match when Scott Walker seemed to foul David Moss within the box.



The Pars players kept coming forward. All the defenders were being encouraged to go up and the play really did stay in the St Mirren half as they went for an equaliser. Scott Thomson was picking up everything and driving forward, laying it out to McGroarty or Jason Dair who sent over cross after cross. Coyle failed to hit the target after a head on from Moss and then Moss himself had a 25 yard shot that didn`t bother the scoreline.



Dunfermline were suffering for their inability to finish exemplified by Crawford in the 81st minute. Following on from the successful defence of a corner, Ferguson again fed Barry Nicholson the ball. Baz "carried" the ball upfield but when Crawford was faced with just one defender and a goalkeeper to beat no shot was completed. Moss had a shot wide left that flashed in front of Hampshire



Marco Ruitenbeek was up for a 90th minute corner but really by that time the players and management I suspect had run out of ideas for getting the badly needed equaliser.



So it is St Mirren who progress to the Semi Finals and Dunfermline must be left to reflect that not for the first time this season, lack of quality finishing caused their demise.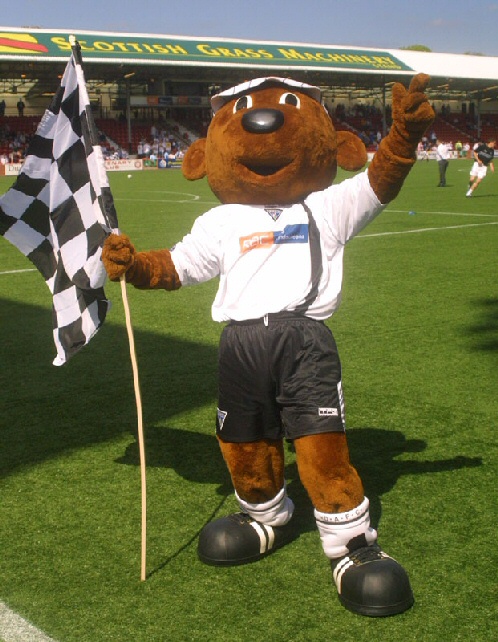 Sammy says thanks very much for visiting our web site where we have lots of news for young Pars fans.