SPL v Hearts
HEARTS 2 DUNFERMLINE 0 Date: 09/09/00
Lee Bullen started the match in preference to Junior Mendes and Scott Thomson was moved into midfield to look after the threat of Colin Cameron.









An injury sustained in Wednesday`s CIS Insurance cup tie against Motherwell meant Marco Ruitenbeek was in the stand beside the 1000 travelling supporters. Scott Thomson was in the goals in front of the Pars fans as Hearts kicked off.




Right from the start Hearts stormed forward and managed a shot at goal within 60 seconds. After four minutes a high ball to Cameron just outside the penalty box was fed to McSwegan, Jason Dair tried to prevent the shot but it went just wide. Clearly Hearts were after their first league victory of the season and within two minutes they were ahead.




JUANJO volleyed in from 20 yards despite the challenge from Doesburg and hit the top right hand corner of Thomson`s net. The keeper went for the shot with two hands when he might have got closer if he`d dived with one hand outstretched.




Ian Ferguson had a 20 yard shot that went left of the target and then a Scott Thomson cross was back heeled by Bullen up to Moss but he was adjudged to have fouled as he laid it back to Jason Dair in a very good position.




Dunfermline were being brushed off the ball. They could not counter the fast and sharp Hearts midfield, yes even Stevie Fulton looked quick today! Skerla and then Thomson had to head behind to concede corners and keeper Thomson went bravely down at Flogel`s feet as a low cross came in from the left.




The visitors were really struggling to get back into the game. Justin Skinner was yellow carded for a tough tackle on Juanjo who was giving Dair in particular a very difficult day. Fulton found Cameron and the wee midfielder`s shot went just wide of the right post.




Stevie Crawford did manage to get into the Hearts box but he was easily disposessed by the close attentions of Steven Pressley. Justin Skinner then tempted Referee Orr as he brought down Fulton. Hearts could have scored again as young Robbie Neilson picked out Cameron on the edge of the area and he set up the chance so well that both McSwegan and Flogel went for it together; result no shot and danger exstinguished.




SECOND HALF




Dunfermline`s second half counter started on 50 minutes with a 25 yard shot from Skinner. The ball was parried by Niemi but Crawford was penalised for pushing as he tried to net. Next Ferguson and Moss combined to allow Barry Nicholson a shot but it came off Pressley and was easily caught by Niemi. The next half hour was all Hearts.




Flogel had a bending shot that slipped past the left hand post. Flogel then had a looping cross to McSwegan who knocked it down to Colin Cameron and his shot must have taken the paint off the Gorgie Road end crossbar.




Defending deeply Scott Thomson headed behind for a corner on the left and from that McSwegan was singled out on the far right and he smacked low and hard for number two. With the Pars bringing on Matthaei and Boyle with just over a quarter of an hour to go there became large gaps at the back. At one point Hearts had 5 men up against the Pars three.




The Hearts players were queuing up for Jackson`s crosses from the left and keeper Thomson had a really good save to deny McSwegan. Cameron again went wide of the mark and Juanjo had a chance to add to his tally.




It could have rained goals but fortunately no more were scored. Within the last five minutes Dunfermline had a couple of chances as Mendes and Boyle seemed to be able to get round the previously steady defence. Boyle was brought down by Pressley and the free kick went over just too high for Bullen and Skerla.




Dunfermline`s last and best chance fell to Stephen Boyle after Junior Mendes had beaten two men on the right wing, played the ball off Stevie Crawford before passing to the young sub at the far post. The shot went wide and the Pars drew a blank.




Changes from the side that beat Motherwell did not appear to come off and only when Mendes came on did Dunfermline have any sort of pace to match Hearts. Calderwood himself admitted that the switch of Scott Thomson to midfield had not worked in the team`s favour.



We will need to improve to avoid humiliation in front of the nation`s viewer against Celtic a week on Monday!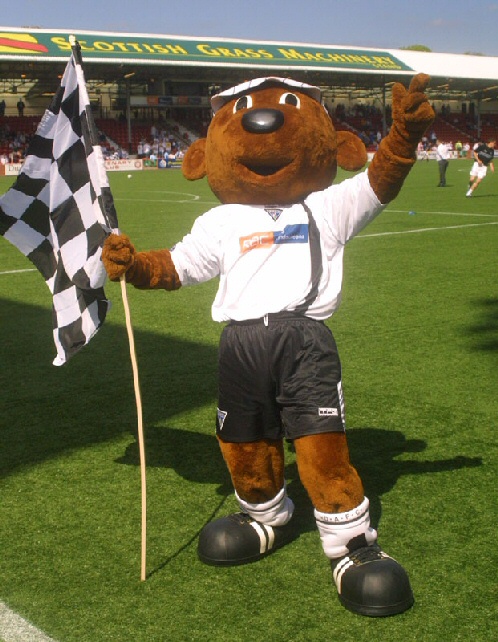 Sammy says thanks very much for visiting our web site where we have lots of news for young Pars fans.