CIS Insurance Cup v Motherwell
DUNFERMLINE 2 MOTHERWELL 0 date: 06/09/00

Fixture: CIS Insurance Cup
Dunfermline were virtually at full strength for this Cup tie against Motherwell. Michel Doesburg faced his old team mates having recovered from a groin strain and Andrius Skerla came through his World Cup Qualifier in Bucharest on Sunday to return to club duty.








Lee Bullen was on the bench as Calderwood fielded the same starting line up which defeated Dundee United ten days ago.



Another good performance from Dunfermline whose confidence is growing by the game. They were comfortably ahead of Motherwell in a first half that produced one goal and several good home chances. The Pars stroked the ball about, players ran into spaces and looked the part while Motherwell too often lost possession and passed to an opponent. Maybe it`s because this competition no longer gets you into Europe that the `Well players don`t have to worry about missing out on European qualification bonuses....yet!



Motherwell kicked off towards a sparely populated McCathie Stand at 7.48pm. For some silly reason the turnstiles had got clogged up, no doubt because the season ticket holders had to get out their money. Motherwell`s Lee McCulloch put in the first shot of the match but wide of Marco Ruitenbeek`s left post. Two minutes later Junior Mendes produced a cracking 25 yard shot that Andy Goram blocked and then deflected for a corner from Stevie Crawford.



Then with only 12 minutes gone Scott THOMSON scored with a magnificent solo effort. He cut through the Motherwell defence with ease before smacking a left foot shot high into the net passed Goram.



Two minutes later David Moss headed a Jason Dair cross onto the post and in the next movement towards the visitors goal, Ian Ferguson sent Junior Mendes through on Goram but his shot was deflected wide and a goal kick was given. Another good opportunity came and went in 25 minutes when Crawford got to the left bye line and cut back across the goalmouth. David Moss missed it and Barry Nicholson was taken by surprise and only managed a mis-struck shot when a goal had been laid on a plate.



Motherwell did come back at Dunfermline and Goodman in particular was causing problems for the defence. Andrius Skerla was holding it together well exhibiting great competence. A Goodman flash across goal was all that Motherwell could offer before David Moss had yet another header at goal just before half time.



Motherwell were allowed back into the match after the interval, McCulloch rising above everyone to head just wide of the post in 50 minutes. Eight minutes passed until Goodman came in with feet flying to challenge Ruitenbeek, but the keeper saved the day while Goodman traded a painful blow on the Dutchman.



Both teams could have suffered from the experimental ten yard penalty rule but the referee seemed to forget about it as much as the players. Crawford covering back into the left back position gifted the ball to Corrigan and his cross was set up for John Spencer but he took too long a wind up and messed up a good chance.



With almost 20 minutes of the second half gone Barry Nicholson broke up the left and executed a perfect cross that was put behind for a corner. The corner was barely cleared when Skinner played a 1-2 with Moss and the defender shot just over the crossbar from 30 yards out. Motherwell failed to move play upfield and when the ball was switched through Ian Ferguson to Jason Dair and his first time cross was expertly met by David MOSS`s head for goal number two.



Dunfermline played out the remaining 25 minutes with little danger, Ian Ferguson hitting one over the crossbar and Lee Bullen almost converting a David Moss pass.



The Press Box were asked to fill in the nominations for the Man of the Match Award, Scott Thomson won it with 7 votes, Andrius Skerla got 5, Ferguson 4 and Mendes and Moss both got nominations. Basically there were no failures in this Pars team, long may it continue.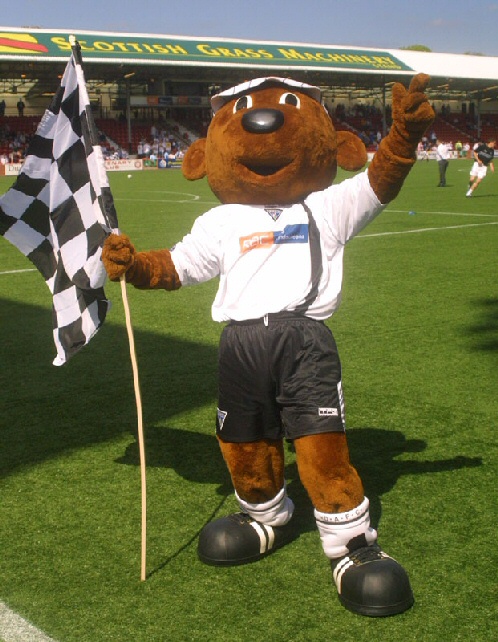 Sammy says thanks very much for visiting our web site where we have lots of news for young Pars fans.