Pre Season Friendly v Norwich City
DUNFERMLINE 1 NORWICH CITY 0 Date: 22/07/00

Fixture: Pre Season Friendly
Lee Bullen has the hero and the tragedy as the Pars defeated their English First Division opponents. After scoring the 66 minute winner he pulled up injured with 13 minutes remaining and was stretchered off. The injury which will not be assessed until Monday could put him out for 5 or 6 weeks.








Following their 4-0 defeat of Queens Park on Wednesday and a 2-0 defeat in Perth last Saturday Norwich fielded a side that is shaping up as their first choice. Their manager Bryan Hamilton had the Dane Steen Nedergaard and former Nantes player Gaetano Giallanza in the starting line up along with, long term out last season, Welsh internationalist Craig Bellamy.



Dunfermline were forced to make changes through injury. Scott Thomson came in for Marco Ruitenbeek (groin strain). Jason Dair, Eddie May and Steven Hampshire came in for Doesburg, Potter and Matthaei.



Norwich faced the sun as Dunfermline kicked off on a warm and sunny Saturday afternoon. Early goalmouth action came from Norwich. A Steen Nedergaard free kick from the right was cut out by no one as Iwan Roberts rose above the defence. He missed too and as the ball fell to Marshall and Giallanza Scott Thomson was quick to gather the ball.



On ten minutes a neat move from Roberts to Giallanza was touched right to Bellamy whose 20 yard shot went straight to Thomson. Dunfermline had a Stewart Petrie shot blocked before after 20 minutes a Scott Thomson free kick found Lee Bullen whose effort went weakly to keeper Marshall.



Next a Scott Thomson cross which Owen Coyle failed to get high enough for was cut back to Steve Crawford but his shot was not good enough to beat the England U21 keeper. Lee Bullen then had a headed effort before play switched to the other end and Bellamy hit a free kick over the crossbar.



On the half hour Lee Bullen worked hard down the right to beat off Llewellyn and cut back to Eddie May. May found the head of Owen Coyle but he didn?t get enough on it to bother Marshall. Two minutes later there was a let off as Fleming failed to convert a chance that came to him late.



Crawford had a cut back to Hampshire which was missed and Jason Dair stepped in to blast a 30 yarder over the crossbar. Norwich looked dangerous as Llewellyn made a run down the left and sent over a good cross. Fortunately the home defence cleared despite a queue of Norwich City players awaiting glory.



Bellamy continued to bother the defence, trying to waltz through them before giving Giallanza a scoring opportunity. His shot flew across the face of the goal and past Thomson?s left hand post.



No substitutions for Dunfermline at half time but Justin Skinner moved forward into midfield, Jason Dair went to right back and Stewart Petrie to left back as Dunfermline changed from 3-5-2 to 4-4-2. Only two minutes into the second half and Lee Marshall?s shot from a Bellamy corner was well saved by Thomson. After 54 minutes Owen Coyle crossed a tempting ball from far left but Steve Crawford couldn?t reach it. A minute later two chances presented themselves to Lee Bullen before Crawford?s final effort was saved by Marshall.



Paul Dalglish who had been a half time substitute fired in a cross from deep inside the penalty box which was deflected onto the post by Nipper Thomson.



At the other end a cute Crawford back heeler allowed Petrie to cross and Lee Bullen smacked in a shot that just went over the bar. The keeper probably got a touch to it but a goal kick was given. Dunfermline began to look as though they were getting their act together as a Bullen cross found Crawford and he laid it off for Coyle to test the keeper. On 66 minutes a Petrie corner from the left was touched on by Skerla to BULLEN who forcefully headed home giving Marshall little chance.



Stewart Petrie was looking the part as an overlapping full back and definitely bothered the Canaries. No further scoring despite a Derveld header from a corner being cleared off the goal line with 15 minutes left.



One has to fear that the loss of not a goal but that of Lee Bullen in the 80th minute might be the more serious repercussion from the late play. The player who had been Dunfermline?s best of the day pulled up holding his leg and then crumbled to the ground. The site of him being stretchered off was not pleasant for those supporters who look forward to the opening match of the SPL next week.



A better performance from Dunfermline. Strange revolving roles for some players but everyone proved that they were capable of doing what was asked of them.



DUNFERMLINE: Thomson; Thomson, Skinner, Skerla; Bullen (Nicol 81), May (Huggon 81), Hampshire (Nish 66), Petrie, Dair; Crawford, Coyle (Templeman 77).



Scorer: Bullen (66)



Strip Black & White home



NORWICH CITY: Marshall; Sutch, Kenton (Derveld 45), Marshall (Russell 68). Fleming, Jackson (Mackay 73), Nedergaard, Bellamy (Coote 85), Roberts (Forbes 77), Giallanza (Da Waard 45), Llewellyn Dalglish 45).



Attendance 2163

Referee David Somers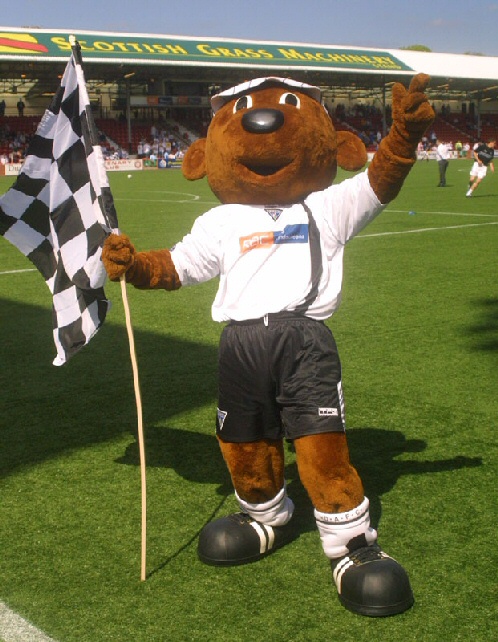 Sammy says thanks very much for visiting our web site where we have lots of news for young Pars fans.