SPL v Rangers
RANGERS 4 DUNFERMLINE 1 Date: 19/08/00

Fixture: Scottish Premier League
In the famous words of those other closely watched competitors - "It`s only a game show". Dunfermline`s appearance at Ibrox was only make up the numbers. The SPL Big Brother chose to nominate them out of the contest within 30 minutes.







Viewers watched in awe as Rangers took up their weekly challenge and evicted Jimmy Calderwood`s team by four goals to one. But this was not as one sided as the result suggests. Yes Rangers could have won by 5 or 6, but for seven magic minutes the team and supporters had the belief that their mission was not impossible.



Dunfermline were without Bullen, Petrie, Skerla, Hampshire, Doesberg, Mendes and Graham. Rangers were at near full strength with just Kenny Miller failing to reach match fitness. The omens were not good and as Rangers encamped themselves in the Dunfermline half from the kick off, it looked like this might turn out to be a game of kicking in.



The ball was traded across the Pars penalty box although 8 minutes had gone before Rod Wallace had the first real shot at goal. With Dunfermline`s first attack Barry Nicholson managed to get a cross over from the right but David Moss was penalised for fouling as he challenged Klos.



As Rangers do, the play switched rapidly to the other end of the park and McCann went down in the box as right back, Jason Dair did just enough to make him fall down and persuade Kenny Clark that a penalty was deserved.



Jorg Albertz struck it to Marco Ruitenbeek?s right and having guessed correctly the keeper managed to get a touch on it but the ball entered the net.



The Rangers fans woke from their post pie and pint slumber to go straight into "The Sash" and "We are the People". But they were silenced when their former players turn on them. Ferguson sent Nicholson deep down the right, David Moss could not convert his cross but Rob Matthaei, unchallenged out left, booted it back in for Stephen BOYLE to hit past Klos. The youngster who has now only started two Premier League games ever, has scored on both occasions! His 14th minute goal will live in his memory for eternity as Pars goals at Ibrox of late have been rather rare.



Now it was the turn of the Pars support to make the noise and bemuse the bears with Dunfermline Loyal. It was good while it lasted. On the pitch the players confidence had grown and the ball was being stroked about a treat. Then a piece of Rangers class penetrated the Pars defence to set up goal number two.



Giovanni Van Brockhurst evaded the Dunfermline offside trap to put the champions back in the lead after 21 minutes. Two minutes later Fernando Ricksen was late into a headed challenge and floored Stephen Boyle. Pip Yeates signalled a cut above the eye, the Pars doctor came on for the second Saturday running and the young Par was carried off with 25 minutes on the clock. Three minutes later after attempts to stitch the injury, Owen Coyle was introduced.



The substitutes first involvement however cruelly led to Rangers third goal. Marco Ruitenbeek passed the ball out to Coyle on the left but his one touch lay off went to Tugay instead of a red shirt. Dodds was sent in on goal and the Scotland striker beat off Brian Reid?s attentions to score.



Rangers then allowed us plenty of possession with lots of good passing. A Nicholson corner provided Scott Thomson with a shot at goal and two minutes from half time Jason Dair drove towards goal, played a 1-2 with Crawford but his shot went wide to the right.



Eddie May came on at half time for Rob Matthaei, but within three minutes any hopes the Fifers might have had for revival were gone. A Neil McCann cross was simply headed in by Rod Wallace.



Dunfermline`s only counter in the second half was a solo run by Stevie Crawford and a Dair hit over the crossbar following good interchanges with Ian Ferguson.



Rangers missed a number of good chances and Ruitenbeek kept the score down with the best save one from Dodds 4 minutes from time.



Jimmy Calderwood said that he was disappointed with his team but he should take the positive aspects from the match. Young Boyle looks a capable replacement for the injured Stewart Petrie, Jason Dair looked much more comfortable on the right and David Moss seems to have found himself a role in the side. Barry Nicholson looked cool in the Ibrox cauldron and he should develop into a good player for us.



We didn`t expect to win - it`s only a game show.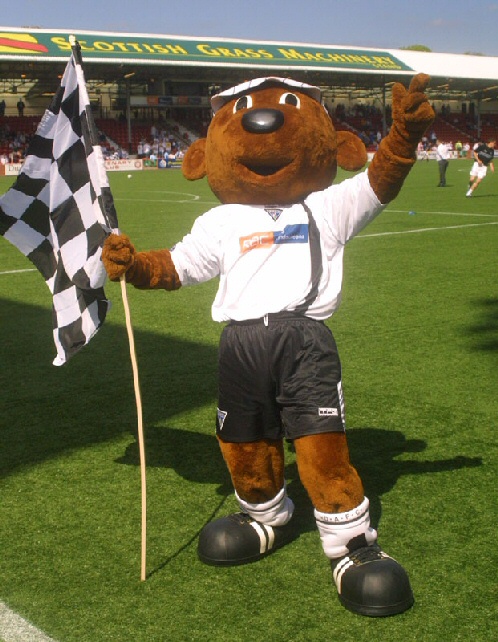 Sammy says thanks very much for visiting our web site where we have lots of news for young Pars fans.