SPL v Motherwell
MOTHERWELL 0 DUNFERMLINE 1 Date: 16/08/00

Fixture: Scottish Premier League
It seemed like a life sentence as the supporters turned their noosed necks every other minute to check the electronic clock behind them. Well players, in the shape of those not injured or ill and three former `Well players made up Dunfermline`s team for this important contest.



The Pars had Skerla, Petrie, Templeman, Hampshire and Bullen out injured. David Graham is ill so it was a fairly make-do side that Jimmy Calderwood fielded. This meant a SPL start for David Moss as Dunfermline chased their first away SPL victory since April 25th 1998.



The home team without a win this season, brought in Kevin Twaddle and ex Par Scott Leitch for their starting line up. No Ged Brannan, and Derek Townsley was on the bench.



Motherwell kicked off towards the sizeable Pars support in the special offer ?16 away end. Steven Hammell had a strong run towards us after 5 minutes and Scott Thomson arrived with good timing to mop up the danger. Four minutes later Thomson was up for a free kick but his effort cleared the crossbar. Corrigan found space to run down the right five minutes later but his shot went past the post.



Michel Doesburg was called on to head behind for a corner when Twaddle`s cross almost reached McCulloch. Dunfermline were living dangerously with the defence being frequently exposed. Relief came in 18 minutes as Mendes got into the match. First he sent over a good cross that was just cut out ahead of the incoming Crawford. Then the Englishman set one up for Ferguson to send screaming past Goram`s right hand post.



Too casual was the criticism of Justin Skinner moments later when he allowed Spencer to fire in a shot that went high over the bar. Play switched back to the far end as Moss headed over a Mendes cross from the right. Then a weak pass back by Corrigan gave Mendes the best chance so far. Steve Crawford collected the ball intended for Oueifio and passed into Junior`s path but his shot was off target. The ex Saint required to go off for treatment but the only thing that was injured was his pride.



Thirty six minutes on the clock and Strong hit the crossbar as he pushed to get his header in and Lee McCulloch`s follow up was save to concede a corner. The half fizzled out with Moss being offside at the only other opportunity. Scott Leitch was carried off in the 43rd minute to return only a minute later. Dunfermline had struggled a bit; too many passes not finding the intended recipient. Rob Matthaei was having difficulty working out who were his current team mates and even Ian Ferguson seemed to find it hard to get the correct weight to his passes. On the plus side Barry Ferguson and Junior Mendes were combining well to create real danger from the right.



The second half started with us playing deep and finished with us playing even deeper. Thankfully one special moment meant that we didn`t get sunk.



Two minutes into the half John Spencer had a shot that went just wide and we had great difficulty getting out of our own half as even free kick`s were played to touch.



But a sweeping move down the right wing involving Ferguson and Nicholson created a cross ball that David MOSS rose to about 4 yards to the left of the goal and about the same distance out. His header looped back across the goal. Stevie Crawford watched it but couldn`t reach it and just as the fans behind the goal thought that it had gone wide it landed in the net. For the second SPL match running Goram had been beaten by a looping effort.



Apart from a Jason Dair run 10 minutes later that ended with Crawford shooting into the side netting the rest of the action was all in front of the Dunfermline goal. Steven Boyle did come on for his second SPL appearance and gave us something on the left. There had been no obvious filling of Stewart Petrie`s boots before this, the left wing having been all but ignored.



Marco Ruitenbeek kept Dunfermline in the match with great saves in 84 minutes from Spencer and in 86 from Goodman. The Pars fans pleaded for the team to get out of defence but everyone went back for corners and there was a fair number of kicks for touch as the Pars survived the 90 minutes for a significant win. Now we are in the top six in the league we have to stay there!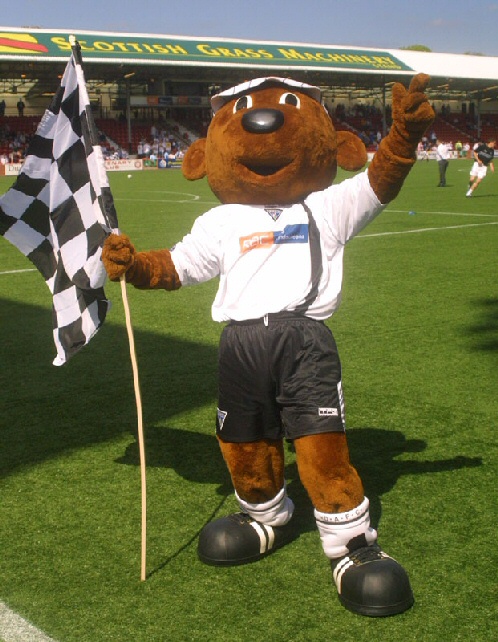 Sammy says thanks very much for visiting our web site where we have lots of news for young Pars fans.