Scottish Cup Replay v Celtic
CELTIC 4 DUNFERMLINE 1 Date: 07/03/01

Fixture: Scottish Cup (Fourth Round Replay)

The third meeting of Dunfermline and Celtic within three weeks saw both teams make three changes from their most recent meeting. That was only three days ago at East End Park and Celtic set out to progress towards the third leg of the treble.



On Sunday Celtic won by three goals and they won by three goals again in this Tennents Scottish Cup Fourth Round replay. This time, however, Dunfermline made it difficult for Celtic.



Despite three being inevitably the margin of victory the Dunfermline management and players got back on their Rennies' bus feeling that, at very least, they had competed with strength and given Celtic a worrying time for the first hour of the match.



Chris McGroarty was given his first ever start at Celtic Park as he came into the team with Steven Hampshire and Michel Doesburg. On to the bench went Skinner, Moss and Dijkhuizen and with Andy Tod suspended Lee Bullen completed the squad.



Celtic fielded Jackie McNamara, Johnson and Moravcik; Petrov and Lambert being relegated to the bench and Chris Sutton was out injured.



There was a dilemma for the football pundits before the match trying to work out what kind of formation and game plan Jimmy Calderwood was going to use. Often this season he has surprised everyone with his innovative tactics and diverse roles that certain players have been asked to play.



Scott Thomson took the kick off and Jason Dair was the target to see if December's early goal could be repeated. Soon however it became clear that Stevie Crawford was to be the sole attacker; five men formed up in midfield with Ian Ferguson and Barry Nicholson lying slightly deeper than Hampshire, Thomson and Dair. At the back Doesburg, Skerla, Rossi and McGroarty made up a four man defence.



This defence was under constant pressure for the first 25 minutes. Larsson burst through the middle as early as three minutes into the game and Marco was at full stretch to palm away his shot. Four minutes on a Moravcik corner was headed wide by Larsson. Michel Doesburg seemed to take a cut in the challenge and Dunfermline were forced into playing with just ten men for five minutes.



Ruitenbeek did well to save a 25 yard drive from Lubo Moravcik and Agathe had a similar shot saved by the big Dutch keeper. Dunfermline's only shot at goal was a wild effort from Ian Ferguson after 12 minutes.



Celtic's pressure eventually paid off however. In the 24th minute Alan Thompson swung over a corner from the right corner in front of the 700 Pars fans. Ramon Vega rose at the edge of the six yard box and nodded the ball into the net. Scott Thomson was the man to look after him but it might have helped if Marco had come for the ball.



The one nil lead lasted only 5 minutes as Dunfermline confounded the expectations of Scottish football by getting an equaliser. Barry Nicholson lobbed a high ball into the left side of the penalty box. Neil Lennon and Scott Thomson chased the ball and Douglas came out to meet it. The Celtic men allowed THOMSON to clip the ball over Douglas and as the ball landed in the goals Celtic Park was plunged into silence as though someone had shrieked "Weel done cutty sark".



Oor Tam had dared to score but as the Dunfermline fans erupted into full voice everyone realised that the "grey mares tale" was intact under precarious circumstances where all hell could be let loose. Johnson got the better of Chris McGroarty just two minutes later which brought a fine diving save out of Marco.



The defences looked under strain again when Larsson broke down the left and homed in on goal with Skerla on his tracks with five minutes of the half remaining. Fortune was with the Pars as the striker chose to lay the ball off to Tommy Johnson and his shot was easily gathered by Ruitenbeek.



Dunfermline had another sortie upfield with McGroarty powering his way forward to pass to Dair. The former Rovers man could have and should have shot but chose to lay it off to his right but it was just too far ahead of Scott Thomson for a decent crack at goal.



WillieYoung brought the half to an end but not before Henrik Larsson fired a 25 yard free kick high into the crowd.



Celtic kicked off the second half and their fans were looking for greater things. As I made my way in and out of the press room at the interval the faces that I had seen queuing for their pizza and beveridge were in much need of cheering up. It was nice to hear the expressions of frustration that I would have missed had I been in my usual corner amongst the Pars support. But the queues would hardly have cleared when Moravcik almost gave Celtic the best possible start to the second 45.



Within forty seconds Lubo Moravcik shaved the crossbar with a fine shot from 30 yards. Dunfermline then strung together some good passes with Thomson finding Dair and Crawford and Hampshire interlinking. The ray of hope was soon doused when a Moravcik corner was again headed in by Vega to re-establish the lead. The Swiss mountain of a defender directed the ball through Youssef Rossi to go in at the unguarded far post. This time there was no way Ruitenbeek could have come for the cross but the ball should not have ended up in the net.



There was 41 minutes left to recover and there was a spirited attempt for the next twelve minutes. Dair had a run in from the left to fire at Douglas' goal but his shot was deflected for a corner. Skerla got a header on target from the corner but Agathe headed off the line at the far post. Hampshire had a cross from the right that Crawford almost sneaked in at the near post.



Barry Nicholson had a shot at goal which went wide to the left and Chris McGroarty did really well to make a great opportunity for Thomson. Scott connected well with the wee man's pass but Douglas parried the drive and Valgaeren swept away the ball as Crawford dashed in.



An equaliser might well have gone in but as so often happens at Celtic Park the home side eased the pressure on them by getting another. Larsson scurried into the penalty box and was heading straight at the left goalpost when Andrius stumbled and Larsson came down with him. Ruitenbeek picked up the ball but Willie Young pointed at the penalty spot.



Larsson accepted the decision and smashed it to Marco's right with the keeper going in the left direction that had caused him to save in the last match at Celtic Park. With 62 minutes gone at 3-1 up there was not many who would doubt that Celtic would be play in the Quarter Finals on Sunday.



The match was rounded off with another penalty. Youssef Rossi kicked Larsson instead of the ball and Larsson repeated his delivery of just previously with the same result. The Moroccan was yellow carded for complaining but he really had little to offer in his defence.



Calderwood went for his 2-4-4 system as he refused to give up. Lee Bullen came on for Doesburg but nothing could be recovered. Fergie had a long booted lob that Douglas had to watch as it almost fell into the goals. McGroarty had one of his runs from half way but his shot from 20 yards was easily saved by Douglas.



Bullen made a good inroad along the right goal line to cross for Hampshire. Douglas made a good instinctive save as Steven's header was directed into the centre of the goal.



Out but not totally down this time. Yes a defeat but if there is such a thing; an honourable three goal reversal. Interesting and effective tactics from Jimmy Calderwood. Life is full of surprises for those who try to predict the Calderwood game. It would also be nice if we could surprise our next opponents, Hibs, with a victory please?



DUNFERMLINE: 4-2-3-1: Ruitenbeek; Doesburg (Bullen 69), Skerla, Rossi, McGroarty; Nicholson, Ferguson; Hampshire, Thomson, Dair (Dijkhuizen 81); Crawford.

Subs not used: Thomson (GK), Moss.

Scorer: Thomson (29)

Yellow Cards: Rossi (73)

Strip: Home black & white



CELTIC: 3-4-3: Douglas; Mjallby, Vega, Valgaeren; Agathe, McNamara (Lambert 63), Lennon, Moravcik; Johnson (Petrov 63), Larsson (Crainey 81), Thompson.

Subs not used: Gould, Boyd.

Scorers: Vega (24, 49), Larsson (62 pen, 73 pen).

Yellow cards: none

Strip: Home green & white



Referee: W Young



Attendance: 36225

Weather: cool and dry



Next match v Hibs (home) Saturday 17th March





MANAGER`S POST MATCH REPLAY COMMENTS



from Jimmy Calderwood



"We changed our tactics a bit because we had played them quite a lot in the last few weeks. We went four at the back because we were getting hurt by Henrik and Tommy Johnson in the left and right back holes in the week; five in midfield and only one up front. That meant that we changed our personnel – we went for pace and touch which left us vulnerable with the height.



"With Dijkhuizen, Mossy and Bullen not playing we took a chance and it worked against us at the corners although I thought Ruitenbeek made a mistake with the first one. He let Vega get in in front of him and although we put Scott Thomson on Vega, and that is impossible obviously but Marco should have got the first one.



"Misunderstanding at the Scott Thomson goal between Neil Lennon and Rab Douglas. A good finish from Scott to make it 1-1. I think we frustrated Celtic; I think they found it difficult to get through us. Then straight after half time we gave away a corner and Vega scored again. We have been done with two corners and two penalty kicks.



"At our best spell when it was 2-1 they got their third goal. Rab Douglas has had a tremendous save from Scott Thomson; we came out our discipline a little bit and Henrik has got away from Scott Thomson a little bit.



"The referee gives a penalty; I thought in the first instance he wasn't going to give it but he gave it and I think that killed us off. Then you put four upfront again and play with four at the back. They have space to hurt you; we had a couple of wee chances ourselves but the game was really finished after the third goal.



"We were well beat by Celtic on Sunday but I don't think there was three goals of a difference tonight. The lads have worked tremendously hard; defended well – that might seem silly when you have four goals against you but four from two corners and two penalties.



"So it is disappointing; we have had fourteen goals against us in three games after our defensive record up to the Tynecastle game being the best outwith Celtic, Hibs and Hearts.



"I think we gave everything, it was always going to be difficult but I don't think that we got as bad a beating as we did on Sunday at East End Park."



So after Jimmy Calderwood describing Henrik Larsson a pest on Tuesday, how did he now feel about Scotland's most prolific goalscorer (42 goals)?



"It was two penalties wasn't it. He did me a favour last time by missing one. I saw him looking up at the screens when he put it in the other corner in that game. He obviously changed his mind but I don't know if big Marco saw it.



"I don't think big Andrius and Youssef have played that badly against him but he has scored two penalties and that is what he is paid for. He is a quality player and a quality team. I think we defended far better today than we did on Sunday" What did the Dunfermline manager make of the penalty kick decisions?



"I thought Willie (Young) took a bit of time to decide on the first one from where I was sitting. I was watching it as usual from up in the Directors Box and I thought he was not giving it. But I looked again and he has given it. That was disappointing. You would hope that they would even themselves out throughout the season but I think that is 13 or 14 against and only three for.



"That has killed us off. Referee's shout it as they see it; sometimes you get them sometimes you don't."



FLUID TACTICS PARS POWER



Crawford and Calderwood look back at Celtic Park performance.



Plenty of praise for Stevie Crawford was forthcoming from Jimmy Calderwood after the Dunfermline number nine had been asked to lead a one man attack at Celtic Park on Wednesday evening. The instruction to Crawford had been not to look on the defensive side so much. Stevie admitted that this was something he had always had in his game:-



"I maybe don't get into so many goalscoring chances but I have never been scared to work hard for the team. Last night my job was to hold the ball up and try and hurt them in the last third of the pitch. I felt that it worked for the majority of the game although at the end of the day we didn't get the result.



On Sunday with the whole of Scotland watching live on BBC TV it didn't look as though Dunfermline were competing; Stevie anguished:-



"It is not nice when people say that about you because in every game you are going out to win. Last night the penalty decision at 2-1 down definitely killed the game. It was an honourable defeat last night where we played some decent stuff and gave Celtic one of their hardest games at Parkhead."



With Scott Thomson playing further forward as an attack minded midfielder and Steven Hampshire, Barry Nicholson and Jason Dair all available to get up quickly from the middle of the park Stevie felt that he was doing more of his work in the Celtic half and the last third of the pitch which of course is what you'd expect from a striker.



Jimmy Calderwood reflected on the Celtic cup replay admiring their quality of delivery at corner kicks but pointing out that for all their qualities that they have got: -



"They did not hurt us from open play until we opened up. At some stages we matched them; at the start of the second half and at 2-1; not many people have done that this season."



The self belief that comes from such performances is firmly entrenched as the opinion of his players. Barry Nicholson backed that up in a recent television interview expressing a view that he was only at East End Park a few days when he realised that he had made the right decision. Calderwood is quick to point out:-



"We are sixth top of the league and we deserve to be there. We should have had a few more points."



When Andrius Skerla and Youssef Rossi were brought to East End Park Jimmy Calderwood claimed that it was to give his team pace at the back that could cope with the Old Firm attacks yet the combination have only really been used in this way at Celtic Park last night and at Ibrox last month. Did the team manager see this as a combination to persevere with?



"It depends on the opponents how we are going to play it. I played Rossi out of position against Celtic and Agathe; it worked out very well in the first cup match but it didn't work very well on Sunday. We have a good left back with McGroarty obviously. We did it at Dundee United but they played two wide men and that brought us some problems.



"It depends what the opposition are doing. We could put one of them sweeper but then Justin Skinner has done very well and he didn't deserve to be out of the team on Wednesday night. It was just for tactical reasons that it was done. Luckily enough we have those kind of players who can adapt within a game.



"It is important for a club like Dunfermline that you can change the tactics in the game; that is what we are trying to get and we changed our tactics twice within the game last night."



This versatility within the squad makes the prediction of the starting line up an extremely hard job. Jimmy sees this not just a problem for the fans and pundits but for the opposing managers too:-


"I'd like to think so. The two of them together gives the options to play a flat back four or you could play those two and a sweeper. There won't be a lot of people like playing against them. I don't think that Henrik Larsson would like to play against Skerla and Rossi every week. You are talking about top quality strikers, top quality delivery and passes that gets you through. With all respect to Scottish football there are not that many teams that have got the both of them."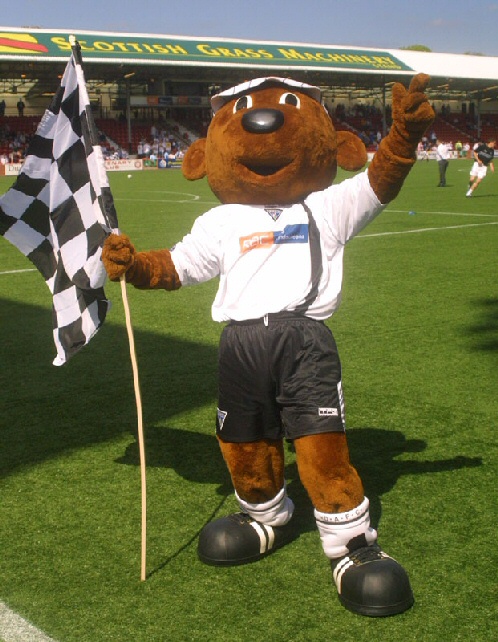 Sammy says thanks very much for visiting our web site where we have lots of news for young Pars fans.