SPL v Aberdeen
ABERDEEN 0 DUNFERMLINE 0 Date: 21/10/00
Fixture:
Scottish Premier League

One hundred and eighty minutes of football between these two sides this season are still to produce a single goal and nobody needs videos to certify X for draw.


Michel Doesburg dropped out of the side that lost at Kilmarnock as David Moss came into the starting line up for this Bank of Scotland SPL match at Pittodrie. Dunfermline kicked off a game that Aberdeen supporters will regard as more for sun screen than television screen.


The Pars did look the more interested in the early exchanges. In the fourth minute a Barry Nicholson free kick just floated over David Moss` head but Andrius Skerla collected and slipped it back to Rob Matthaei whose 20 yard effort went high over the crossbar.


Four minutes later Stevie Crawford had a weak shot at Esson as the ball broke off Chris McGroarty. An Eoin Jess free kick evaded the Pars defence until Marco Ruitenbeek intercepted and his save set up our best chance. On the break David Graham found himself clear 40 yards out but the Young Par`s efforts to reproduce his early goal of the club`s last visit to Aberdeen in April 1999. Ryan Esson foiled Graham and confirmed his club`s confidence in extending his contract to 2004 when he quickly denied a close range shot from Barry Nicholson.


Robbie Winters sent a Young cross high over the crossbar into the Dick Donald Stand.


McGroarty was quick onto a run up the left flank latching on to a Ruitenbeek throw and young Chris crossed to Graham. His knock down was blasted wide by Barry Nicholson.


Play switched to the other end as McNaughton sold Dair a fine dummy. He made a good run but produced a poor 20 yard shot dispatching the ball into the stand.


On the half hour Dunfermline won the first corner kick of the match. David Moss shot over the crossbar as Dair and Graham combined to allow Nicholson to set up Moss. Then Stevie Crawford hit the post from six yards from another Dair cross and Chris McGroarty fell over the rebound.


Aberdeen did reply but with the same level of success. Cato Guntveit hit the left hand post from well out when nobody closed him down and Darren Young hit the ball wide of the same post. The half time whistle was greeted with Aberdeen boos.


Stavrum was involved right away but his cross from the right was easily cut out by David Moss. Mossy`s clearance however went straight to Jess and his shot from the edge of the penalty box was well saved by Ruitenbeek.


Aberdeen`s no.18 Chris Clark sent over a cross that Winters again sent over the crossbar. The pressure was taken off the Pars defence for a moment when David Moss threatened on the edge of the Aberdeen penalty box but he took too long to get in a shot and was closed down.


The 500 Pars fans were on their feet two or three times in the next few minutes as decisions seemed to fall against us. A handball claim, a half hearted penalty claim when Stevie Crawford was tumbled in the box by Derek Whyte and then a foul against when a goal scoring opportunity was developing.


Stavrum had a shot deflected wide by Ruitenbeek and as play began to swing from end to end Stevie Crawford cut back from inside the box for David Graham. The "striker`s" longshot did nothing to bother the scoreline.


In making an SPL debut, Mark McGarty had come on for McGroarty in a substitution that caused the Teletext updaters a problem on the phoneline and Clark got around the youngster and his cross was met by Winters. The ex Tangerines man melted the crossbar with Ruitenbeek beaten but with that failure to score, in the 71st minute, so too went Aberdeen`s will to win.


Thereafter it was all Dunfermline. Graham would have done better if he`d passed to the right side of Crawford for a shot two minutes later. Steven Hampshire was introduced for his SPL debut as well and Dunfermline went for a win.


It was good to see the Pars finish the stronger with the greater resolve. Ten minutes from time Eddie May controlled the ball 20 yards out, nicked it to Moss and Esson turned the goal bound ball on to the crossbar.


McGarty and Dair had shots that went over, May one that went wide and Moss one that went to the keeper. Dunfermline played the better football but almost let Aberdeen into the match with a shaky start after the interval. Dunfermline`s performance was good news whereas Aberdeen missed McGuire in defence and collectively took upon themselves to demonstrate that Jess` midweek remarks were true. - Aberdeen is a team that is going nowhere.


Jimmy Calderwood in contrast felt that his side, that competed in the First Division, was now doing well in the SPL. In particular he felt that to draw in Aberdeen was no bad thing and cited Celtic`s draw there two weeks ago as an example of just how difficult it is to take three points from Pittodrie. McGroarty had a great game, excellent play too from Skerla and a good shift from Nicholson.


Neither side deserved the three points but we would have been more hurt to have been losers.


DUNFERMLINE: 3-5-2: Ruitenbeek; Skinner, Skerla , Thomson ; Dair, Nicholson, Matthaei (May 54), Moss McGroarty (McGarty 59); Graham (Hampshire 78), Crawford.

Subs not used: Thomson (GK), Mendes

Yellow Card: Skinner (26)

League position: 10th

Strip: Home Black & White but with white shorts and socks


ABERDEEN: Esson; Rowson, Whyte, Perry, McNaughton; Jess, Guntveit (Dow 75), Darren Young; Mackie (Stavrum HT), Winters, Clark

Subs not used: Preece, McAllister, Mayer.

Yellow cards: None


Attendance: 11,993

Referee: John Rowbotham (Kirkcaldy)

Weather: Sunny and fine


Next Match: v Dundee (home) Saturday 28th October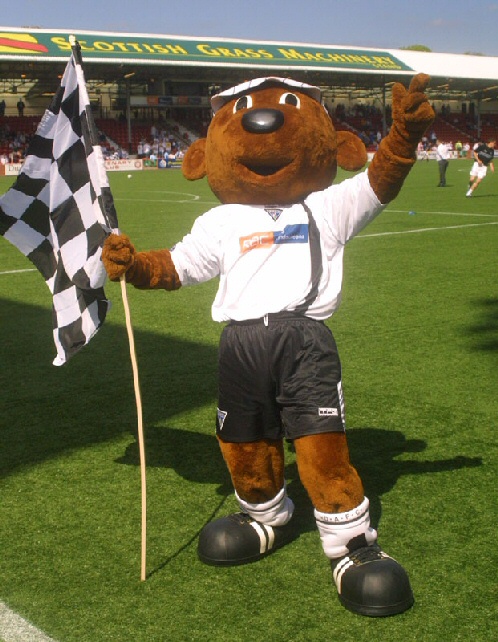 Sammy says thanks very much for visiting our web site where we have lots of news for young Pars fans.