Pre Season Friendly v FC Twente
FC TWENTE 0 DUNFERMLINE 1 Date: 23/07/03

Fixture: Pre Season Friendly

Attendance: 1500, Kick Off: 19:00

Weather: Fine, sunny 23C

Dunfermline achieved a well-earned 1-0 victory against Dutch side FC Twente in the village of Aalten on Wednesday evening. The second match of the Pars pre-season tour saw a much improved performance from a side that showed great desire to win.

The opposition kicked off and for the first 15 minutes looked as though they were stronger of the two teams. As early as the second minute, an indirect free-kick which was touched to their No.4 flew over the crossbar off the Dunfermline defensive wall.
A big blonde midfielder wearing No.17 looked dangerous with a run down the left five minutes later and thereafter another long ball down the left from Heubach floated over Lee Bullen but fortunately Gakhokidze was closed out for a corner by Bullen and Wilson.
Having survived early pressure from Twente the Pars ventured forward and created danger of their own when Stevie Crawford's nod on to Craig Brewster was touched on for Darren Young to fire in a good shot from 20 yards. Heubach was there to block the effort. At the other end Ranzi's corner was headed wide of Derek Stillie's left hand post before a fine move created what turned out to be the only goal of the match.
In the 19th minute Stevie Crawford, lying deep, threaded a ball out wide right to Bullen and when his cross was directed across the penalty box, Brewster dummied for Derek YOUNG to slam home in great style. At that stage few would deny that the goal was possibly against the run of play, but it was well made and well finished.
Six minutes later Scott Walker headed away a Twente shot supplied from a free kick on the right edge of the penalty box and then their No.4 hit a dipping shot just wide after Darren Young had unfortunately chested it out to him.
Despite being surrounded by no fewer than three opponents, Gary Mason managed to send a lofted ball left for Crawford to return a cross that Lee Bullen narrowly headed off target. As Dunfermline won more possession, the game got tougher and in the 35th minute, Twente's No.4 flattened Darren Young and he required the services of Physio Paul Atkinson
Four minutes from half time Scott Wilson required to leave the park after a clash of heads with Scott Walker. The former Ger required attention for a cut to his right eye. Whilst this was in progress, Brewster raced back to cover but from Polak's free kick, Scott Walker headed away.
The first 45 ended with the Pars putting Twente under much pressure. Brewster headed a Bullen cross over the bar and then the opposition caused difficulties for themselves when an overstruck pass back created danger which resulted in Walker swinging in the ball from the left which Bullen got his head to, but failed to score. It looked a missed opportunity but as the ball returned out of the penalty box, David Grondin struck a fierce shot which the Twente goalkeeper did very well to hold.
Usually the half time entertainment is nothing worthy of mention, but some of the 40 or so Pars fans were upset by the histrionics of some Dutch actors dressed in green berets and kilts wielding artificial bagpipes. Their rendition of the Can Can with their flashing of underwear did not go down that well with some of the travelling support. It must be said, however, that they did create a huge diversion for the Pars substitutes who could not believe what they were seeing and makes the Irishman's appearance at Silverstone look less insane.
The first note of the second half was a yellow card for Grondin's two-footed tackle on No.17. From the ensuing free-kick Polak drove in an effort which Andrius Skerla headed high over the bar. The Pars first attack of the second half came from a Bullen throw in which was lobbed across the penalty box by Brewster, all the defenders missed it but Crawford could not collect it either.
There was another yellow card, this time for Darren Young in the 55th minute, who also floored Twente's No.17. Derek Young was flattened two minutes later and the referee was forced to flash another yellow at Twente's Christiansen. Craig Brewster let fly from 20 yards and came close but outside the left goalpost after David Grondin had won possession in midfield.
The Pars produced another promising move with play from Grondin through Brewster, Derek Young and Bullen to Darren Young, whose shot did not match the quality of the build-up however. Twente's reply was yet another shot smacked over the crossbar from Polak.
A superb long ball from Brewster sent Crawford speeding down the left but unfortunately his cross just failed to be met by either Darren Young or Lee Bullen. The Pars almost paid dearly for this, when Ranzi sent substitute No.23 away down the right but fortunately, Derek Young was there to mop up his cross.
In the 73rd minute, a long ball from Stillie was well trapped by Crawford, who laid it back for Brewster but unfortunately his first time shot caused no danger to the scoreline. Very quickly thereafter, Lee Bullen found himself advancing down the right, rounding his man and firing in a shot that the keeper held.
The home crowd were becoming quieter and quieter as they watched their team being outplayed by the Scots who contained Twente well while putting in a very workmanlike shift.
Five minutes from the end, Crawford fired in a Grondin supplied chance which the keeper tipped over the bar. Jimmy Calderwood at this point withdrew Derek Young and Stevie Crawford, replacing them with Andy Tod and Jason Dair. Toddy sprinted into the penalty box and was up to challenge at the corner. Twente cleared but only as far as Darren Young whose shot was turned in by Craig Brewster, but the officials adjudged him to have been offside. A decision hotly disputed by the Pars fans on the far side.
It would have been an injustice if the Pars had failed to win, but in the 90th minute, Heubach crossed for substitute No.24 and the ball looked certain to enter the net, until the acrobatics of Derek Stillie earned the Pars the victory. Scott Wilson mopped up and the one added minute came and went with no further incident.
Dunfermline: Stillie; Bullen, Skerla, Wilson, Walker; Darren Young, Mason, Derek Young (Dair 85), Grondin; Crawford (Tod 85), Brewster.


Dunfermline Subs: Ruitenbeek, McGroarty, McLeish, Fotheringham


Dunfermline Strip: New Home strip: Black & White


Dunfermline Goal Scorers: Derek Young (19)



Dunfermline Yellow Cards: Grondin (48), Darren Young (55)



FC Twente: Paauwe; Van der Weerden, Zomer, Pothuizen (Allach HT) Heubach; Niemeyer (Sibul 80), Ramzi (Da Costa 75), Polak, Gakhokidze, Jochemsen (John 65), Christiansen (De Visscher 65)



FC Twente Yellow Card: Christiansen (57)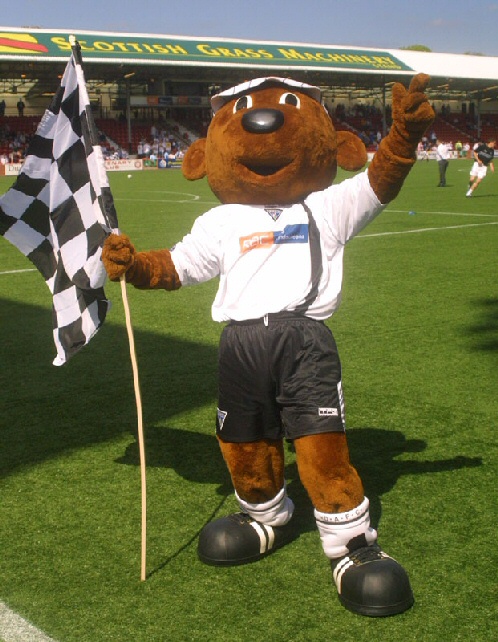 Sammy says thanks very much for visiting our web site where we have lots of news for young Pars fans.