SPL v Celtic
DUNFERMLINE 0 CELTIC 0 Date: 09/08/03

Fixture: BOS SPL Premier League

Attendance: 10082, Kick Off: 12:30

Referee: Hugh Dallas, Weather: Sunny 24C

Last Match on Grass

Dunfermline crafted a creditable goalless draw out of this exciting match with Celtic at East End Park which followed the emotional pre-match introduction of Jim Leishman. The Big Man's appearance triggered a great welcome from the home support and from many sections of the away fans. Leish dropped to his knees to kiss the turf and did one of his famous arms out winging act.

The "Leishman" effect was immediate and the passion so longed for was certainly at fever pitch on the terracings. Possibly the best atmosphere since the stadium was made all-seater assisted in bagging the Pars their first shut out against Celtic in 32 league games. Not since 24th March 1990 had the Pars kept a clean sheet against the Parkhead men.
Lee Bullen was suspended for this opener but making his league debut on his return to the club was former club captain Andy Tod and there were league debut's for both Darren and Derek Young.
Stevie Crawford won the toss and elected to defend the goal in front of the Celtic support and so the 2003-04 season kicked off with a 10,000 crowd drowning out High Dallas's whistle as Celtic were the first visitors to Dunfermline.
Tod was in action right away with three touches after just 15 seconds getting the ball away from Henrik Larsson. Craig Brewster swung over a ball from the right in the third minute that Didier Agathe headed away and the second chance came from a Derek Young free kick that spilled out of Rab Douglas' arms for a corner.
Brewster was led off the park by referee Hugh Dallas for a stitch to a lip injury meaning that the Pars were down to ten men for five minutes. He was barely missed and there was nothing to bother Derek Stillie in his absence. In the 13th minute however Tod dealt well with the cross of Shaun Maloney that was destined for Larsson. The throw in soon developed into a corner and when Alan Thompson centred Celtic's first corner of the game the ball penetrated the six yard box to Maloney, Johan Mjallby headed the return over the crossbar.
Tod despatched the next danger high into the East Stand after Petrov had put through Maloney. Darren Young played the ball out of defence evading the challenge of Bobo Balde but failed to get on the end of a move he started that went through Nicholson and Crawford.
After 23 minutes Chris McGroarty was hero then villain as he set up Stevie Crawford to let in Gary Mason for a strike at goal but the ball broke off the back of young Chris. A bigger hero emerged however in the next minute though when a Thompson corner from the right got to Mjallby at the far post and Stillie miraculously stopped the ball entering the net as the Celtic support rose to start the celebrations.
Two minutes later the end to end cup tie like play created a great chance for Dunfermline's debut boy Derek Young when he played the ball off Crawford to get in for a shot at goal. Next Larsson sent through Petrov but the Bulgarian's shot went straight to Stillie.
Celtic continued to look dangerous but Larsson's ball through for Paul Lambert came to nothing. Darren Young and Stevie Crawford figured largely as they were key to the considerable possession that the Pars enjoyed. Crawford might have done better from a Brewster lay off that sent him into the Celts penalty box.
The half finished with more Dunfermline pressure that made Celtic look very ordinary. Every Pars man was doing his bit and a goal would have been warranted but somehow the final ball was never good enough.
Half time took the sting out of the Pars play and it was the opposition who threatened after the break. A Maloney free kick was safely in the arms of Derek Stillie before Joos Valgaeren arrived in the six yard box and when Neil Lennon sent o the ground to save.
Derek Young tested Rab Douglas with a 20 yard drive that bounced out of the Scotland stopper arms for him to recover before Craig Brewster could reach the ball. It continued back in the type of all over excitement that makes a mockery of a goalless draw. A short ball from Wilson to Skerla allowed Larsson to nip in and put Petrov through on goal. He laid the ball off to Maloney but he lacked power on his shot and again Stillie thwarted the biggest let off so far.
In the 58th minute quick thinking from Brewster with a throw in to Crawford set up Stevie with a shooting chance that he sent shooting passed the right post. More chances came the Pars way with Crawford getting to the byeline on the hour to send over a cross that Nicholson failed to connect with despite a fancy 'scissors' attempt. Brewster was there to shoot but he was wide right thanks to a deflection.
From Barry Nicholson's corner Brewster headed high for Douglas to rush out to clutch. Just when it looked as though the afternoon heat had sapped the energy an incident in the far west of the North West stand involving Larsson and a spectator raised the temperatures. Larsson headed wide a good Agathe cross from the right and Derek Young received the ball from Crawford to drive it across the front of the Celtic penalty box and Rab Douglas had to be out quickly to deny Brewster.
In the 66th minute a Nicholson corner looped over Mjallby to let Tod in for a header but he was wide left. There was no horse play in the Pars defence but they hoofed away clearances with regularity as they seemed almost to sit in.
Young Liam Miller and Jamie Smith replaced Lennon and Lambert on 71 minutes while David Grondin came on for Derek Young. Sub Miller won Celtic's 6th corner of the match three minutes later and somehow Mjallby managed to be off target when presented with a free header from Thompson's corner.
Two minutes later a Thompson drive came back off Grondin for Maloney to shoot at Stillie but then it was the Fifers who should have scored. Brewster laced a ball through the middle for Crawford whose shot from 20 yards broke back off the advancing Douglas to Young but his shot was cleared off the line by Mjallby.
At one end Andrius Skerla put in a timely tackle to stop Maloney while at the other Mason, Grondin and Young pushed forward in search of goal. Smith sent a shot into the McCathie Stand and Larsson was uncharacteristically wide with an easy header at the left post when Agathe produced another great cross.
As the time went down Maloney set up Smith for a drive that flashed through the six yard box and in the 93rd minute Maloney, Larsson and Thompson combined to arrive at the same result. The final whistle was greeted with great joy from the home fans and Andy Tod was named as the Man of the Match.
Andy did a great patrolling job on Henrik Larsson, Chris McGroarty had the pace for Agathe, well most of the time, and Gary Mason did a good marking job on Stillian Petrov. The whole team played well and on showings like this the Pars will be going places. Selection will become difficult for the two Jimmies as Lee Bullen must have watched with concern for his place and in around four weeks we can expect Scott Thomson back wearing his captain's armband.
No mean feat in stopping Celtic scoring in a league match since the first time since 2001 (57 matches ago) and this is the real reason the Pars took something from this match – Jimmy Calderwood's first ever points off Celtic. Well done defence!
Pitch removal only 5 hours after match
Buy your piece of Turf
Managers` After Match Comments
Andy Tod Post Match
Dunfermline: Stillie: Skerla, Wilson, Tod; Nicholson, Darren Young, Derek Young (Grondin 71), Mason, McGroarty; Crawford, Brewster


Dunfermline Subs: Ruitenbeek, Storrie, McNichol, Walker


Dunfermline Strip: White and Black


Dunfermline Goal Scorers: none



Dunfermline Yellow Cards: Nicholson (23)



Celtic: Douglas; Valgaeren, Balde, Mjallby; Lennon (Miller 71); Agathe, Lambert (Smith 71), Petrov, Thompson; Larsson, Maloney


Celtic Subs: Hedman, Varga, Beattie


Celtic Goal Scorers: none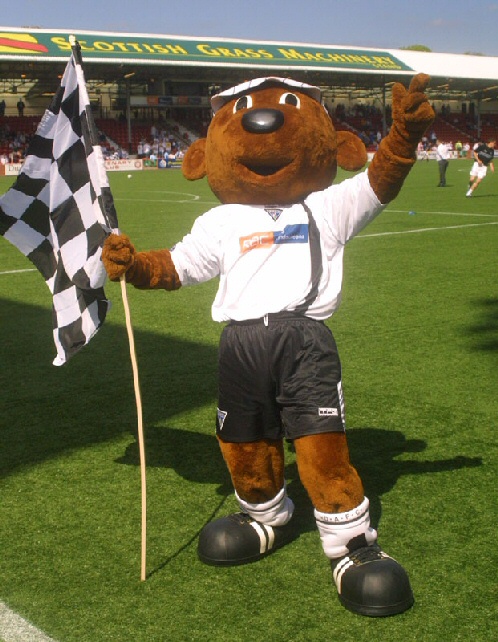 Sammy says thanks very much for visiting our web site where we have lots of news for young Pars fans.