SPL v Hearts
HEARTS 1 DUNFERMLINE 0 Date: 31/08/03

Fixture: BOS SPL Premier League

Attendance: 11934, Kick Off: 15:00

Referee: Alan Freeland, Weather: Dry, Bright 18C

The Bank of Scotland Fireworks may have marked the end of the 2003 Edinburgh International Festival the previous evening but this Bank of Scotland Premier League match failed to ignite the Dunfermline team. Despite excellent defending for most of the match Dennis Wyness slipped through to grab the only goal of the match in the 62nd minute.

It is thirteen years since the Pars last won at Tynecastle and after this most recent meeting it will be 14. An uninspiring performance disappointed the large travelling support estimated at 800. No points since the 1-1 draw two seasons back. and every season team, directors and supporters travel to Gorgie in hope of some better fortune and every year it seems we travel back across the Forth knowing that we are just not good enough to take points from Tynecastle.
The Pars were unchanged from the side successful at Pittodrie and Hearts brought in Robbie Neilson for McMullan. Jean Valois was still not fit but big Marc De Vries kicked off alongside Wyness as they attacked the Roseburn end. Derek Stillie was the first keeper to be called into action when in the fourth minute a long Neilson throw in dropped behind De Vries for the keeper to collect.
Stillie was particularly alert in the next minute when a David Grondin pass back put him under pressure from De Vries and the blue shirted stopper showed smart skills to touch the ball to his right away from the Dutchman and clear. Dunfermline came into it when Craig Brewster sent Stevie Crawford through but almost as if surprised to get the chance he took too long and the Hearts defence stepped in to belt the ball away for a corner.
Moilanen met Young's cross from the left but both teams were having to make telling tackles to keep their opponents out. In the 14th minute Andrius Skerla headed away a De Vries cross from the left after he had beaten off the challenge of Scott Wilson. Hammill took two corners from the left and Scott Severin relieved the pressure on the Pars goal with a header well wide to the right of goal.
Two minutes later Lee Bullen conceded a free kick that let Phil Stamp swing in more danger but fortunately Stillie collected Webster's header. A Grondin clearance forced Wilson to put a crunching tackle in on De Vries and another corner followed. Skerla headed away Hammill's corner but another followed when Stamp's thumping shot was deflected wide by Bullen.
The Pars defence were doing a great job soaking up the Jambos assault and gained brief respite with a Crawford break that was then played to Young who involved Brewster, Mason and Nicholson before Crawford failed to stop his prod into the Hearts box from slipping out for a goal kick.
An Andy Tod tackle on De Vries heralded another Stamp free kick midway inside the Pars half with 23 minutes on the clock. Bullen headed out only as far as McFarlane who returned the ball for Severin to head a net bound effort that brought out a fine save from the Stillie. That was the best Hearts chance of the half and yet again the Fifers had to thank their in form keeper.
The Pars had the ball in the net in the 36th minute when Grondin's pass picked out Barry Nicholson on the right. He directed the ball to Crawford who slotted past Moilanen but the Assistant Linesman's flag was already raised. Then even though the first half had been predominantly Hearts the Pars had another chance just two minutes from the interval.
A long looping ball from Scott Wilson found the head of Lee Bullen deep down the right. Nicholson accepted the touch on and flashed the ball through the penalty box narrowly evading both Crawford and Brewster.
Half time 0-0
Dunfermline started pushing right from the restart. When Skerla fed Nicholson with a ball that he put into the path of the Pars striker his Scotland colleague Andy Webster was forced to pull him down on the edge of the box. Barry left the set piece for Grondin but his on target shot was deflected behind for a corner by Alan Maybury.
Grondin's corner from the right was cleared only as far as Tod who laid it off for Gary Mason but his shot was wayward. Hearts stormned back into the game with a Neilson run ending with a blast over the crossbar. With just ten minutes of the second 45 gone every Hearts player, bar their keeper, were in the Pars third of the pitch as Pressley swung over a ball that Wilson got away only as far as Hammill. Fortunately his drive from 25 yards out was weak and went straight to Stillie.
Next minute Severin found the Pars players standing off him and headed forward before squaring to Stamp who shot narrowly over the crossbar. In reply Darren Young has a shot deflected off Severin to Moilanen. Then everything resumed in the direction of the Pars goal.
A long ball from Pressley had Wyness and MacFarlane causing problems at the back and then Stillie had to react quickly to boot clear a dangerously inaccurate pass back. The warnings were there so it was no surprise when Hearts went ahead but it did take a mistake from the Pars.
Midway inside his own half, Nicholson's pass to Mason was intercepted and Derek WYNESS latched on to the chance. He couldn't recall in the post match press conference what happenned but recalled nutmegging someone on his route to goal. Skerla and Mason tried to stop him but the ex Inverness Caley Thistle player smashed home giving Stillie little chance.
The Pars did immediately buck up their resolve with a Young free kick being headed away by De Vries only for Nicholson to shoot back in but his strike was over the top. A mix up between Brewster and Young let Wyness through again and as he twisted and turned to evade the challenge of Wilson and Tod his shot sailed over the crossbar.
Hearts brought on their Australian signing Patrick Kisnorbo for Neilson, Boyack replaced Hammill and Sean Kilgannon's fortunes changed dramatically with his introduction in place of Brewster. The transfer listed youngster had turned down the option to leave the East End club during the week and strangely found himself pitched straight back into the battle.
Stillie continued to thwart Hearts clutching in front of De Vries and then holding a 25 yard drive from substitute Kisnorbo. Gary Dempsey replaced a tiring Young with twelve minutes remaining. With this change came the instruction for Andy Tod to push up. This pushed Hearts back but also made it tough for Skerla and Wilson to cope with the fresh legs of Graham Weir.
The only subsequent danger to the scoreline came after Tod was fouled and Nicholson picked out Tod from the free kick. His header across the penalty box fell to Crawford but he paused too long before shooting straight at Moilanen.
After two added minutes Alan Freeland blew for full time and the Pars had suffered their first defeat of the season. It was a frustrating match in which they created very few chances. The midfield seemed to be outplayed by their opponents and all the praise has to go to Skerla, Tod and Wilson who were very well organised with the able support of Derek Stillie between the sticks.
Hearts did defend well but Dunfermline will need to find ways to penetrate defences like these and provided the strikers with better service if they are to have any chance pushing for third place.

A very full travelling support at Tynecastle on Sunday afternoon.
Manager Post Match Comments
Craig Brewster Post Match
Dunfermline: Stillie; Bullen, Skerla, Wilson, Tod, Grondin; Nicholson, Darrren Young (Dempsey 78), Mason; Crawford, Brewster (Kilgannon 71).


Dunfermline Subs: Ruitenbeek, McNicol, Labonte.


Dunfermline Strip: Home White and Black


Dunfermline Goal Scorers: none



Dunfermline Yellow Cards: Bullen (30), Brewster (49), Wilson (91)



Hearts: Moilanen; Neilson (Kisnorbo (64), Pressley, Webster, Maybury; Stamp, MacFarlane, Severin, Hammill (Boyack 71); De Vries, Wyness (Weir 81)


Hearts Subs: Gordon, Hartley.


Hearts Goal Scorers: Wyness (62)



Hearts Yellow Cards: none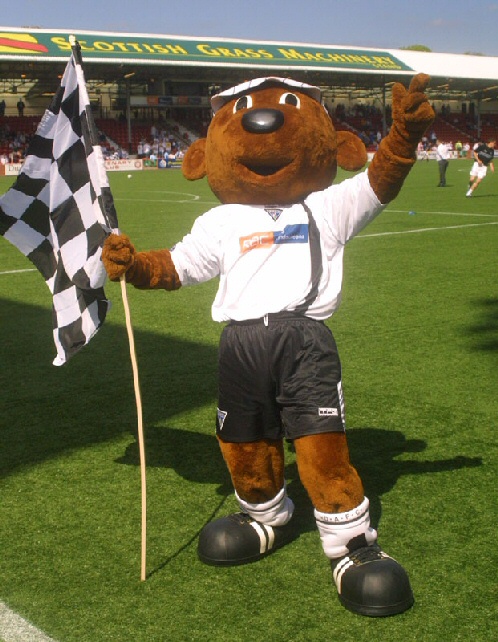 Sammy says thanks very much for visiting our web site where we have lots of news for young Pars fans.