SPL v Rangers
RANGERS 4 DUNFERMLINE 0 Date: 13/09/03

Fixture: BOS SPL Premier League

Attendance: 49072, Kick Off: 15:00

Referee: Charlie Richmond, Weather: 21c Sunny

Rangers first two home games of this season's SPL campaign had seen Kilmarnock and Hibs hit for four and five goals respectively. Given the Pars good defensive record in their opening matches it was disappointing that they should be so comprehensively dismantled in losing 4-0 on their visit to Ibrox.

Dunfermline made one enforced change from the side that played at Tynecastle two Saturdays ago with Gary Dempsey coming in for the injured Craig Brewster. The injury to the big striker's foot sustained at Dens Park in a tackle with Barry Smith flared up again in training on Tuesday and he failed to fit enough to play against the League Champions.
There was optimistic thought at the back of the mind that possibly this was a good day to meet Rangers with no Barry Ferguson, Neil McCann, Artur Numan, Lorenzo Amuruso and with maybe half an eye on Tuesday night's Champions League match against Stuttgart. So Dunfermline kicked off playing west to east and initially the theory looked promising.
Barry Nicholson' fifth minute free kick found the head of Andy Tod on the far side of the Rangers penalty box forcing the Ibrox side to concede a corner just as Stevie Crawford looked like latching on to the chance. Gary Dempsey's corner failed to reach Tod but David Grondin's cross forced Henning Berg to give away another corner.
This time it was played short to Grondin whose cross Crawford couldn't get near as he was being held down and Berg got it away. It was the objective of the visitors to prevent Rangers scoring and get their 49,000 supporters agitated and frustrated with their team. That plan was quickly scuppered when Rangers opened the scoring in the seventh minute.
In a simple move in which Nerlinger on the left touchline headed back to Arveladze who in turn fed Arteta, Rangers then entered the Pars penalty box for the first time. It was Stephen THOMPSON who beat off the challenge of Andrius Skerla to shoot. The ball took a deflection of the shin of Scott Wilson and agonisingly curled in at the far post giving Derek Stillie no chance.
Two minutes later Dunfermline pushed forward with Lee Bullen's cross from the right picking out Darren Young in front of goal, but the former Don's player was judged to have used a hand and the knock back to Gary Dempsey on the edge of the box came to an end with the referee's whistle.
There was only 11 minutes gone when a Skerla tackle on Thompson gave the Gers another chance just 25yards out in a central area. Dunfermline built a seven man wall which Arteta shot into and Mols collected the deflection but shot wide to the right. Dunfermline were now shaping up in a 5-4-1 formation with Stevie Crawford ploughing a lone furrow up front. This seemed to allow Rangers to push forward and the Pars defence had to absorb much pressure.
On the quarter of an hour Arveladze booted a high cross through the Pars penalty area but fortunately Mols was penalised for his challenge on Grondin. Michael Ball found himself with a shooting opportunity and cracked in a shot from 30 yards that Stillie touched wide, although it may well have been going past anyway. Andy Tod headed away the resultant corner.
Brief respite came Dunfermline's way when Stillie's 27th minute free kick fell to Crawford wide right in the Rangers box. Klos came out to narrow the angle and close out the shot so Crawford crossed but Dempsey was a few inches too short to be able to head in what was Dunfermline's best chance. The visitors were going through a better spell even if it was intersperced by poor passes and overstruck balls. Further disaster then struck.
Berg noted Michael MOLS run into the right side of the penalty box and the Dutchman found himself with acres of space and plenty of time to slot the ball passed Stillie from a 45º angle. There was little protest from the Pars defence where Bullen felt that he had possibly played Mols onside. The far side linesman, Francis Andrews, sprinted back to the halfway line and Rangers were 2-0 up.
Within two minutes it could have been three, when Berg struck a good ball down the right wing that Arveladze collected and produced a good cross which Capucho headed over the crossbar.
Moments later, Mols sent the ball out to the right for Capucho to turn provider but neither the waiting Arveladze or Arteta could convert the chance. Five minutes from half time a Young clearance landed at the feet of Emerson and Brazilian shot from 35 yards to narrowly miss to the left of goal.
Any hopes of going in at the interval just two down were sunk when in the 43rd minute a Mikel Arteta free kick penetrated the Pars defence and ARVELADZE dispatched the ball into the net with a right footed shot from 12 yards.
The final action of the half came after another Arteta free kick which had resulted from a Skerla tackle on Mols which earned the Lithuanian a yellow card. Arteta curled the ball over the six man Dunfermline defensive wall and over the crossbar.
For the second half, Dunfermline started with Lee Bullen up front in an effort to provide a target that Dempsey and Crawford could feed off. It was the 54th minute when Bullen provided the first chance when he headed down a Grondin cross but unfortunately there was no-one there to capitalise.
Two minutes later Dunfermline were pushing forward when a pass from Skerla was intercepted by Arteta who sent Mols scurrying towards goal. Fortunately for the Pars, Scott Wilson won the challenge. Dunfermline hearts stopped again though, when Nicholson's booted clearance required Stillie to punch the ball away. The punch was a poor one and Andy Tod, facing his own goal, was forced to chip over his own crossbar and dangerously concede a corner.
Attacking play from Tod won the Pars a corner on the hour and before it was taken, the management team introduced Billy Mehmet for Dempsey. The corner was not conclusively cleared and after various headers, Andy Tod got in a shot which was deflected over the crossbar.
A 62nd minute corner saw Vanoli arned for restricting Bullen's movement but Scott Wilson's header from the corner trundled to Klos.
Fernando Ricksen prodded a fine ball up the right which caught out Andy Tod and let in Nuno Capucho to cross for Arveladze. Fortunately, Skerla made a timely tackle and Stillie was able to sweep up. This only served as a warning, for two minutes later in the 67th minute, the former Porto player sent Mols wide right and his cross was met by CAPUCHO five yards out and despite the efforts of Tod, Rangers went 4-0 ahead.
The goalscorer was yellow carded five minutes later when conceding a free kick 35 yards out, but Grondin's left footed shot from the free kick ended up in the Broomloan Stand. This was the Frenchman's final effort as Sean Kilgannon then came on his place.
It was the Rangers substitute Peter Lovenkrands who almost scored the next with his shot from the corner of the penalty box spilling out of Stillie's hands for a corner.
With 10 minutes to go, Jimmy Calderwood gave a first team debut to Aaron Labonte, withdrawing Andy Tod. The young defender did well in his ten minutes at Ibrox. He stood his ground as Capucho tried to twist his way around him and then the Rangers player appeared to dive but the referee was not to be persuaded to award the home team a penalty, even though it was his first SPL match at Ibrox. Just a talking to and no yellow card shown when play eventually stopped, possibly because the `guilty` party had already one yellow card to his name.
The stadium had been emptying fast with those who had left early missing Lovenkrands shooting over from six yards and also unleashing a shot that Stillie palmed wide.
Final action came from Klos when he held a good Nicholson shot from the edge of the box that would have been converted by Mehmet had he failed to gather.
So yet again another thumping at Ibrox. Probably not as good a performance as the Pars put up on the final day of last season, but with nine home games looming out of the next 12 matches, one feels that the fortunes should change in the near future.
Scotland Coach Berti Vogts watched from the main stand and given that Rangers only Scottish player left the field after 19 minutes he must have been given plenty of time to take in the Dunfermline talent. Best on the day was probably Andy Tod, so don`t think Berti had a fruitful day either!

Dunfermline: Stillie; Bullen, Wilson, Skerla, Tod (Labonte 80), Grondin (Kilgannon 73), Nicholson, Darren Young, Mason, Dempsey (Mehmet 60), Crawford


Dunfermline Subs: SY Thomson, Byrne


Dunfermline Strip: Home white and black


Dunfermline Goal Scorers: None



Dunfermline : Skerla (45+1)



Rangers: Klos; Ricksen, Emerson, Khizanishvilli, Ball, Nerlinger, Berg (Vanoli HT), Arteta, Thompson (Capucho 19), Mols, Arveladze (Lovenkrands 66)


Rangers Subs: McGregor, Hughes


Rangers Goal Scorers: Thompson (7), Mols (32), Arveladze (43), Capucho (66)



Rangers Yellow Card: Capucho (72)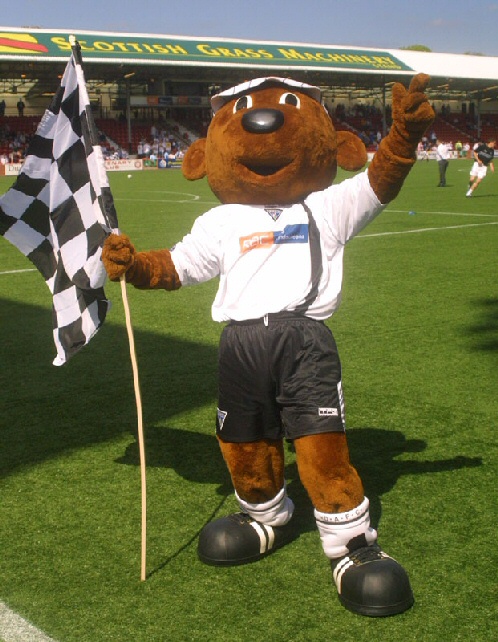 Sammy says thanks very much for visiting our web site where we have lots of news for young Pars fans.