SPL v Partick Thistle
DUNFERMLINE 2 PARTICK THISTLE 1 Date: 27/09/03

Fixture: BOS SPL Premier League

Attendance: 4684, Kick Off: 15:00

Referee: Kenny Clark, Weather: Sunny Intervals 10C

Partick manager Gerry Collins described the East End Park playing surface as a "lottery" and "nightmare" although he admitted that it was not the pitch that beat his foot of the table team. In a rant at the post match press conference the defeated Thistle boss suggested the new Dunfermline pitch was only fit for amateurs and hockey players and complained bitterly that the SPL should be used as "Guinea Pigs".

The Jags history making goalscorer, James Grady – who claimed the first ever SPL goal on an artificial surface – was more considered with his opinion. His 50th minute goal had put the visitors ahead before a Crawford double won the day for the Pars.
Dunfermline were without Scott Wilson, out with a dead leg, Sean Kilgannon started and club captain Scott Thomson was on the bench after nine months out on the sidelines through injury. Stevie Crawford kicked off with his team attacking the goal in front of the 732 visiting fans.
Early play was slow and it was the fourth minute before Thistle keeper Kenny Arthur got a touch when a Lee Bullen cross was sent through for Crawford but there was too much on it and the keeper gathered. Three minutes later Kilgannon picked out Crawford on the left but his cross was beyond everyone.
The Pars were beginning to look much stronger and pushed up with Bullen sending in a ball from the right which Brewster headed at Arthur and then Brewster providing for Barry Nicholson but the ball eluded him as he sprinted in.
Partick's first chance fell to Kenny Milne who headed a cross from the right over the bar in the tenth minute. Then Kilgannon should have scored following a David Grondin ball from the left that Brewster nodded down to Crawford. With his back to goal the Scotland striker teed the ball up for Kilgannon but he somehow failed to get in the shot.
A neat flick back from Andrius Skerla on half way and the presence of Scott Thomson warming up behind the Thistle goal stimulated greater cheer from the Pars fans than anything else at this stage. After 18 minutes Bullen fed Nicholson with a ball that he swung over in the direction of Kilgannon but it was too high.
Two minutes later Stephane Bonnes attempted to waltz through the Pars defence. Receiving the ball from Milne through Grady, the free transfer from Celtic almost got around Skerla before Tod stepped in to clear. Two minutes later it was Dunfermline who again threatened with a fine move from Young to Crawford and then Brewster being set up for Kilgannon but his shot was saved by Arthur.
David Grondin was enjoying the opportunity to attack down the left and after trying numerous crosses which either the keeper or the defence dealt with in the 27th minute he had a crack himself from just outside the angle of the penalty box that Arthur two fisted away for a corner.
Andy Tod had received treatment for a foot injury in the 23rd minute but he quickly signalled to the bench that he couldn't continue so enter club captain Scott Thomson to a standing ovation. Stevie Crawford handed back the captain`s armband as the substitute took to the field for the first time since 2nd January. In his absence the Pars have won only one SPL match.
Thomson assumed responsibility for marking James Grady and the former Ayr United man almost scored at the right post after Ian Ross had switched play cleverly to the right. In the 38th minute Darren Young passed wide to Bullen whose cross was headed back across the box from Craig Brewster and Gary Mason looked destined to open the scoring from 12 yards but the ball was blasted wide as everyone expected better. Barry Nicholson supplied Brewster with a chance three minutes from half time but his drive from 16 yards again ended up in Kenny Arthur's hands.
Right from the bully off, no sorry restart, Dunfermline showed great intent. Brewster's ball to Nicholson out on the right was turned out for an early corner. Another followed in quick succession and Thistle booted a clearance. Further pressure created a Crawford one two with Brewster but Stevie slid the ball wide right.
Five minutes into the second half just when it was least expected Thistle took the lead. Thomson tracked GRADY as he wove his way along the 18 yard line from the left. The wee number 16's shot took a deflection but he later claimed the ball was net bound anyway. The ball dropped inside Derek Stillie's left hand post and Grady was left to puzzle how to celebrate his historic goal.
James ran towards the Thistle support and having remembered last week's streaker decided just to flop on to the surface. That was still sore he claimed but it was the Pars who felt worse. Spurred into reacting Crawford was causing enough trouble in front of goal for Derek Whyte to pull him away and incite the entire McCathie stand to make claims for a penalty.
Bullen's cross from the right ended up deflected off his line by Arthur who dropped to his knees to deal with Brewster's diving header from 6 yards. Two more corners and the Pars were back on level terms after being behind for all of six minutes. A clearance fell to Grondin who played the ball off Scott Thomson and received the delft flick to send the ball skidding through the six yard box for CRAWFORD to run in and convert.
Former East End favourite Gerry Britton entered the fray in 58 minutes as a sub for Bonnes and Gerry's first touch from a free kick saw him spin and shoot wide left. That was Thistle's final chance, thereafter it was all Dunfermline. Mason smashed the ball wide from 30 yards after Skerla had picked out Brewster and then Young tried another long range effort that had the same result.
Brewster sent the ball wide for Kilgannon and when he returned the cross Young was crowded out at the far post. Brewster next took a Mason pass and cleverly turned it right for Nicholson to shoot from 10 yards but the ball shot across the goal and out on the left for a goal kick. Kilgannon headed at the keeper after Brewster had headed on a Bullen cross then Kilgannon next shot at the keeper after a Grondin cross had spun up nicely for the ex Middlesboro youngster.
It was almost inevitable that Dunfermline would get the winner and it duly came in the 70th minute. The ball broke off Eddie Forrest to Kilgannon and Sean fired over to the far post where CRAWFORD notched his fourth goal of the season with a relatively easy finish as Derek Whyte failed to cut it out.
The offside flag was up four minutes later when Brewster smashed a ball from Young just outside the Partick left goalpost. Whyte crashed the ball on to his own crossbar and then the McCathie stand were back on their feet as they unanimously appealed for a penalty when they witnessed Thomson getting dragged away from goal.
Milne was booked for a crunching tackle on Bullen and Crawford received the ball from the set piece to provide Brewster with a belter of a shot that again was narrowly left of target. On 83 minutes Kilgannon netted from a Brewster pass but again the offside flag was up and next minute Kilgannon took another Brewster ball to blast narrowly over the bar.
Three points well earned although the Pars should have taken more of their chances. Sadly Andy Tod went off to hospital with a suspected broken toe but it was great to see Scott Thomson back with everything that he brings to the team. He looked his old self; he got us back on our winning ways and he should become a major factor in the team's fortunes. Grondin had a very good game contributing a lot and particularly crucial to the equalising goal whilst Craig Brewster looks the player most comfortable with the new surface.
Dunfermline: Stillie; Bullen, Skerla, Tod (Thomson 27), Grondin; Nicholson, Darren Young, Mason, Kilgannon (Labonte 85); Crawford (Mehmet 92), Brewster


Dunfermline Subs: Ruitenbeek, Dempsey


Dunfermline Strip: Home White and Black


Dunfermline Goal Scorers: Crawford (55, 70)



Dunfermline Cards: none



Partick Thistle: Arthur; Forrest, Murray, Whyte; Mitchell, Ross (Traynor 61); McBride (Fleming 69), Rowson, Milne; Grady, Bonnes (Britton 58) Grady



Partick Thistle Goal Scorers: Grady (50)



Partick Thistle Yellow Cards: McBride (34), Milne (79), Fleming (89)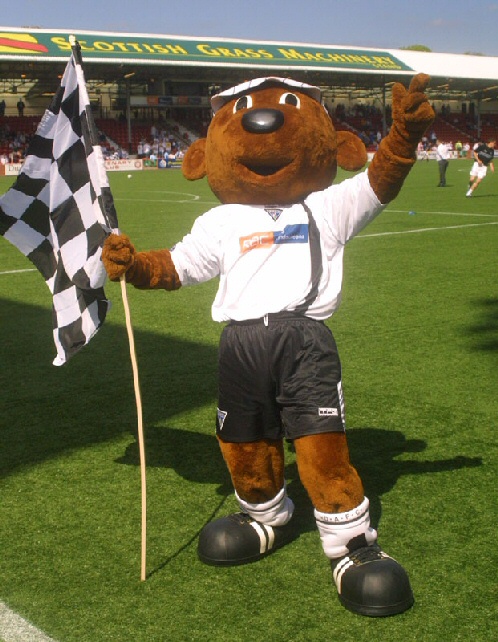 Sammy says thanks very much for visiting our web site where we have lots of news for young Pars fans.