SPL v Partick Thisdtle
PARTICK THISTLE 4 DUNFERMLINE 1 Date: 27/12/03

Fixture: BOS SPL Premier League

Attendance: 4377, Kick Off: 15:00

Referee: C Murray, Weather: Dry 4C

The Pars crashed to a 4-1 defeat at Firhill on Saturday to a performance that players` spokesman Lee Bullen described as "unacceptable". Going behind in the 38th minute, things got worse just 11 minutes into the second half when Scott Thomson was red carded for a push that prevented Thistle going two up.
From the resultant penalty James Grady duly converted and as the Fifers pushed forward in a spirited attempt to salvage a point they were caught out twice in the last two minutes to paint the picture of a more convincing defeat than was possibly the case. We were awful however and Gerry Britton`s Jags thoroughly deserved the three points.
On the back of three win bonuses that would have made Christmas all the more enjoyable, Dunfermline started the match in Maryhill in the full knowledge that a win would take them two points clear of Hearts and secure third place. The incentive was there and there was also the need to extinguish the memory of the 4-0 defeat suffered in the one and only other Glasgow SPL encounter between these teams in December 2002.
A considerable travelling support were entertained pre match by their very own Sammy the Tammy who made friends with the Jags support in the Jackie Husband stand before winning on penalties against his furry Tucan friend from Thistle. The mood was positive but when the match started things soon started to go badly wrong.
After being out for three games Scott Thomson was back to lead out his team. Andy Tod dropped out to the bench and otherwise the side was the same as faced Rangers and Hibs. After only 15 seconds Craig Brewster was felled by Grant Murray as he tried to bring down a Scott Thomson chip. Brew went off to receive treatment and Thomson sent the free kick into the Thistle box where Lee Bullen rose to meet it but just failed to get sufficient purchase on it to test the keeper.
Derek Stillie at the other end however was into early action after Rowson and Ross exchanged passes to put Andy Thompson through on the keeper but the Pars stopper was quickly out to save the day. In the 6th minute a Derek Young header back reqired Stillie to be quick to deny James Grady.
In the 13th minute Stillie started the move that created the Pars next chance when his kick out was played through Brewster and Crawford for Darren Young to have a stab at goal. Five minutes later a Darren Young corner was defended back out to him. He played his brother Derek down the left and the ex Don sent over a fine cross that Stevie Crawford dummied but the ball went straight out the other side of the six yard box.
Next minute it was Craig Brewster who received Derek`s cross on the edge of the box. He controlled the pass and allowed it to drop before seeing his shot blocked by Madaschi. Crawford collected on the left and tried a sweeping cross to Bullen on the right wing. Kenny Milne intercepted the pass and James Grady was on the end of the run and pass. Andrius Skerla did well to deal with the nippy wee Jag.
Midway through the first half Derek Stillie made a rudementary save from Grady after Rowson had set him up. Darren Young got a 25 yard shot at the City end but although he met Brewster`s pass with a firmly struck shot it was low and wide of target.
Mason`s 34th minute tackle on Mitchell conceded another free kick on the right that ex Par Derek Fleming took left footed into the Pars penalty box. The ball came off Skerla`s head and evaded the in rushing Andy Ross behind him. Brewster had a clever dummy on a Thomson cross but Crawford`s back heeler went straight to an opponent.
David Lilley`s challenge on Derek Young earned the Pars another free kick on the left. After Thomson`s cross had been headed out Darren Young played the ball in for Nicholson and then Crawford who tried a neat turn in the box but Partick beat the ball away. Another Thomson cross was headed on target by Gary Mason but Kenny Arthur collected. Had the Beagle been wearing the keeper`s bright green jersey then it might not have disappeared on Mars.
It was Thistle however who got the opening goal. Jamie Mitchell`s pass to Milne was slipped to Derek Fleming and his flighted ball into the Pars penalty box was met by the in-running Andy THOMPSON dipping to head passed Stillie. The Motherwell born striker, who has played most of his football in England since his £250,000 move from QOS to Southend, ran to celebrate after an apprehensive look over his shoulder to check that the linesman`s flag was still down. Suspiciously offside but a goal and Thistle one up in the 38th minute.
Dunfermline continured to pump high low balls towards Craig Brewster but it was pretty clear that this tactic was not going to work. Three minutes berfore the break a Thomson free kick was sent behind for a corner by Milne as he kept out Bullen but really there was little danger for Arthur at this stage,
In the second minute of added time at the end of the first half Derek Stillie caused a scare when he dropped the ball as he dived over Jamie Mitchell. The Pars man was quicker to react than the 27 year old Glaswegian and so it remained 1-0 at half time.
Injuries forced half time substitutions of Derek Young and Gary Mason. On came Andy Tod and Garry Dempsey and from the restart it was obvious that Jimmy Calderwood`s half time talk must have been fairly heated. The Pars were much more positive with Barry Nic putting in a great run as Thistle back off him and sent a pass right for Dempsey to fire at goal. His shot rebounded off Murray for a corner.
In 49th minute Thomson fouled Mitchell on the right just 15 yards out from the byeline. Thistle`s Andy Thompson headed the cross and looked worryingly in from the far end but the header had not been on target. Five minutes later another free kick from the right was headed over his own crossbar by Lee Bullen.
In 56th minute the pressure got just too much. Grady twisted and turned down the left until he hit the byeline. Skerla was turned and the wee man got in a great cross over Stillie and with Mitchell ready to net Scott Thomson pushed him to the ground. No goal but a penalty and a red card for the Pars skipper.
James GRADY stepped up to take Thistle`s first penalty of the season and sent Stillie the wrong way as he netted with style. Thistle had another break just minutes later and Gary Dempsey executed a fine tackle inside his own box to prevent the lead becoming three.
The Pars rallied to the cause with Bullen attacking up the right wing but Brewster`s effort from the cross was tame. On a re-take in the following minute Bully provided a square ball 15 yards out that BREWSTER fired first time high into the right side of the net. The ten men were right back in it with 30 minutes to go but they were going to have to complete the revival without their goalscorer as he immediately left the field to be replaced by Noel Hunt.
Young picked out Crawford in the box, Crawford had a burst through the middle and Andy Tod had a sortie into attack. Even Andrius Skerla burst into the box as panic began to sneak into Thistle. Hunt set up Dempsey for a shot with was deflected skywards but Crawford was offside before a scramble could take place.
Stillie had to save Thompson`s header from a Grady cross before the onslaught continued in front of the visiting fans at the top end of the ground. A Hunt header allowed Stevie Crawford a blast at goal but he was wide right from 15 yards out. Dempsey eventually teased a telling ball out of Bullen whose second cross had the fans on their feet appealling for a penalty when Crawford went to ground.
In 75th minute a Wilson free kick a Tod flick on to Crawford was headed wide from just six yards out. A crude Madaschi tackle on Hunt won the Pars a free kick on the right but Dempsey failed to connect properly with Nicholson`s cross and on the break Darren Young did tremendously well to thwart Thistle as Dunfermline`s defence became Scott Wilson on his own.
Thistle`s eleven man defence was increasingly difficult to penetrate. There was no way through but the Thistle fans were on their feet waving their men up the park as the defence became far too deep. Andy Tod was sent up beside Hunt and Crawford with five minutes left but Toddy`s try from Young was over the top and Bullen`s cross evaded everyone.
It was inevitable that with the gambling on going for goal not working that the Pars would be caught out at the back. In 89th minute Scott Wilson found himself facing a three man break and despite Barry Nic racing back to try and help his mate ANDY ROSS had a fairly simple task to slot hope from the edge of the six yard box.
The Pars continued to push for a goal and were punished in the 91st minute when GRADY had an easy slot in to make it four nil.
Defeat at Firhill yet again! Firhill was for thrills in the second half but for Scott Thomnson it was one spill too many. This was not a good Pars performance in which Scott Wilson was our best player. Let`s hope that it is a one off and not a sign of things to come.
Dunfermline: Stillie; Bullen, Skerla, Wilson, Thomson; Nicholson, Darren Young, Mason (Tod HT), Derek Young (Dempsey HT); Crawford, Brewster (Hunt 60).


Dunfermline Subs: Ruitenbeek, MacNichol


Dunfermline Strip: Home White and Black


Dunfermline Goal Scorers: Brewster (60)


Dunfermline Red Card: Thomson (56)




Partick Thistle: Arthur; Lilley, Murray, Masaschi; Mitchell (Panther 69), Rowson, Andy Ross, Fleming (Ian Ross 87), Milne; Thompson (Bonnes 83), Grady


Partick Thistle Subs: Budinauckas, Taylor


Partick Thistle Goal Scorers: Thompson (38), Grady (pen 57, 91), Ross (89)



Partick Thistle Cards: none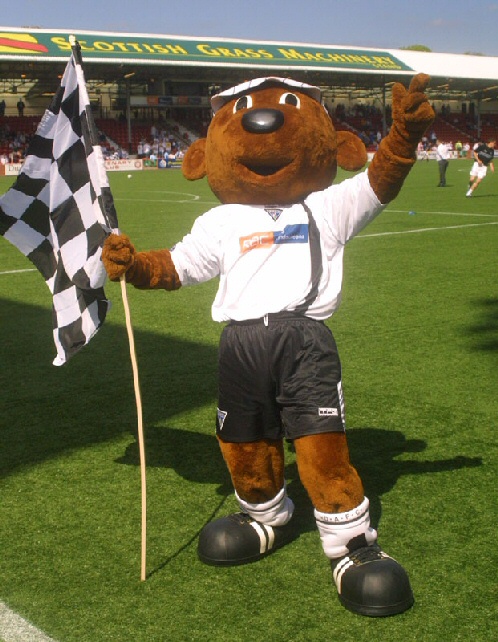 Sammy says thanks very much for visiting our web site where we have lots of news for young Pars fans.