Scottish Cup v Inverness Caley Thistle
INVERNESS CALEY THISTLE 1 DUNFERMLINE 1 Date: 10/04/04

Fixture: Tennent`s Scottish Cup Semi Final

Attendance: 13255, Kick Off: 15:00
Referee: Hugh Dallas, Weather: Dull 14C

A Craig Brewster goal midway through the second half equalised the match and took the Semi Final to a replay a week on Tuesday at Pittodrie. The performance was one that had a most disappointed Manager Jimmy Calderwood fuming over his side's inability to dispose of the First Division outfit.

Overnight rumours of injury to Lee Bullen were proved to be just that as Dunfermline lined up in their much expected shape given the absence of Greg Shields (cup tied) and Scott Wilson (suspended). Amid deafening cheers from both sets of fans, Hugh Dallas got the game underway with Dunfermline playing from east to west. It was the Pars who had the first opportunity after Bullen and Nicholson had played a speedy move up the right but when the ball was crossed the Caley Thistle defence won the ball.
A lofty ball through the middle brought indecision to the Highlanders central defence and as Stevie Crawford looked to capitalise goalkeeper Mark Brown was quickly out to collect. Inverness countered in the fourth minute with Barry Wilson getting around Richie Byrne and putting in a cross that former Par David Bingham flicked at with his heel, but Bullen read it well to clear.
Tokely forced away a Nicholson cross that was directed at Derek Young and Caley Thistle were trying very hard at this stage to make an impression. Tokely sent a pass through for Paul Ritchie and Byrne was forced to clear. In the next minute, the eighth of the match, Andy Tod lost possession to Bingham who sent Wilson scurrying in on goal and Byrne was penalised for his last man tackle. The Irishman in the circumstances has to be grateful that the referee did not reach for his card as it certainly would have had to have been red. Bobby Mann scooped the free kick from 25 yards out over the four man wall, that Barry Wilson was doing his best to divide.
A long free kick from Byrne into the heart of the Inverness penalty box was taken off the head of Tod by keeper Brown. Next, Nicholson and Mason worked a ball out right for Bullen but when his cross came over it was just too far for Derek Young at the far post. Dunfermline were looking the more composed of the two sides as Lee Bullen's pass from the centre circle was played down off the chest of Derek Young, but Bobby Mann arrived to the rescue and the keeper gathered.
Skipper Barry Nicholson kept up the Pars pressure with a high ball into the box for Crawford, but this time Stuart McCaffrey got in a clearance. In the 17th minute a slip by McCaffrey created half a chance for Craig Brewster, but his rushed shot from 25yards went high over the crossbar. Play switched swiftly to the other end when a Wilson free kick put Bingham through on the right side of the penalty box and although Derek Stillie came for the ball it was a goal kick that resulted.
Two minutes later Paul Ritchie lost possession to Brewster and he turned the ball back for Derek Young who got in a useful shot from the edge of the box only to see Mark Brown touch it wide for a corner on the right. Brew took the corner but the keeper fisted the ball clear.
Midway through the half a golden opportunity fell for Crawford. Toddy nodded on a free kick to Brewster who touched it on for his striker partner and as he decided how to dispatch his shot, Stuart Golabek thwarted the chance. The delay was really too long and the missed chance was a shocker. Almost immediately it looked as though the Pars would suffer for this miss when Bingham burst through and released Liam Keogh, but Bullen pulled off a really good blocking tackle as the Inverness fans roared in anticipation of celebrating the opening goal.
Dunfermline had another three sorties on the opposition but first McCaffrey then Brown and then a sturdy tackle from Ross Tokely kept the Pars out. In the 33rd minute, Derek Stillie easily held what was Inverness's first shot on target when the ball broke back from Bullen for McBain to try his luck.
The Pars were already looking to be running out of ideas, failing to take advantage of looking the more composed and settled side. Another good move down the right involving Bullen, Crawford and Nicholson set up a heading opportunity for Brewster but his effort went wide right. Inverness almost caught the Fifers out by a counter-attack and when Barry Wilson flicked the ball onto Byrne's forehead there were appeals for a penalty.
Four minutes from half time, Derek Young was presented with a chance following a good move from Bullen and Nicholson. His scissors-kick had the Pars fans on their feet but they could not tell from the angle that the shot from 12 yards out was well wide of Brown's left hand post. Bingham tried another move to put Ritchie clear but Andy Tod was there to stop it.
Brewster fed the ball left for Derek Young but when his cross was played in the Caley Jags defence headed the ball clear before the fast arriving Lee Bullen could connect. Just when it looked as though the interval would arrive without a score, Inverness pulled a goal from nowhere. Darren Young's pass to Brewster was taken away by Roy McBain and he played in Bingham on the left who crossed into the six yard box for Paul RITCHIE to rise in front of Byrne and see his header drop into the net off the far post. 45 seconds into the one minute of added time at the end of the first half, the Pars found themselves disastrously behind.

The SPL side were first out for the second half, no doubt having experienced a tongue-lashing from Jimmy Calderwood. However, in the third minute of the second half a Wilson free kick from the right picked out Ritchie again and some doubtful defending allowed the Inverness No.9 another header at goal which glanced past the right goal post.
In the 49th minute Brewster chested down a Lee Bullen pass to Crawford but his right-footed shot from 18 yards went straight to the keeper. Next, a Nicholson cross evaded Brewster and was swept away before Darren Young could get in a shot. Inverness were awarded a free kick 30 yards out after Keogh was downed by Gary Mason. McBain, Wilson and Mann all stood over the ball before the latter hit it high over the wall and crossbar.
Crawford played in a neat chip into the left side of the Caley penalty box in the 53rd minute, putting Derek Young in good position. He chose not to shoot but to tap the ball towards Brewster, but McBain stepped in to kill off the threat Five mionutes later Crawford started a move to Nicholson and then to Bullen on the wing. When the ball came over Stevie produced a superb header eight yards out that forced an equally good save out of Mark Brown. Brewster could not stop it going out for a corner and when Barry Nicholson sent in an inswinger in from the left, Bobby Mann headed clear.
Calderwood then introduced Gary Dempsey for Byrne. Bullen moved to the left side of the back four and Gary Mason made room for Dempsey as he dropped back to right back. Crawford and Brewster combined to create an opening for Derek Young on the right but his ball in dropped on the roof of the net. The Pars fans had become extremely quiet and no doubt fears were creeping in of yet another cup exit to a First Division outfit.
From his new position on the left, Bullen fed the ball through Crawford to Dempsey, but Golabek stepped in to clear, but the ball was quickly in the possession of Darren Young who played the ball from the left side of the penalty box to the far post where BREWSTER rose to head home from six yards giving the keeper no chance as it flew into the left side of the goal.
Inverness almost restored their lead just one minute later, when Steven Hislop, a 60
th
minute substitute for Ritchie, almost got a touch to a Wilson cross. Mark Brown easily dealt with a Bullen header in the 69
th
minute as Dunfermline began to string together more meaningful passes. The Pars utility man found himself back at right wingback when David Grondin came on for Gary Mason three minutes later.
The Pars fans were buzzing as they sensed that their team were capable of clinching a winner. That confidence quickly disappeared when another Wilson free kick, this time from the left, was dropped by Derek Stillie as he fell into his own defenders and a Dunfermline boot cleared the danger.
Grondin tried to make an immediate impact crossing for Dempsey but no-one could get on the end of his pass. The Pars piled forward but Bobby Mann was playing a fine role in the centre of his defence, cutting out dangers from Crawford, heading away a Grondin cross and then putting his foot in to cut out a Nicholson pass.
Brewster did get another shot at goal, this time in the 76
th
minute when he side-footed a Derek Young cross, but wide to the right. It really was one way traffic, Dunfermline were dominating, but finding the Inverness defence indestructible. Brewster was wide and high with a header from a Nicholson delivery and then when he and Derek Young set up Grondin for a fine ball into the heart of the Inverness penalty box, Mann was there again to clear.
The clock was running down and eight minutes from time Brown was out well to hold a Nicholson cross that he grasped from between Bullen and Brewster. Inverness were certainly tiring but the Pars were finding the route to goal that would have clinched a return to Hampden extremely difficult.
There was a fright in the 89th minute when McBain's free kick eventually broke to Russell Duncan but he shot widely over the crossbar. As Iain Brines, the fourth official, held up the board indicating two added minutes, Craig Brewster rose to head Derek Young's ball from the right over the crossbar. Hugh Dallas played out an extra 140 seconds but with there being no extra time and penalties in the instance of a draw, the teams will have to meet again, this time at Pittodrie on Tuesday 20 April with a 7.45pm kick off.
After the match, Jimmy Calderwood was fuming at his side's poor performance, but possibly his fury was more because of the result than the performance. In the end, Dunfermline were lucky to win a replay but Caley Thistle manager John Robertson felt that his side were equally lucky to still be in the Cup. Dunfermline's best player was undoubtedly Lee Bullen, he impressed from start to finish but he is one of three players who finished this match who will be leaving East End Park at the end of the season. Let us hope when they do, it will be with a cup-winners medal.
DUNFERMLINE:: Stillie; Bullen, Skerla, Tod, Byrne (Dempsey 59); Nicholson, Darren Young, Mason (Grondin 72), Derek Young; Crawford, Brewster


Dunfermline Subs: Ruitenbeek, Mehmet, Labonte


Dunfermline Strip: Home White and Black

Dunfermline Goal Scorers: Brewster (67)

Dunfermline Yellow Card: Tod (48)


INVERNESS CALEY THISTLE:: Brown, Tokely, Mann, McCaffrey, Golabek; Wilson (Thomson 84), Duncan, McBain, Ritchie (Hislop 60), Keogh, Bingham (Proctor 78)

Inverness Caley Thistle Subs: Munro, Fraser (GK)

Inverness Caley Thistle Goal Scorers: Ritchie (45+1)

Inverness Caley Thistle Yellow Card: Mann (82)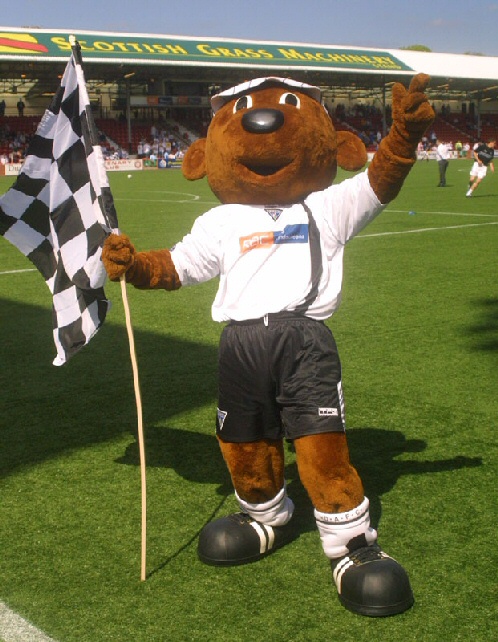 Sammy says thanks very much for visiting our web site where we have lots of news for young Pars fans.