SPL v Dundee United
DUNFERMLINE 1 DUNDEE UNITED 1 Date: 17/04/04

Fixture: BOS SPL Premier League

Attendance: 4409, Kick Off: 15:00

Referee: Kenny Clark, Weather: Wet 11C

Marco Ruitenbeek returned for his farewell match at East End Park. After 4 years at East End Park the emotions were high as the big Dutchman led out the team coincidentally including many of those who had played beside him in the Under 21s this season.

Jimmy Calderwood rested Crawford, Brewster, Nicholson, Derek Young and Skerla ahead of the important Cup Semi Final at Aberdeen on Tuesday night. Starting debuts were handed to 18 year olds Patrick Clarke and Craig Wilson and fringe players David Grondin, Billy Mehmet, Sean Kilgannon and Aaron Labonte were included as Dunfermline kicked off defending the goal immediately in front of the 919 strong United support.
The game took some time to warm up and even then it never got that heated. In the fifth minute a Darren Young challenge on Billy Dodds midway inside the Pars half allowed Mark Wilson to send over a ball that McCracken headed high over the bar from 16 yards out.
The Pars first real attack came from a Clarke burst. United stopped up his route to goal but Mehmet did well to win possession and feed the ball out right to Craig Wilson. The youngster's shot from an angle was beaten away by keeper Paul Gallagher. Greg Shields had a swish at it and Mehmet poked an effort that went wide right.
The visitors then took control and for most of the remainder of the half. In the 14th minute Archibald's pass up the left to Robson won them a corner that Young headed away. Innes skied a ball from Wilson and Marco had an easy task to hold. Easton took a pop at goal in the 16th but Marco held again. Tody was woefully wide with a pass back and another corner increased the pressure on the Pars defence. Young again headed this one away.
Chris Innes easily mopped up a through ball from Shields that Kilgannon had trouble controlling as the rain poured down. United should have taken the lead in the 27th minute when a useful cross from Barry Robson wrong footed Labonte, Billy Dodds too slipped and Craig Easton managed to blast wide right from only 8 yards.
On the half hour Andy McLaren wove his way through the midfield and released a fine shot from 35 yards out that Marco had to tip over the bar. Mehmet headed away Robson's corner. Dunfermline were awarded a free kick in 39th minute that Darren Young hit just 25 yards out. The angled ball into the box required two Robson headers to clear.
Two minutes later there was further United danger when Mark Wilson's ball into the six yard box flew out evading both Jason Scotland and Robson. Dunfermline won a free kick, then a corner two minutes from the interval but could create nothing from it and it looked as though it would be goalless at the interval until Greg SHIELDS struck in the one added minute at the end of the half. His first goal in a Pars strip in his 97th appearance was certainly very welcome and decidedly against the run of play.
Shieldsie started the move that sent Gary Mason up the right. The wee midfielder casually let the ball run before clipping over the ball to be deflected into the path of the right back on the left side of the penalty box. A good run brought off a cool low shot that gave the keeper no chance as in hit the net on the left side.
Jimmy Calderwood felt that the Pars were losing out in midfield so Gary Greenhill was brought on for Craig Wilson at half time. From the restart it looked like being ahead was going to give the Pars the impetus. Mehmet received an early ball from Clarke and centred it where Gallagher dropped it and Darren Young was desperately close with a snap shot that went wide.
In the 55th minute, Mehmet sent a good ball wide right to Shields and his cross flashed through the six yard box where Patrick Clarke came really close to scoring on his debut. Next minute, substitute Colin Samuel put a good ball square to Jason Scotland and his shot from the edge of the box was deflected wide right by Greg Shields for a corner. Marco Ruitenbeek fisted away Robson's corner and Labonte made a good blocking tackle on the second ball.
Mark Wilson wasted a 61st minute free kick awarded after Robson had been sandwiched between Shields and Clarke. Gary Greenhill took too long to clear a ball into the box and needlessly conceded a corner. Robson's corner was met by the head of Innes and as the ball travelled across the six yard box, David McCRACKEN stuck out a foot to divert the ball into the Dunfermline net as Mehmet desperately tried to stop him.
Having waited so long for his first ever Dunfermline goal, Greg Shields might have got a second in the 74th minute when Sean Kilgannon's good ball into the box set up the defender but the keeper came off best. Good individual play from Samuel forced another save out of Ruitenbeek at the other end. In the 78th minute, another Scotland shot was well saved by the Pars keeper.
Five minutes from time, Wilson beat off the challenge of Pars substitute Gary Dempsey to play a good ball into the box that thankfully Robson missed. The closing minutes saw more Dundee United pressure and they looked more likely to score a winner. Dempsey conceded another corner on the right but fortunately Marco was out to take Robson's cross off the head of Chris Innes.
After three added minutes, referee Kenny Clark called it a day. Patrick Clarke was awarded the sponsor's Man of the Match award, but the post-match celebration was all about Marco Ruitenbeek. He acknowledged the supporters in all the home stands, gave his gloves away and received many black and white scarves in return. Joan Malcolm presented Marco with a memento on behalf of the supporters. The only disappointment on the day for the Dutchman was that he could not extend his record of 28 shutouts in his 94 appearances for the Pars.
Although only four of this match's starting line-up are likely to start the semi-final at Aberdeen, Jimmy Calderwood was pleased that no other injuries were sustained and that his youthful squad had put in a good shift.
Dunfermline: Ruitenbeek (capt); Shields, Labonte, Tod, Grondin; C Wilson (Greenhill HT), Darren Young, Mason, Kilgannon (Dempsey 81); Clarke (McGuire 90), Mehmet


Dunfermline Subs: SY Thomson, Nicholson


Dunfermline Strip: Home: White and Black


Dunfermline Goal Scorers: Shields (45+1)



Dunfermline Yellow Cards: none



Dundee United: Gallagher; Wilson, Innes, McCracken, Archibald (Duff 59); Easton, McInnes (Holmes 53), Dodds, Robson; McLaren (Samuel 53), Scotland


Dundee United Subs: Jarvie, Conway


Dundee United Goal Scorers: McCracken (65)



Dundee United Yellow Card: Robson (86)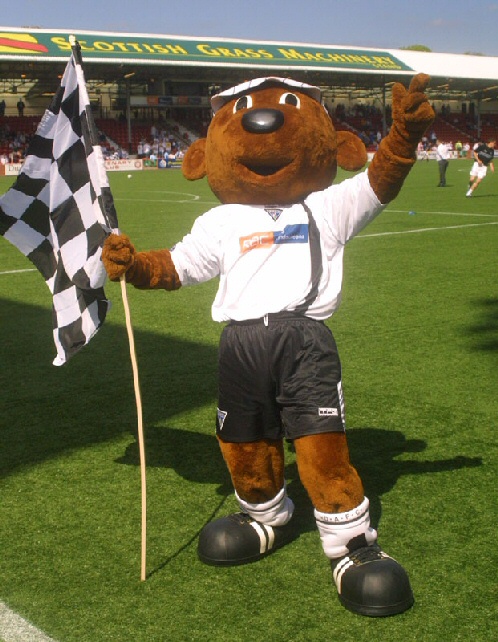 Sammy says thanks very much for visiting our web site where we have lots of news for young Pars fans.