Pre Season Friendly v Heracles Almelo
HERACLES ALMELO 0 DUNFERMLINE 0 Date: 30/07/04

Fixture: Pre Season Friendly

Attendance: Kick Off: 20:00

Weather: very warm 28C

The team squad out numbered the travelling support yet again for the third match of the Dutch tour but the men on the pitch that mattered eeked out another draw to maintain the unbeaten record in Holland.


The injury list has diminished since the start of the week giving the management team a bigger option on selection so only three on Sunday`s starting eleven were chosen to face Heracles Almelo. Richie Byrne and Aaron Labonte played their first matches in 13 days, Jamie Langfield was given another start and both Derek Lyle and Simon Donnelly were given 90 minutes.




Extra interest as far as Pars players were concerned was the artificial surface at Heracles` Polman Stadium with six canons shooting out jets of water immediately before the start.




The match was only 70 seconds old when Langfield had to hold a Visscher shot that he managed to force on goal as the ball broke back off Labonte. In the fourth minute Andy Tod defended a free kick over his own crossbar but Langfield was sandwiched as he went for the corner and the referee`s whistle gave the foul the keeper`s way.




Billy Mehmet`s through ball four minutes later was too slow for Cannizzaro and he was caught offside. Brian Gonzalez gave Stringardi a difficult time down the Heracles left and the no.11 eventually got in a shot after tantalising Scott Wilson but Langfield held the shot.


The home side had a free kick in a good position in the 14th minute; they struck it well but well wide as well. Six minutes later Tod was dispossessed by Gonzalez and in the best chance so far the Heracles player played a 1-2 with Roelofsen but his shot rebounded clear off Langfield`s spread out body.


Mehmet again tried to win Dunfermline some chances and midway into the first half he powered his way down the left but dwelt too long before shooting from the edge of the box and his shot was deflected back to van Loo in goals.




Langfield didn`t know too much about de Visscher`s 26th minute shot that rocketed wide of his left hand post off Roelofsen. After Massimo Cannizzaro went done with a loud cry midway into the opposition half, Darren Young sent in a free kick but the keeper was quickly out to prevent any further danger.


Cannizzaro and Lyle created a 33rd minute chance for Young but the shot was deflected over for a corner on the left. This almost led to a goal at the other end however when de Vries went on a speedy break out of defence to tee up Kwame Quaunsah but fortunately for the tourists the shot was wide of target.




Cannizzaro`s pass to Stringardi was fed nicely up the right wing from where Derek Lyle continued swiftly towards goal but the defence forced out his cross. In the 37th minute Heracles were awarded a free kick after Labonte`s challenge on Quaunsah. The no.10 went down to a loud ah and Gilissen touched a nice set piece to the left of the four man Pars wall top Klavan who ran in on goal only to be stopped by a strong sliding tackle that gave the hosts a corner on the left.




This was just one of a series of Heracles corners before half time. Langfield fisted them away and Roelofsen came closest with a header wide of the left post. Dunfermline introduced Mason at half time in an effort to win more of midfield and counter act the overwhelming Heracles possession.


In the 55th minute Derek Lyle was unlucky with a shot into the sidenetting after Mehmet and Donnelly had put Young in for a shot that was deflected right into the path of the former QOS man. Heracles three interval subs were raising the hopes of the home support. Thijs Sluijter wriggled his way down the left and almost got through the Pars defence and in 58th minute fellow sub Mark Looms released a stinging shot from 25 yards that was blocked by one unfortunate Pars defender.




On the hour Gonzalez headed the ball for Quaunsah to Sluijter but he shot wide when you would have thought he could have done better. Ten minutes later it was Dunfermline`s turn to pass on the best chance of the match. Noel Hunt had just come on for Billy Mehmet when defender Peter Reekers passed the ball straight to Lyle. He sent a nice ball wide into space on the right for Noel to run on to and with his first touch send an inviting ball over for Darren Young at the far post. He could only have been six yards out but Darren managed to miss the target on the left.




The Dutch support we cheering as Gonzalez twisted and turned his way around Labonte deep on the right. His pass put de Vries into space on the right side of the Pars box but Andy Tod stepped in to cut out the cross. Heracles had a couple more corners on the right but Langfield easily held the second one but the big stopper had to be on top form to stop a battery of shots from Gonzalez and de Visscher in the 78th minute.




Langfield denied de Visscher two minutes later and although Dunfermline brought on Nicholson and Skerla there wasn`t ever any likelihood of a goal being scored at either end in the last ten minutes.


Another useful exercise for Davie Hay`s troops; not particularly pretty but if goalless draws are not good enough on European soil it will only be the Pars own fault if they cannot dispose of UEFA opponents at home. Langfield showed good form that will keep Derek Stillie watching his position and Richie Byrne was the best of the outfield performers. Goalscoring continues to be a problem and the Pars have yet to defeat anyone other than East Fife this pre-season.


The home supporters were disappointed with the Dunfermline display which they felt was no better than a training ground exercise and lacked build up and penetration.


The Pars players filled out questionnaires on the artificial surface and the word is that they liked it!.

Dunfermline: Langfield, Stringardi (Shields 65), Tod, Wilson (Mason HT), Byrne (Nicholson 85), Donnelly, Labonte (Skerla 85), Darren Young, Lyle, Mehmet (Hunt 65), Cannizzaro.


Dunfermline Subs: Stillie, Dempsey


Dunfermline Strip: Away red and black




Dunfermline Yellow Card: Darren Young



Heracles Almelo: Van Loo, Jansen, Reekers, Jan Hooma, Klavan (Looms HT), De Vries, Gillssen (Sluitjter HT), De Visscher, Quaunsah, Ghonzalez, Roelossen (Buikema HT)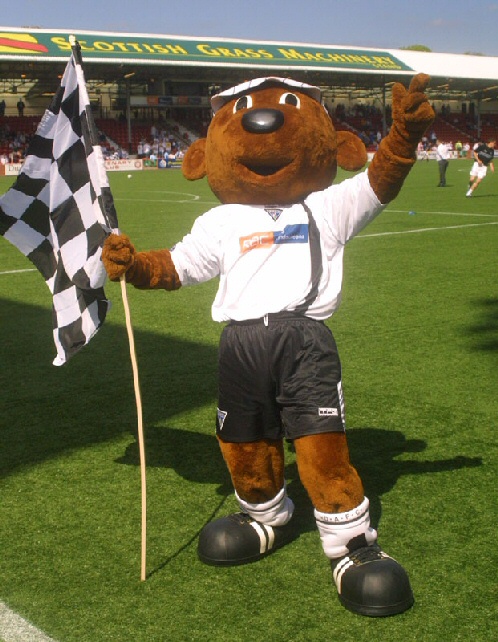 Sammy says thanks very much for visiting our web site where we have lots of news for young Pars fans.