SPL v Hearts
HEARTS 3 DUNFERMLINE 0 Date: 04/12/04

Fixture: BOS SPL Premier League

Attendance: 10084 Kick Off: 15:00

Referee: John Underhill, Weather: Overcast, blustery 10C

Dunfermline`s shortage of human resources finally caught up with them at Tynecastle. There have been defeats this season in which the Pars have put in good performances but lost. This was a match that few players could have been happy with their display and one that would send all the travelling support to write letters to Santa. Please can we have a striker.
The distinct shortage of strikers in the wake of losing Crawford and Brewster, coupled with the injury listed Derek Young and Simon Donnelly and the ill Billy Mehmet meant that the Pars started with just one man up front and that was Gary Dempsey making his first start since sustaining an ankle injury against Livingston in early October.
There was never any likelihood of a come back after going behind to a Dennis Wyness header in the 11th minute. It was a great achievement to restrict the Jambos to a 1-0 scoreline at half time but Pereira`s strike 70 seconds into the second half and a Paul Hartley penalty conversion in the 65th minute dumped the Fifers.
With Greg Shields out injured, Greg Ross came in for his second ever start. Irishman Stephen Bradley made his starting debut and fellow countryman Gary Dempsey returned. Aaron Labonte`s red card at Motherwell last Saturday meant he sat this match out and Andy Tod continued in central defence alongside Scott Wilson.
Newly appointed Scotland manager, Walter Smith chose Tynecastle for his first assessment of international possibles. There were eight Scottish eligibles on each side as Hearts got the match underway playing towards the 400 or so Pars supporters in the Roseburn stand.
The home side seized the game from the start with the first chance coming in just the second minute. Steven Pressley was forward to pick out Marc De Vries on the edge of the Pars box. He chested the ball into the path of Wyness on the right side of the area and it was he who forced Stillie to clutch the well struck shot at his top left.
A Wyness cross escaped any connection as it whizzed through the six yard box and next Ramon Pereira set up Wyness with another cross that Stillie held. Dunfermline`s first attempt at goal carried the "Made in Ireland" tag as Butler and Dempsey combined to deliver Bradley with the ball on the right side 30 yards out. The former Gunner waited for Ross to arrive wide and when the 17 year-old centred Barry Nicholson headed narrowly wide left.

Gary Dempsey received an early booking for his tackle on Steven Pressley
Gary Mason was only a yard or two off his own goal line when he headed away a De Vries effort that Wyness had again set up. Then the goal that had been threatened from the second minute duly arrived. Wind assisted a long ball from keeper Craig Gordon and when the ball was failed to be cleared out of the Pars penalty area Joe Hamill swung over the ball from the left side for WYNESS to head home from four yards.
Andy Tod booted away a lowly driven free kick from McAllister after Referee John Underhill decided he had illegally brought down De Vries. Midway through the first half Bradley sustained a nasty mouth injury as he was caught having lost the ball played out to him from Darren Young.
The Pars managed to force the Hearts keeper into action in the 24th minute. Young was sandwiched between Patrick Kisnorbo and Robbie Neilson so Scott Thomson took a free kick 25 yards out on the left side of centre. The skipper`s strike rounded the wall but Gordon collected after failing to hold the shot that rebound off his chest.
De Vries headed a McAllister cross at Stillie and Thomson sent a free kick from the centre circle in the direction of Tod on the top of the Hearts penalty box but the defence did their job and the Pars were not to get anything from that. In the 32nd minute Pereira had a shot deflected over the crossbar and from the corner, taken by Hartley from the left, Hamill was found with loads of space and time just outside the box. He chipped in for De Vries to hammer in a shot that screamed over the bar.
Two minutes later Mason was wide right to send in a cross that Nicholson headed high and wide. Hearts continued to pile forward and should have scored from another corner from the left. Ross`s clearance was returned for Pereira to set up Webster but somehow he was prevented from netting on the goal line.
Toddy was unlucky not to do better from a Nicholson free kick that resulted from a De Vries challenge on Butler and another Pars corner in the 45th minute was easily headed clear by the much taller Hearts team. Ross whacked away a Wyness cross after Neilson had sent him up the right and amazingly, given the number of good chances they had, Hearts went in only one up at the interval.
Noel Hunt was introduced for Stephen Bradley at the restart. Gary Dempsey dropped back into the centre of midfield and Butler joined Hunt as two men were committed to attack. Hardly had the supporters returned to their seats when Hearts went further ahead. Pressley fed a pass to De Vries who in turn played a fine ball to his right into the path of PEREIRA who gave Stillie no chance as he made the net bulge from his excellent finish.
To get back from one down was going to be difficult, from two down unlikely, but when Hearts got a third it became impossible. Paul HARTLEY scored from the spot in the 56th minute to put an early finish to the match. De Vries appeared to be stopped on the left side of the Pars box but Wyness regained possession and ran across the box towards the centre. Greg Ross stuck in his foot and the striker was taken down for an indisputable penalty kick. It was just inexperience and a shame for the Dalgety Bay lad who otherwise had yet another good game.
Three minutes later De Vries should have been on the scoresheet when it should have been easier to place Neilson`s cross under rather than over the crossbar. Nicholson and Hunt were trying hard to get the Fifers back in the game and their good work set up Ross on the right side of the Hearts penalty box to force Gordon into meaningful action in the 63rd minute.
Hearts steadily introduced all three of their substitutes and the Pars reshuffled with Dempsey going back up front and Butler going back wide on the left side of midfield. Dunfermline were given more space and time as the capital side took their foot off the gas, content to hit on the break.
Even given that the Pars only managed two shots at goal before John Underhill brought the match to a conclusion. Gary Mason who was possibly the Pars best player, had a deflected shot from 25 yards held by Gordon. Ross started and finished a move that involved Tod and Dempsey but he gained no consolation as Gordon made another good save.
Hearts were the stronger and more skilful side; they were more tenacious and full of confidence even before they took the lead. Dunfermline by contrast found it hard to find a route through the Hearts midfield. They lacked ideas and options and it was a dejected and depressed team and management that left Tynecastle.
Dunfermline: Stillie: Ross, Tod, Wilson, Thomson; Mason; Nicholson, Darren Young, Bradley (Hunt HT), Butler: Dempsey.


Dunfermline Subs: Langfield, McKeown, Campbell, Scullion, Greenhill, Craig Wilson


Dunfermline Strip: Home White and Black




Dunfermline : Dempsey (9)



Hearts: Gordon; Pressley, Webster, McAllister; Neilson, Hamill (Stamp 65), Hartley (Stewart 71), Pereira; Wyness (Weir 75), De Vries


Hearts Subs: Moilanen, MacFarlane, Sloan, Berra


Hearts Goal Scorers: Wyness (11), Pereira (47), Hartley (56 pen)



Hearts Yellow Cards: none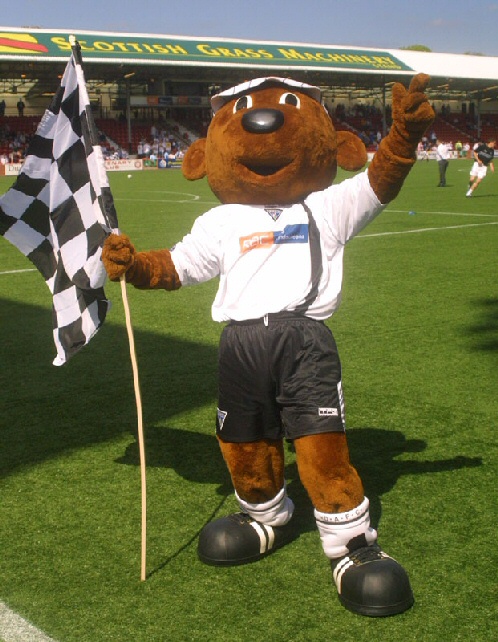 Sammy says thanks very much for visiting our web site where we have lots of news for young Pars fans.