SPL v Rangers
RANGERS 3 DUNFERMLINE 0
Date: 15/01/05
Fixture: BOS SPL Premier League
Attendance: 48055

Kick Off: 15:00 Referee: C Richmond

Weather: Wet, windy 11C



Dunfermline shuffled their pack for their visit to Ibrox but they ended up with a familiar story. Andy Tod was drafted into his more familiar defensive role whilst with Aaron Labonte out, Gary Dempsey was back in midfield displacing Barry Nicholson who joined recent short term signing Jesper Christiansen up front. Lee Makel makes his return to the SPL as the Pars attempt to break their 33 year long record without a league victory in Edminston Drive.
The Rangers official programme "True Blue" reported that Rangers won their cup tie versus Celtic last Sunday 2-1. They might not want to believe scorelines but Davie Hay`s men badly wanted to believe that they could register a scoreline the blues will certainly not like.

Approximately 100 fans made the trip to Ibrox
Nicholson and Mason took the kick off with the Pars defending the Broomloan Stand. Rangers were in possession quickly however demonstrating that they were meaning to take the early control. The Pars were first to bring the goalkeepers into action when a Makel free kick was flicked on through Ross, Mason, and Dempsey for Tod to challenge in the box. In the 4th minute a fine cross from the right touchline was headed behind to give the visitors the first corner of the game but Klos easily held Makel`s ball in from the left.
Disaster struck in the 6th minute when Hamed Namouchi crossed from deep down the right. Andrius Skerla failed to cut out his delivery and Greg Ross couldn`t prevent Steven THOMPSON`s simple execution to set the Ibrox music rolling.

Andrius Skerla
As the rain came pouring down and the pitch began to cut up a Lee Makel free kick gave Nicholson a headed chance that fell left of target. The pace was dictated by Rangers who stroked the ball about comfortably with the Pars getting very little sight of the ball. Thompson`s 19th minute lay back to Thomas Buffel allowed the debut boy a shot but it was blocked on the edge of the box.
The Pars were forward in the 23rd minute and Nicholson managed a shot on target but Klos had no difficulty gathering the ball. Next minute Derek Stillie came diving out to cut out a dangerous delivery from Gregory Vignal. Christiansen`s 28th minute long range effort didn`t trouble Klos as he held.
In a half that so far had been devoid of much goalmouth incident Toddy had to be alert on his six yard line to deny Buffel a header on goal. Marvin Andrews late tackle on Gary Mason stopped play in the 31st minute but he was fit to continue after Paul Atkinson`s treatment. Toddy then was hero and near villain. Firstly he managed to put an awkward ball into the Pars box behind for a corner on the left. Thompson was penalised for his challenge to Ricksen`s corner but play was quickly back towards the Pars goal and Tod`s header back to Stillie was intercepted by Thompson but the yellow shirted stopper did really well to prevent a goal.

Greg Ross gets in a challenge Rangers v Dunfermline 15/01/05
Only minutes later a Buffel break fed Boyan Djordjic but Greg Ross did well to block out the shot causing Rangers second corner that again Ricksen floated in right under Stillie`s post. Namouchi was right there to convert but Derek fisted out. The ball dropped straight to Marvin ANDREWS who hammered home from close in to make it 2-0 in the 38th minute.

Derek Stillie fists away Ricksen`s corner
Rangers should have gone further ahead four minutes from the interval but Djordjic amazingly put the ball over the crossbar from six yards. Dunfermline came back with two free kicks that were despatched over the bar from firstly Gary Dempsey and then skipper Scott Thomson. The latter was closest and a deflection earned a corner but the half time whistle really brought welcome relief for the Fifers. Rangers were not their happiest at the interval either. Two up they possibly should have been further ahead but all credit to the Dunfermline team who stopped them converting possession into goals.

Ready for action: Noel Hunt, Iain Campbell and Jamie Langfield
Noel Hunt replaced Darren Young for the second half with Nicholson dropping back into midfield where he had been sucked back into for most of the first 45. Rangers first break forward down the left through Vignal left Makel injured as he seemed to overstretch in his attempt to prevent the cross. Thompson was close but not close enough to turn in at the far post. Namouchi headed over from a Rae ball into the box before Dempsey was given a chance from another free kick 25 yards out. This time he was again narrowly too high to bother the scoreline or Stefan Klos.
Territorially play remained in the Psars half except for a long ball up the right from Ross to Hunt that earned a 58th minute free kick that Lee Makel whipped in the crowded Rangers box, Skerla`s challenge forcing a corner on the left that Klos easily fisted clear. A rash tackle by Mason on Namouchi gave the Gers a free kick on the right that Djordjic sent in and Ricksen`s header on the far side was directed wide when it looked more likely to hit the net.
Rangers third goal did come though in the 63rd minute after Skerla`s tackle had prevented Andrews as he burst into the right side of the Pars box. The clearance fell to Fernando Ricksen on the right and his return was clinically headed into a spot to Derek Stillie`s left by Alex RAE.
Chris Burke was brought on for Hamed Namouchi but the white shirts were forward in the 68th minute when Christiansen diverted Makel`s pass into the path of Dempsey and the half chance was thwarted twice by Vignal. The Pars lived dangerously with Bob Malcolm failing to turn in a fast ball in from a free kick on the left touchline from Ricksen. Referee Richmond`s habits were called into question by the Rangers "choir" quarter of an hour from time. Djordjic was yellow carded but it was Rangers who were awarded a free kick that Ricksen drove low for Stillie to smother.
The home support fled for the exits and their early celebratory pint. Noel Hunt did test Klos with a low drive from 15 yards but the early leavers missed little. The third goal killed the game, if their second hadn`t and the Fifers never looked like getting any Ibrox joy.
Christiansen had a full 90 minutes but the lack of service and the marking of Marvyn Andrews made it hard to classify his contribution.
Dunfermline Squad: Stillie, Ross, Skerla, Tod, Thomson; Makel, Darren Young (Hunt HT), Nicholson, Mason; Dempsey, Christiansen
Dunfermline Subs: Langfield, Campbell, Wilson, Scullion, Dunn
Dunfermline Strip: Home White and Black with red socks
Dunfermline : none



Rangers Squad: Klos; Ross, Andrews, Malcolm, Vignall; Ricksen, Buffel (Hughes 83), Rae, Djordjic (Ball 79), Thompson, Namouchi (Burke 66)


Rangers Subs: McGregor, Prso Khizanishvili, Hutton.


Rangers Goal Scorers: Thompson (6), Andrews (38), Rae (63)



Rangers : Djordjic (75)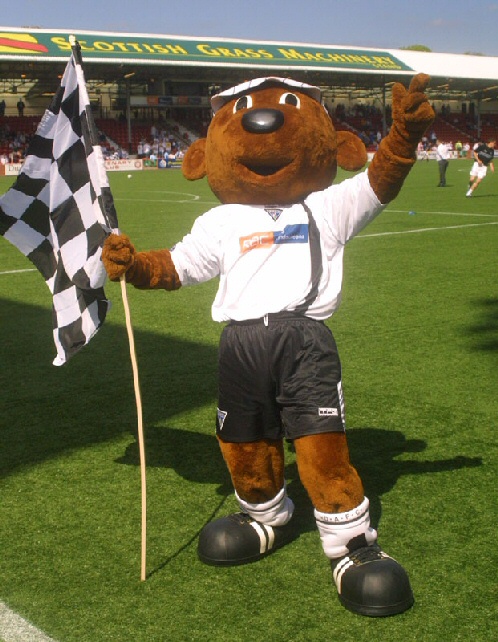 Sammy says thanks very much for visiting our web site where we have lots of news for young Pars fans.